How Apple's iOS 12 Password AutoFill Feature Works With 1Password
Apple in iOS 12 introduced a new Password AutoFill API for apps like 1Password and LastPass, designed to allow password management apps to provide stored usernames and passwords for not only websites but also third-party apps.
1Password has introduced support for Password AutoFill in a beta capacity ahead of the launch of iOS 12, giving us a look at just how simple and easy Password AutoFill makes entering login details.
Note: This 1Password feature is not widely available yet because it is implemented in a beta version of the app, but it will be available for everyone when the 1Password app is updated following the release of iOS 12.

Set Up
Once a password management app that supports Password AutoFill has been installed, the feature needs to be enabled on an iOS device.
Go to Settings > Passwords & Accounts > AutoFill Passwords and toggle on the AutoFill Passwords option while also making sure your password management app, such as 1Password, is selected.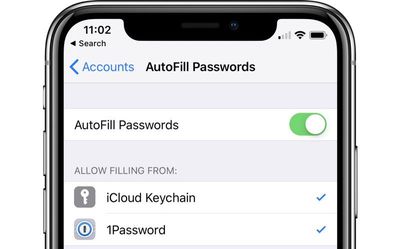 You can use third-party password management apps right alongside iCloud Keychain, or you can choose to disable iCloud Keychain and use just a password management app.

How it Works
The Password AutoFill feature lets a third-party app function just like iCloud Keychain, with your sensitive data protected but easily accessible within apps when you need your login information.
When you encounter a login field in an app or on the web, tapping in the entry field will display the stored username and password from your password management app if you've saved one.
From there, you can tap the information to enter it into the app or website's login window, such as in the Spotify example below.


There are instances where 1Password does not have saved information entirely right or where you have multiple logins, such as in the case of multiple Twitter or Instagram accounts.
In these situations, if you tap on the key icon and then select the "1Password" option, you can view all of the available accounts for a particular service.
In the case of Instagram, this means that when I'm logging into the Instagram app, I see my two Instagram accounts listed in 1Password and I can tap either one to enter my login information.


For apps that 1Password cannot automatically identify, you will be able to access your entire password vault to find the login information that you need.

Where it Works
What's great about the Password AutoFill API is that it does not require developers to implement any kind of integrations with your password management app to function, as was required in previous versions of iOS for this kind of functionality.
1Password's Password AutoFill feature, for example, works automatically in most apps and websites, with your 1Password archive available no matter where you're logging in.


As a caveat, 1Password will not recognize some apps and you'll see a message that the app is "Unidentified" with no identifying information provided. In this situation, you can still access your 1Password vault to search for the password that's required.

One-Time Passwords
When logging into apps and websites that require two-factor authentication, using a one-time password is also simplified.
If your two-factor authentication setup is linked to 1Password, when you log into an app or website that requires two-factor authentication, your password is entered in the field and your one-time authentication password is automatically copied and pasted to the clipboard for easy entry.


For apps that use your phone number for authentication purposes, iOS 12 introduces a feature that takes a code from an incoming iMessage and copies it to the clipboard, so two-factor authentication is simplified no matter the method.

Password AutoFill on Apple TV
Password AutoFill extends to the Apple TV using the continuity keyboard that permits the iPhone to be used to enter passwords and login information on the Apple TV.
For this to work, both the Apple TV and the iOS device need to be signed into the same iCloud account, and from there, the process is identical to using Password AutoFill on the iPhone.


In a text entry field, when prompted to use the iPhone to enter login information, passwords stored in a password management app and linked to Password AutoFill will be able to be entered on the Apple TV.
Note: tvOS 12 and iOS 12 are required for Password AutoFill to work on the Apple TV.

Security
Every time your password management account is activated, you will need to confirm your identity with either Face ID or Touch ID to enter a password.
If Face ID or Touch ID fails, you will need to enter a password. In the case of 1Password, this means that if biometric authentication does not work, you will need to use the master password.

Release Date
1Password's Password AutoFill update will be available following the release of iOS 12, which we expect to see debut next month, shortly ahead of the launch of new iPhones. 1Password is available on Macs and iOS devices for as little as $2.99 per month for an individual account. A free 30 day trial is available from the 1Password website.