In iOS 12, Apple has introduced some new features to the Photos app that aim to make it easier for you to search, share, and enjoy your photo collection. Here's how to make the most of them.
The most prominent addition in the Photos app is a new For You tab, which replaces the old Memories and Shared tabs and brings together their features – along with any iCloud Shared Albums you may have – in a single scrolling panel.
For You Tab: Sharing Suggestions
Top of the For You tab is where your latest Sharing Suggestions appear. If the app recognizes someone in the photos it will ask if you want to share the collection with them, otherwise an option to "Share with friends?" is shown.
The great thing about sharing photos this way in iOS 12 is that if your friends have any pictures that are from the same event, time, or location, they will also be prompted to send those back to you, allowing you to fill any holes in your collection.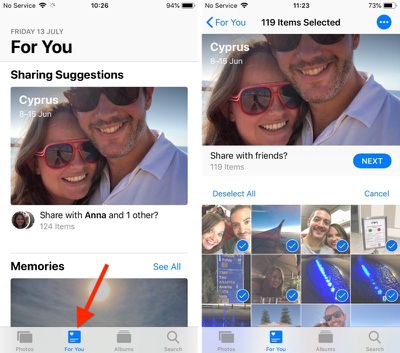 Tap the Sharing Suggestions card and you'll be taken to a screen where you can choose the pictures you want to share. Tap Select and then tap any photos you don't want to include, or choose Deselect All and then tap the ones you want to share.
Choose Next to select people in your contacts that you want to share the pictures with. Tap Share in Messages when you're done – just note that anyone with access to the shared photo link will be able to view the photos.

For You Tab: Memories
Immediately below Sharing Suggestions you'll find Memories, which curates various photos and videos you've taken in the past into specific memory collections. Without any steps required on your part, Memories gives you an automatic homemade movie from these past family gatherings or vacations.
Tap a memory and you'll see a list of all the photos and videos contained in the memory (tap Show More to see more than a summary), the geographic location the pictures were taken, nearby photos, and related memories you might be interested in.


If you press the play button to begin viewing a memory, you can also use a number of customization options to edit it. For more on editing memories in Photos, see our dedicated tutorial.
Note that tapping Select on this page and deleting a photo doesn't just remove it from the memory, but also deletes it from your iPhone and iCloud Library. The last two options at the very bottom of the screen let you favorite the memory or delete it permanently.
If your device supports 3D Touch, you can also hard press on any memory in the For You tab to get a preview of its contents, and then swipe up for options to add it to your favorite memories, delete the memory, or block it.

For You Tab: Shared Album Activity
At the bottom of the For You tab is any Shared Album Activity related to your iCloud account.


This lists iCloud albums shared by you as well as albums shared with you by other users. From here you can view photos and videos, "like" them with a thumbs up, and read comments or add your own.

How to Use Enhanced Search
In iOS 12, the Photos search function in the Search tab is more intelligent than before, so it's easier to find the most relevant photos to you from events, people, or places.


You can also combine multiple search terms to narrow down your results. Simply start typing a person's name, a date, a place, or a word like "cat", "beach", "waistcoat", or "selfie", and the Photos app will offer up similar or identical indexed search terms that you can tap to add to the search field.