Apple Acquires Popular Automation App Workflow
Apple has acquired well-known and popular automation app Workflow, reports TechCrunch. The deal was reportedly finalized today for an unspecified sum.
Workflow, first released in 2014, is an automation tool that can essentially do anything. It allows users to create a variety of workflows to accomplish tasks like creating GIFs from a series of photos, pulling images from a web page, translating an article, posting photos to multiple social networks at once, calculating a tip, and tons more.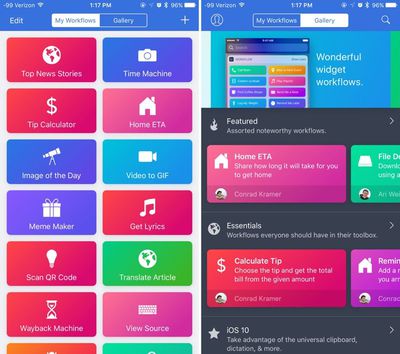 It is equipped with a built-in Gallery, which allows people to quickly find and use a wide range of automation tasks, and it can be used to create custom automations.
Apple is purchasing the Workflow app and the Workflow team, including Ari Weinstein, Conrad Kramer, and Nick Frey, will be joining the company.
"We are thrilled to be joining Apple," said Weinstein in a statement. "We've worked closely with Apple from the very beginning, from kickstarting our company as students attending WWDC to developing and launching Workflow and seeing its amazing success on the App Store. We can't wait to take our work to the next level at Apple and contribute to products that touch people across the world.
Apple confirmed the acquisition of Workflow, which notably received an Apple Design Award in 2015 for its excellent accessibility features, likely one of the reasons behind the purchase.
Typically apps acquired from Apple disappear from the App Store, but Workflow will remain available and will be made free starting later today. The Gallery will continue to be updated on a regular basis, as will app integrations.
Beyond the app, it is not clear what Apple will do with Workflow in the future, and whether it will be built into future versions of iOS and macOS, but it is definitely a possibility. TechCrunch speculates that it could be used alongside Siri in the future, or perhaps be the backbone of powerful automation tools for the iPad.
Update: Workflow can now be downloaded from the App Store for free. [Direct Link]