iOS 12 Adoption Hits 88%, Continues to Outpace iOS 11
Apple this week disclosed that 88 percent of active iPhone, iPad, and iPod touch devices are running iOS 12, as measured by the App Store on August 6, 2019. iOS 12 adoption continues to outpace iOS 11, which was installed on 85 percent of active devices as of September 3, 2018, according to Apple.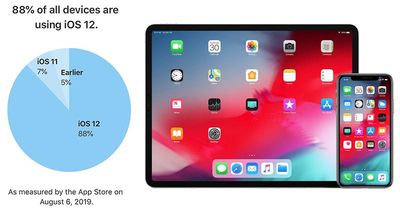 The updated stats, highlighted by Rene Ritchie, also reveal that seven percent of active devices continue to run iOS 11, with five percent using an earlier version. This includes older devices that are incompatible with the latest iOS versions.
iOS 12 outpacing iOS 11 in adoption is not much of a surprise, as iOS 11 was plagued by several problems last year, including at least three bugs that could crash the entire system, a HomeKit vulnerability, an iPhone camera autofocus issue, autocorrect bugs, the iPhone X glitching in cold weather, and more.
The high-profile iPhone performance management controversy also likely had an adverse impact on iOS 11 upgrade rates.
In January 2018, multiple reports claimed that Apple delayed several new features planned for iOS 12 to focus on performance, stability, and bug fixes, and the software update has indeed proven to be much more reliable.
Looking ahead, Apple is now in the latter stages of beta testing iOS 13, which will be publicly released in September.