Group FaceTime, which lets you chat with up to 32 people at one time, is relatively easy to use, but it may not be immediately obvious how a call is initiated nor how all of the group chat options work, which is why we've taken an in-depth look at the new feature. To use Group ‌FaceTime‌, all participants must have iOS 12.1.4 or later installed.
Placing a Call
There are two ways to initiate a Group ‌FaceTime‌ call, using the ‌FaceTime‌ app or the Messages app.

FaceTime App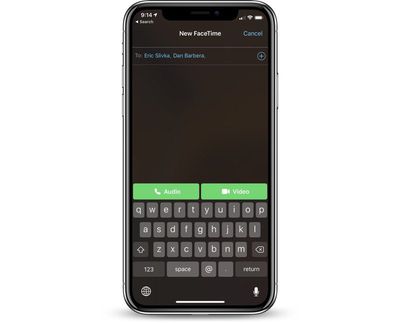 Open up the ‌FaceTime‌ app
Tap on the "+" button in the upper right hand corner.
In the "To" field, type a name and tap it.
Type another name.
Continue typing in all of the names of the participants who you want to chat with.
When ready to place the call, tap on either the audio or the video option and participants will receive a popup letting them know that you want to ‌FaceTime‌ with them.
Messages App

Open up an existing multi-person conversation or create a new iMessage chat thread.
At the top, where the names of the chat participants are listed, tap to bring up a menu bar.
Choose the "‌FaceTime‌" option to transition from a text-based conversation to a video or audio call.
The Messages ‌FaceTime‌ interface works with just one person or with a group of people, and it's perhaps the easiest way to initiate a multi-person ‌FaceTime‌ call.

Receiving an Incoming Call Request
When a Group ‌FaceTime‌ chat is initiated either via ‌FaceTime‌ or through the Messages app, you will get a notification letting you know that a ‌FaceTime‌ call is initiating, which you can tap to join.

Joining an Existing Group FaceTime Call
When you're in a group chat in the Messages app and someone initiates a Group ‌FaceTime‌ conversation, any person in the chat can join the call at anytime.


In the Messages interface, there's a chat popup that lets you know a call is ongoing, with a "Join" button available and the number of people active in the conversation.
Joining a conversation is as simple as tapping that "Join" button, which automatically adds you to the call. There's no approval interface, so be aware that if you're in the middle of a conversation, anyone from a group Messages chat can interrupt and join in.
While in a Group ‌FaceTime‌ call, you'll also see a chat bubble that lets you know how long the call has been going on.

Adding Another Person Through FaceTime
While in a ‌FaceTime‌ call, you can easily add another person to the chat.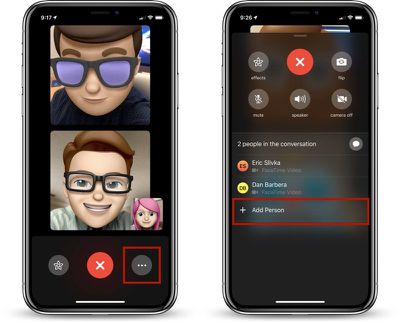 In an active call, tap on the icon that features three dots.
Tap on "Add Person."
Choose a name from the list to send them a notification to join in.
Leaving a Group FaceTime Call
As with a standard ‌FaceTime‌ call, exiting a Group ‌FaceTime‌ chat is as simple as tapping the big red "X" button to end the chat.

Focusing on Chat Members
All Group ‌FaceTime‌ calls are displayed with a tiled interface that highlights the person who last spoke. If you have a call with multiple people, you'll see tiles of various sizes focusing on main participants, with those who haven't spoken recently minimized in small tiles.


You can double tap on any person's tile to make it the focal point in your ‌FaceTime‌ view, enlarging the tile to its biggest possible size. Tap again to go back to the standard tiled view.

Applying Effects
In addition to multi-person ‌FaceTime‌ calls, iOS 12 adds a new ‌FaceTime‌ effects camera that you can use while chatting. While in a ‌FaceTime‌ call, tap on the star-shaped icon to the left of the end call button to access options that include Animoji and Memoji, filters, stickers, shapes, and text.


Multiple effects can be applied at once, which are displayed to all chat participants. The people you're chatting with can also choose different effects to use, leading to chats filled with different Memoji and Animoji characters. Memoji and Animoji are limited to devices with the TrueDepth camera system.