Most readers will have at some point received a two-factor authentication code delivered to them by SMS text message. Many apps and websites send the one-time codes to confirm that the person attempting to log in to an account is the legitimate account holder, and not just someone using a stolen password.
Depending on how notifications are set up on your iPhone, receiving a code via text message may mean that you have to switch out from the app or website to read the message and memorize or copy the code, and then switch back to paste it or type it into the login screen manually.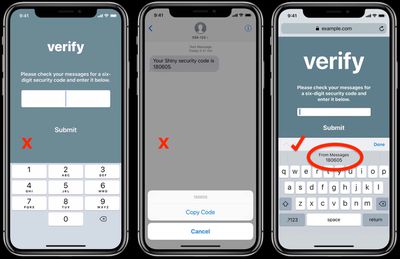 To make this process less of a hassle, Apple is introducing Security Code AutoFill for iOS 12. The new feature ensures that SMS one-time passcodes that you receive instantly appear as AutoFill suggestions in the QuickType bar above the virtual keyboard, letting you input them in the passcode field with a simple tap.
If you've enabled Text Message Forwarding on your iPhone, you can use the Secure Code AutoFill feature in macOS Mojave, too. The code should appear in Safari as an AutoFill option in the relevant field as soon as the SMS is delivered to Messages on your Mac.


iOS and macOS use local data detector heuristics to work out whether an incoming message carries a security code, and Apple says the Security Code AutoFill feature does not alter the security of this two-factor authentication method.
So as long as developers craft their secure code text messages correctly, Security Code AutoFill should work in all third-party apps updated for iOS 12 and macOS Mojave, which are due for official public release this fall.