Signing into apps and services on Apple TV can be frustrating when you're shuttling between characters on the onscreen keyboard, or barking out letters and numbers at your Siri Remote. To make entering login credentials easier, Apple introduced continuity keyboard, an iOS feature that allows users to enter text on their Apple TV using their iPhone or iPad.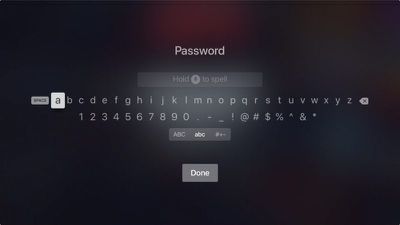 In tvOS 12, coming this fall, continuity keyboard has been further enhanced to support Password AutoFill. So whenever you encounter a login screen, you'll see the following notification on your iPhone or iPad.


Simply tap the alert at the top of the screen to bring up the keyboard, and you should be able to fill in your password credentials on Apple TV by tapping the AutoFill suggestion in the Quick Type bar. And if you're using the TV remote or Control Center interface with your Apple TV, the same simple login process applies.
The above assumes your Apple TV and iOS device are on the same iCloud account. But say you're a guest in someone's home, and you'd like to log in to your account on their Apple TV. What then?


Happily, tvOS 12 also caters for this scenario. Apple TV can now ping the Siri Remote to look for a nearby iPhone. Once it's discovered your device, your iPhone will ask you to confirm that you want to use AutoFill. It will then prompt you to enter the authentication PIN displayed on the nearby Apple TV.


On authenticating your iPhone with Face ID, Touch ID, or a passcode, you'll be presented with your passwords list, and the password for the relevant app or service that you want to log in to will appear at the top, ready to send to your friend's Apple TV at a tap.
Password AutoFill on Apple TV requires the installation of tvOS 12 and iOS 12, both which are due to be released in the fall.