Apple Stores
Keep track of Apple's retail stores worldwide.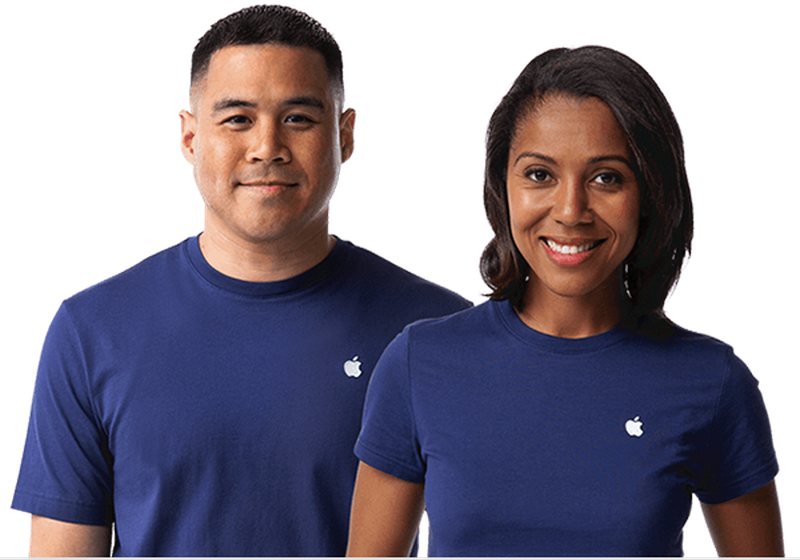 COVID-19 Closures
As the COVID-19 coronavirus pandemic began spreading around the world in early 2020, Apple's retail stores saw significant effects, starting in China. On February 1, Apple announced that it was closing all retail stores and corporate offices in China due to the virus, gradually reopening them between mid-February and mid-March.
By mid-March, Apple was closing stores in a number of other countries around the world, and just days later the company announced that it would close all retail stores outside of Greater China for the foreseeable future. The first store outside of Greater China to reopen was Apple's location in Vienna, Austria, on May 5, and by the following week Apple had started to reopen stores in Australia, Germany, Switzerland, and the U.S.
As of mid-October, the majority of Apple's retail stores in the U.S. and other countries are open again with several health and safety precautions in place, including temperature checks, social distancing, increased cleaning, and a limit on how many customers are allowed inside its stores at once. Apple is also requiring that all employees and customers wear a face covering while inside its stores, and will provide one to customers who do not bring one.
Next-Generation Stores
Apple has grown to become the most valuable company in the world. It now has millions of customers around the world visiting its retail stores every day, and many of its earliest locations, particularly those in shopping malls, are too small and narrow to accommodate the increased foot traffic.
Moreover, since opening its first retail store in 2001, Apple's product lineup has expanded well beyond the Mac and iPod to include the iPhone, iPad, Apple TV, Apple Watch, and other devices and accessories. In most stores, for example, Apple has at least one table dedicated to Apple Watch try-ons and demos.
For those reasons, and to play a bigger role in the community, Apple has in the past few years focused on renovating or expanding dozens of its retail stores in the United States and around the world. Many of the locations have expanded by adding a floor or taking over adjacent storefronts, while some stores have relocated entirely. Apple sometimes sets up a smaller temporary pop-up shop near affected locations until renovations are completed.
Apple's next-generation store design can also be seen in all new stores opened since around mid-2015. The new look often includes wide, open spaces with some combination of indoor trees, touch-sensitive sequoia wood tables and shelves for displaying products, large 6K resolution video screens for product marketing and community events, and light boxes spanning the length of the ceiling.
Apple's flagship Union Square location in San Francisco, for example, opened in May 2016 with high ceilings, enormous windows, redesigned product display areas, and two sets of massive 42-foot tall glass doors. The doors slide open 40 feet to leave the front and back of the store open to the street and a rear public plaza with free Wi-Fi and seasonal musical performances.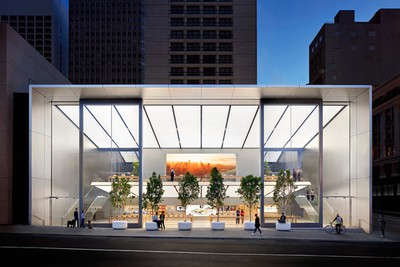 Apple's flagship Union Square location in San Francisco opened in May 2016
Apple Union Square also debuted a new layout that has served as a model for the company's other retail locations in the United States and around the world:
- The Avenue: Interactive themed "windows" showcasing Apple products and services, alongside a curated selection of "Only at Apple" third-party accessories. New "Creative Pros" are available to offer "advice and expertise" about each of the displays.
- Genius Grove: A section at the center of the store designated for customers to receive support side-by-side with Geniuses under the canopy of local trees. This area is able to accommodate more customers than a traditional Genius Bar commonly found in other stores.
- The Forum: Apple describes this area as a "vibrant gathering place" next to the large 6K Video Wall, where "Today at Apple" sessions and other daily and monthly events are hosted related to education, creative arts, music, games, and more.
- The Plaza: Apple has connected its Union Square store to the surrounding community with The Plaza, an outdoor area open 24/7 and featuring a 50-foot green wall, public Wi-Fi, seating for 200 people, and a fountain created by sculpture artist Ruth Asawa. The space features live acoustic performances.
- The Boardroom: A room with tables and chairs at the back of the store where Apple's Business Team can offer hands-on advice and training to entrepreneurs, developers, and other small and medium business customers.
History
Apple co-founder Steve Jobs, who returned to the company as CEO in 1997, recognized the need for a better customer experience than the one provided by its third-party retailer partners like Circuit City, Office Max, and Sears. Jobs started by cutting ties with thousands of independent resellers and focusing Apple's retail efforts on a partnership with CompUSA between 1997 and 2000. During this time, Apple developed its first store-within-a-store concept, similar to those found in Best Buy locations today.
In 1999, Jobs began recruiting a team of retail experts, including former Gap CEO Millard Drexler and Target's vice president of merchandising Ron Johnson, who was appointed as Apple's senior vice president of retail operations in January 2000. Johnson's team, alongside a development team headed by Allen Moyer of The Walt Disney Company, began creating a series of mock Apple stores in a secret warehouse near the company's Cupertino headquarters.
Just months after the dot-com collapse, and given the failure of PC maker Gateway's retail efforts, some critics viewed the idea as a risky move. Nevertheless, Apple's first two retail stores opened in Tysons Corner, Virginia and Glendale, California on May 19, 2001. Ultimately, Apple's retail stores turned out to be a resounding success, and they now attract over 1 million customers worldwide per day and generate the highest sales per square foot of any U.S. retailer.
Apple today announced that its first two retail locations welcomed over 7700 people and sold a combined total of $599,000 of merchandise during their first two day weekend. The stores, located in Glendale, California and McLean, Virginia are the first of 25 stores the company is opening across the U.S. in 2001.
Apple's retail footprint has since expanded to 510 stores spanning 25 countries and regions, including Australia, Austria, Belgium, Brazil, Canada, China, France, Germany, Hong Kong, Italy, Japan, Macao, Mexico, the Netherlands, Singapore, South Korea, Spain, Sweden, Switzerland, Taiwan, Thailand, Turkey, the United Arab Emirates, the United Kingdom, and the United States.
The majority of U.S. stores operate within indoor shopping malls, while some stores have standalone locations along busy streets or shopping areas. Apple also has several flagship stores worldwide, considered by many to be architectural wonders, including its iconic Fifth Avenue glass cube in New York City, Union Square location in downtown San Francisco, and Regent Street store in London, England.

Apple Regent Street in London, England following renovations in 2016
Apple retail stores remained under Ron Johnson's leadership until he left in 2011 to become CEO of department store company J.C. Penney. His position remained vacant for nearly one year, until former Dixons CEO John Browett took over in April 2012. His time at Apple was short lived, however, as it is believed he did not fit within the company's culture. Browett left in October 2012, and Apple's retail team reported to CEO Tim Cook while he began searching for a replacement.

From left to right: Ron Johnson, John Browett, and Angela Ahrendts
In October 2013, Apple announced that it hired former Burberry CEO Angela Ahrendts as Senior Vice President of Retail and Online Stores. She assumed the role in May 2014. Prior to joining Apple, Ahrendts was largely credited with boosting Burberry back to fame after a decline, tripling the company's revenue and working to merge Burberry's online experience with the brick and mortar experience.
In February 2019, Apple announced that Ahrendts would be stepping down as retail chief in April 2019 after five years in the role. She was succeeded by longtime Apple executive Deirdre O'Brien, who was promoted to Senior Vice President of People + Retail, expanding upon her human resources responsibilities.

From left to right: Deirdre O'Brien, Tim Cook, and Angela Ahrendts
Apple is in the process of renovating its stores with modernized designs. Apple has also opened next-generation stores in Brussels, Cupertino, Dubai, London, New York, San Francisco, and elsewhere.