Apple Announces iPhone Driver's Licenses Coming Soon to These 11 U.S. States
Apple today announced that Arizona residents can now add their driver's license or state ID to the Wallet app on the iPhone and Apple Watch, providing a convenient and contactless way to display proof of identity or age. Arizona is the first U.S. state to offer this feature to residents, with many other states planning to follow suit.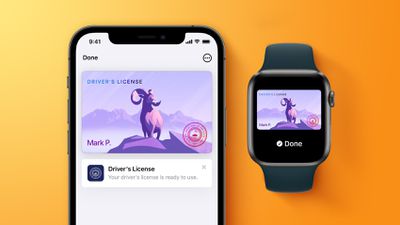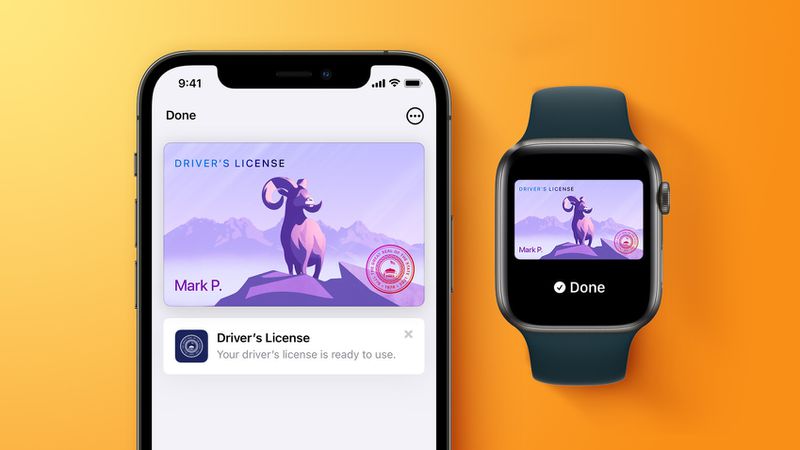 Apple said that Colorado, Hawaii, Mississippi, Ohio, and the territory of Puerto Rico plan to offer driver's licenses and state IDs in the Wallet app "soon." Apple also said that Georgia, Connecticut, Iowa, Kentucky, Maryland, Oklahoma, and Utah remain committed to supporting the feature, but no timeframe was provided for these states.
The full list of U.S. states and territories committed to offering driver's licenses and state IDs in the Wallet app in the future:
Colorado
Hawaii
Mississippi
Ohio
Georgia
Connecticut
Iowa
Kentucky
Maryland
Oklahoma
Utah
Puerto Rico
Some other states like Delaware, Florida, and Louisiana already offer their own digital ID apps on the App Store and could work with Apple on Wallet app integration, but Apple has yet to announce partnerships with these states.
Apple reportedly lobbied New York state officials about IDs in the Wallet app last year, but it's unclear if New York will support the feature. Last month, a spokesperson for New York State's Department of Motor Vehicles told MacRumors that the department is "interested in the concept and evaluating available technologies."
Similarly, a spokesperson for California's Department of Motor Vehicles last month told MacRumors it is "in discussions with multiple mobile identification providers regarding potential solutions that will allow Californians to carry a digital driver's license on their mobile device," but it's unclear if this will include Wallet app integration.
"We look forward to working with many more states and the TSA to bring IDs in Wallet to users across the US," said Jennifer Bailey, Apple's vice president of Apple Pay and Apple Wallet. Apple has not said if it will expand the feature to other countries in the future.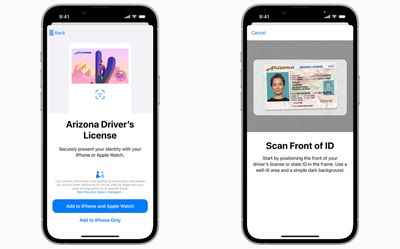 The feature is available on the iPhone 8 or later running iOS 15.4 and on the Apple Watch Series 4 or later running watchOS 8.4 or later.
Residents of participating states can tap the "+" button in the top-right corner of the Wallet app, select "Driver's License or State ID," and follow the on-screen instructions to start the setup and verification process. The user will be asked to take a photo of their face and scan the front and back of their driver's license or state ID card, which will be securely provided to the issuing state for verification, according to Apple.
After adding a driver's license or state ID to the Wallet app, users can simply tap their iPhone or Apple Watch on an identity reader at select TSA security checkpoints at select airports, including Phoenix Sky Harbor International Airport. Users will see a prompt on their device displaying the specific information being requested by the TSA, and the user must authorize with Face ID or Touch ID for this info to be released.
Apple has shared a privacy and security overview with more details.