Apple Reports 4Q 2019 Results: $13.7B Profit on $64B Revenue
Apple today announced financial results for the third calendar quarter and fourth fiscal quarter of 2019.
For the quarter, Apple posted revenue of $64.0 billion and net quarterly profit of $13.7 billion, or $3.03 per diluted share, compared to revenue of $62.9 billion and net quarterly profit of $14.1 billion, or $2.91 per diluted share, in the year-ago quarter. Earnings per share set a new fourth quarter record, while services revenue set an all-time quarterly record.
Gross margin for the quarter was 38.0 percent, compared to 38.3 percent in the year-ago quarter, with international sales accounting for 60 percent of revenue. Apple also declared an upcoming dividend payment of $0.77 per share, payable November 14 to shareholders of record as of November 11.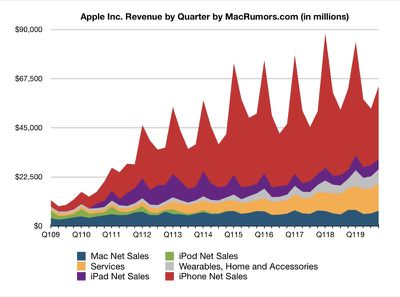 This quarter marks a full year since Apple changed the way it reports its results, with the company no longer providing unit sales data for iPhone, iPad, and Mac. As a result, Apple is only providing revenue figures for its various segments, leaving analysts to estimate unit sales based on their own calculations
For the full fiscal year, Apple generated $260.2 billion in sales with $55.3 billion in net income, compared to $265.5 billion in sales and $59.5 billion in net income for fiscal 2018.
"We concluded a groundbreaking fiscal 2019 with our highest Q4 revenue ever, fueled by accelerating growth from Services, Wearables and iPad," said Tim Cook, Apple's CEO. "With customers and reviewers raving about the new generation of iPhones, today's debut of new, noise-cancelling AirPods Pro, the hotly-anticipated arrival of Apple TV+ just two days away, and our best lineup of products and services ever, we're very optimistic about what the holiday quarter has in store."
Apple's guidance for the first quarter of fiscal 2020 includes expected revenue of $85.5-89.5 billion and gross margin between 37.5 and 38.5 percent.


Apple will provide live streaming of its fiscal Q4 2019 financial results conference call at 2:00 PM Pacific, and MacRumors will update this story with coverage of the conference call highlights.
Apple's earnings call recap follows...

1:42 pm: Apple's stock is up about 1.5% in after-hours trading following the earnings release.
1:48 pm: Apple's guidance for its lucrative holiday-season quarter is $85.5B to $89.5B, which has the potential of topping its all-time quarterly revenue record of $88.3B set in the 2018 holiday quarter.
1:53 pm: Apple now has $205.9 billion in cash and marketable securities on hand, down around 2% from last quarter.
1:56 pm: Apple's quarterly services revenue hit a new all-time high of $12.5B.
2:02 pm: Apple's earnings call is about to begin. Opening remarks underway.
2:04 pm: As usual, Apple's CEO Tim Cook and CFO Luca Maestri are on the call. ‌Tim Cook‌ welcomes listeners, including those wearing the new noise-cancelling AirPods Pro!
2:05 pm: ‌iPhone‌ revenue was $33B. 9% decline YoY. Significant improvement over 15% YoY decline over previous three quarters combined. Positive response to ‌iPhone‌ 11 and 11 Pro lineup, including best photos seen from a smartphone.
2:05 pm: ‌iPhone‌ 11 has become Apple's best-selling smartphone since it launched.
2:06 pm: ‌Tim Cook‌ is recapping ‌iPhone‌ 11 and iOS 13 features.
2:07 pm: Apple is well on its way to doubling its fiscal 2016 services revenue in fiscal 2020.
2:08 pm: Apple Pay revenue and transactions more than doubled YoY. More than 3B transactions in the quarter—exceeding PayPal. More than 6,000 ‌Apple Pay‌ issuers worldwide.
2:09 pm: Later this year, Apple Card is getting a new feature. Purchase an ‌iPhone‌ and pay over 24 months with 0% interest.
2:10 pm: ‌Tim Cook‌ says Apple believes the ‌Apple Card‌ has been the most successful credit card launch in the U.S. ever.
2:10 pm: Apple thrilled to be working with Oprah Winfrey to bring the Oprah Book Club to Apple Books. Power to bring the world together through reading.
2:11 pm: Apple News+ expanded to Australia and the UK during the quarter.
2:11 pm: Just two days from now, hotly anticipated Apple TV+ launches in over 100 countries and regions.
2:11 pm: Tim says he won't spoil anything for ‌Apple TV+‌, but so much to look forward to.
2:12 pm: Wearables: amazing results. Phenomenal popularity of Apple Watch, AirPods, and Beats. All-time revenue records worldwide.
2:13 pm: ECG app on Apple Watch is now available in 32 markets, including India.
2:14 pm: Tim: We hope to democratize medical research and bring everyone to the table to make the next breakthrough possible.
2:15 pm: ‌iPad‌ quarterly revenue grew 17% year-over-year. $4.6B, up from $3.9B.
2:15 pm: ‌Tim Cook‌ reiterates that Apple will be manufacturing its new Mac Pro in Austin, Texas.
2:16 pm: ‌Tim Cook‌ says Apple's services category is the size of a Fortune 70 company by revenue.
2:17 pm: Apple set annual revenue record in the US, Canada, UK, and many other countries in fiscal 2019.
2:18 pm: Apple CFO Luca Maestri has taken over the call and is reviewing financial results.
2:18 pm: FX headwinds negatively impacted Apple's revenue by around $1B.
2:19 pm: Services revenue grew 18% to $12.B. Up over $1.9B YoY. New all-time record. Broad-based growth around the world.
2:19 pm: Q4 revenue records in Americas and Asia-Pacific segments. Continued improvement in Greater China region.
2:19 pm: Q4 revenue records in many countries, including the US, Canada, Germany, France, Korea, Singapore, Brazil, India, Thailand, Malaysia, and Vietnam.
2:20 pm: Apple's gross margin was 38%. Products gross margin was 31.6%. Services gross margin was 64.1%, even with June quarter. Net income was $13.7B. Diluted EPS was Q4 record of $3.03. Operating cash flow of $19.9B was also a Q4 record, up almost $400M from previous record set last year.
2:21 pm: ‌iPhone‌ revenue was $33.4B, YoY decline of 9%. Meaningful improvement over 12% decline in Q3. Great customer response to the launch of ‌iPhone‌ 11, 11 Pro, and 11 Pro Max at the end of the quarter. Active installed base of iPhones continued to grow to new all-time high.
2:22 pm: In total, services accounted for 20% of Apple's revenue mix and 33% of gross margin mix.
2:22 pm: Apple now has over 450M paid subscribers across its services. Apple well on the way to surpassing the 500M mark during 2020.
2:23 pm: Among our many services records, best quarter ever for AppleCare.
2:23 pm: There is a new ‌iPhone‌ repair program, making it easier for independent providers to tap into same resources as Apple Authorized Service Providers network for out-of-warranty ‌iPhone‌ repairs.
2:24 pm: There are over 5,000 Apple Authorized Service Providers.
2:24 pm: Mac revenue down 5% YoY due to difficult comparison/product launch timing.
2:25 pm: ‌iPad‌ active installed base reached new all-time high.
2:26 pm: Wearables, Home, and Accessories set a Q4 revenue record of $6.5B. Tremendous growth across Apple Watch, AirPods, Beats, and accessories.
2:27 pm: Apple says it saw more than 5x the ‌iPhone‌ trade-in volume YoY.
2:27 pm: Strong demand for Apple products in enterprise market.
2:28 pm: Luca Maestri reviewing Apple's partnerships in the enterprise.
2:30 pm: Apple returned over $21B to shareholders in Q4, including almost $18B through open market repurchases of Apple shares. Retired additional 7M shares.
2:31 pm: December quarter guidance: revenue between $85.5-$89.5B, this range includes negative impact from FX of over $1B. Gross margin between 37.5-38.5%. OpEx between $9.6B-$9.8B. OINE about $200M. Tax rate about 16.5%.
2:31 pm: Cash dividend of 77 cents per share of common stock, payable November 14, 2019 to shareholders of record as of November 11, 2019.
2:31 pm: Nancy Paxton, head of Apple's Investor Relations, is retiring after 33 years at Apple.
2:32 pm: Q&A time!
2:33 pm: Katy Huberty, Morgan Stanley: ‌iPhone‌ revenue declined 9% YoY, what drivers will return that category to growth in fiscal 2020?
2:33 pm: ‌Tim Cook‌: We're very thrilled with what we're seeing in the early going with ‌iPhone‌ 11, 11 Pro, and 11 Pro Max. It's early but the trends look very good. I don't want to make a long-range forecast here. We're put our current thinking into our guidance, and you can tell from that we are bullish.
2:36 pm: Mike Olson, Piper Jaffray: Wearables category has been strong, hard to believe it's basically the same size as Mac category now... what's driving this?
2:36 pm: ‌Tim Cook‌: It's the totality that's driving it. For some people it's fitness, for some it's health, for some it's communication, and for some it's all of the above. Always-on display on Apple Watch Series 5 is a game changer for many of our users.
2:37 pm: ‌Tim Cook‌: We'll be continuing to build out our Health Records feature. We've got research going. And obviously we have things that we aren't going to talk about just yet. There will be a day we look back and see Apple's greatest contribution was to people's health.
2:42 pm: Shannon Cross, Cross Research: What is Apple seeing in China? Trends? Reception to ‌iPhone‌? Thoughts on Hong Kong, some turmoil there.
2:44 pm: ‌Tim Cook‌: We had a very good September quarter... led by reception of ‌iPhone‌ 11, 11 Pro, and 11 Pro Max. We feel really good about how we've got started there. As you can tell from the numbers, we've significantly improved since the beginning of the year. -20%s to -2%. In constant currency we actually grew 1%. We want that to be better but we are happy with how we are doing. Combination of things that has turned things around. On a macro basis, trade tension is less. That clearly looks positive based on the comments we've been reading in the press. Products have been extremely well received there. Financing and trade-in program. All these things have moved the dial. Sum of all of that. I'd also say it's not all about ‌iPhone‌ in China. Services revenue grew double-digits in the quarter. Also, wearables are doing so great at a company level, and they're doing even better in China. Lots of positives there.
2:45 pm: Katy Huberty, Morgan Stanley: What do you think about operating expense growth?
2:46 pm: Luca Maestri: We've gone through different cycles, sometimes our revenue exceeds our op. ex. growth. Sometimes it's the other way around. Our approach is not changing: we want to invest in the business. Especially in R&D space over past few years to improve user experience, improve our products... We've launched a lot of new products in recent quarters, and now new services, we need to make adequate investment in marketing those products and services. That's what you're seeing in our guidance for Q1 2020. We're making investments in both engineering and advertising.
2:47 pm: Toni Sacconaghi, Bernstein: Historically Q4 to Q1 revenue is up higher sequentially... why is the guidance not higher for Q1 on the top line? Is that a reflection of conservatism given a lot of uncertainty in the world, or other forces at work?
2:49 pm: Luca Maestri: The guidance midpoint we provided would represent an acceleration of growth. FX headwinds of around $1B that impacts guidance. We feel very good about ‌iPhone‌, how the new cycle has started, wearables has very strong momentum. One thing is we also contemplated the comparison of the iPad Pro and new MacBook Air... different launch timing.
2:53 pm: ‌Tim Cook‌ suggests that Apple services could be bundled in the future.
2:56 pm: Question: Perhaps you can talk about the potential for some of the tariffs that are upcoming. Potential impact going forward and how Apple is looking to address that? Adjust pricing?
2:57 pm: ‌Tim Cook‌: We're paying some tariffs today that went into affect pre-September and in September. In general, my view is very positive with how things are going, and that positive view is obviously factored in our guidance as well. Just the tone has changed significantly and I have long thought that it was in both countries' best interest to get to an agreement that maybe initially doesn't solve everything, but solves things that each party may want, and get to a better place. I'm hopeful that's where we're headed.
2:57 pm: Question: I just wanted to start off with Apple's new services and what you're seeing for retention beyond free trials?
2:58 pm: ‌Tim Cook‌: We're not going to give out projections on it but we're really pleased with the number of people that entered the trial period. People are just coming out of the 30-day trial period in the last few days or week or so [for Apple Arcade]. Too early to tell what conversion rate will be. Customer feedback to date has really been incredible. Very excited for future of the service.
2:58 pm: Question: Wearables, what are you seeing in consumer behavior in upgrading devices like the Apple Watch and AirPods? Replacement cycle by driving innovation?
3:00 pm: ‌Tim Cook‌: Because the Watch is relatively young, we haven't seen enough upgrade cycles to establish a pattern. 3/4 of customers buying Apple Watch for first time. I do think upgrade market will get larger over time, but just don't have a current view as to how often and so forth. On the AirPods, we're anxious to see the customers for the new ‌AirPods Pro‌... early going, it will be people that have AirPods today and also want to have a pair for the time they need noise cancellation.
3:00 pm: Apple's earnings call has concluded. A replay of the call will be available for two weeks on Apple.com and Apple Podcasts shortly.
3:00 pm: Stay tuned to MacRumors for continued coverage of Apple's announcements.