Apple News+ is Apple's paid subscription service for the Apple News app. Apple News+ lets you access magazines and paywalled content from some news sites. You have to pay a subscription fee to access Apple News+, and it is an add-on service that lives right alongside Apple's existing free Apple News content. This guide covers everything that you need to know about Apple News+, from pricing and availability to news sites and magazines included.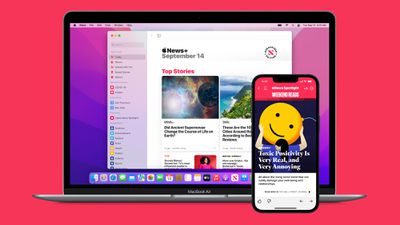 Apple News+ Availability
Apple News+ content is available right in the Apple News app through the new Apple News+ tab that shows up on iPhones, iPads, and iPod touch models running iOS 12.2 or later and Macs running macOS Mojave 10.14.4 or later. Apple News+ is limited to Apple devices and it is not available on Android devices or PCs.
You need to be in the U.S., Canada, Australia, or the UK to be able to subscribe to and access Apple News content at the current time, though Apple has plans to expand it to additional countries in the future.
Apple News+ Pricing
Apple News+ costs $9.99 per month in the United States, $12.99 per month in Canada, £9.99 per month in the UK, and $14.99 per month in Australia. At the current time, there are no yearly subscription plans available.
The $9.99 per month fee gives your entire family of up to six people access to Apple News+ as long as you have Family Sharing set up. Family Sharing is available for any member of your family that has an Apple ID, but be aware that every person added to the Family Sharing group must share the same payment method, as there is only one debit or credit card allowed for the family sharing group.
Apple News Free Trial
Apple is offering a 30-day free trial for Apple News+, and we have instructions on how to sign up here. You won't get charged the monthly fee until the free trial expires.

How to Get to Apple News+ Content
All Apple News+ content is available in the Apple News app in the Apple News+ tab at the bottom of the display on an iPhone, or through Apple News+ option on the side bar on iPads and Macs.


The Apple News+ section houses all available Apple News content, including magazines and newspapers, though if you come across Apple News+ articles from magazines news sites like The Wall Street Journal while browsing through the standard Apple News interface, that content will all be available for free to you.
What's Included in Apple News+
The Apple News+ monthly fee gets you access to more than 200 popular magazines that cover a wide range of categories, including health, style and beauty, lifestyle, sports, finance and business, cars, entertainment, food, hobbies, home and garden, kids and parenting, news and politics, outdoors, science and tech, and travel.
Both past and current issues from a number of magazines are included. Based on a spot check, past issues seem to be available from March 2018 on, so no magazine is offering a full collection of past content. March 2018 is when Apple purchased Texture, the service that Apple News+ evolved from.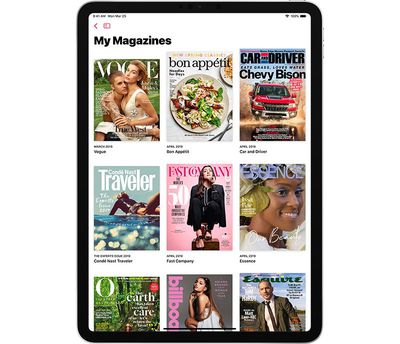 Along with more than 200 magazines, Apple News+ includes paywalled subscription content from the following newspapers: The Wall Street Journal, Los Angeles Times, and Toronto Star.
There are also several digital only subscription offerings included such as theSkimm, The Highlight by Vox, New York Magazine's sites Vulture, The Cut and Grub Street, and Extra Crunch from TechCrunch. Apple maintains a website with a full list of what's included with Apple News+.
Apple News Formatting
New issues of some magazines in Apple News+ are using a proprietary formatting designed just for Apple News+. It puts a table of contents right up front so you can see what articles are included and skip right to what you want to read, and it also supports full screen interactive media and other digital-first features.


Some magazines have not been updated with this new format and their issues are plain PDFs that you can swipe through with none of these new features. All older issues even from magazines that do support the new Apple News+ digital format are also in PDFs.


PDFs display all of the available pages in a magazine, but you'll essentially need to swipe through most of the magazine to see the specifics of what's available.
Subscribing to a Magazine
To add a magazine to the My Magazines section of Apple News and follow it, you need to search for it using the Apple News search interface and then tap on the heart button to favorite it. This will ensure that the magazine is displayed in the My Magazines section. If you've read a magazine that you've not hearted, it may still temporarily show up in the My Magazines section.


As of iOS 12.3 and macOS Mojave 10.14.5, you can also subscribe to a publication to follow directly from the Apple News+ catalog view by tapping on the "Follow" button.


Any magazine that you follow (aka have added a heart to) will be automatically downloaded to your device when a new issue is available.
Downloading a Magazine for Offline Reading
You can download any magazine in Apple News+ so that you can read it offline. When browsing through magazines, viewing new issues in the Apple News+ section, or looking at a magazine's overview with all of the available issues listed, tap on the little download icon next to any issue to make it available to read when you don't have a Wi-Fi or LTE connection.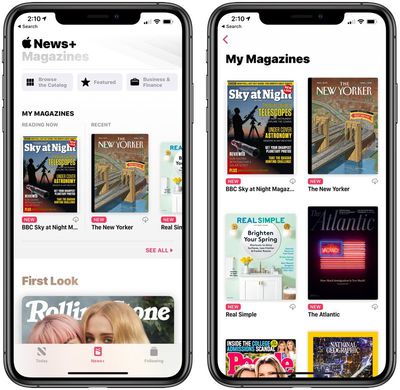 All of your downloaded Apple News+ magazines can be found both offline and online in the My Magazines section.
Deleting a Magazine You've Downloaded
When Apple News+ launched, there was no option for deleting downloaded magazines, but Apple added the feature in iOS 12.4. To clear downloaded magazine issues, go to History > Clear > Clear All.
Apple News+ How Tos
The Free Apple News Experience
Apple News in the U.S., Canada, UK, and Australia continues to function as before for those who choose not to sign up for Apple News+. All of the content and news stories from your favorite news sites will still be available to read, you just won't get access to the magazines and paywalled content included in Apple News+.


For non-subscribers, there are essentially no changes to the Apple News app with the exception of a new Apple News+ tab to ignore. Apple News will continue to offer access to Top Stories, Trending Stories, and a feed of personalized news articles.
Existing Subscriptions
If you already subscribe to a magazine that's now offered in Apple News+, you'll probably want to cancel whatever subscription you have, whether it's through Apple or through another subscription service.
For some publications, like The ‌Wall Street Journal‌, there is a possibility you'll want to keep the standalone subscription. While all of the WSJ's content is available in Apple News+, the app is only going to surface "general interest" articles, which could make it difficult to find the full range of content offered. WSJ archives also only persist for three days.
Printing
There is no built-in printing mechanism for the Apple News+ app, which makes it difficult to print copies of stories or get a printout of a recipe.
You can attempt to open a news story in Safari on the ‌iPhone‌ or iPad by tapping the three dot icon in the corner, choosing copy link, and pasting it into Safari. From Safari, you can tap on the share sheet button (square with an arrow) and then choose the "Print" option. It's worth noting that this method may not work for all articles, and it won't provide a print-friendly format.
Audio News
Apple News also comes with an audio news feature. Apple News editors release around 20 audio stories for per week across a wide range of interests, with stories narrated by professional voice actors. Apple News stories are limited to Apple News+ subscribers in the U.S.
Apple also released Apple News Today, a daily audio news briefing that recaps the news of the day. The feature is available Monday through Friday and is free for all Apple News users in the United States.
Local News
There's a curated local news experience available in the Bay Area, Houston, Charlotte, San Diego, San Antonio, Miami, Los Angeles, New York, San Francisco, and Washington, D.C., where Apple provides coverage of topics important to local communities like dining and restaurants, weather, news and politics, and more.
Guide Feedback
See something we left out of our Apple News+ guide or have a question not answered here? Let us know in the comments or Send us an email here.