iPad Air 2
Thinner design, Touch ID and an A8X chip.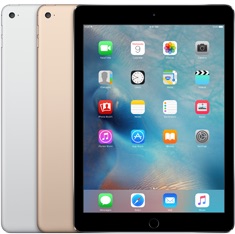 At A Glance
Apple's iPad Air 2 includes a thinner design, Touch ID, an A8X processor, and an improved camera. An updated iPad Air 3 is expected some time in 2016.
Features
9.7-inch Retina display
A8X processor
2GB RAM
iOS 8
Touch ID
White/Silver, White/Gold, Black/Space Gray
16, 64, 128 GB capacities
Current Version
Apple's original iPad Air was impressively thin, measuring just 7.5 mm thick, similar to the pencil that it was compared to in an array of advertisements. On October 16, 2014, Apple introduced the iPad Air 2, which is significantly thinner, at just 6.1 mm thick. According to Apple execs, it's the thinnest tablet in the world, and it's even thinner than both the iPhone 6 (6.9 mm) and the iPhone 6 Plus (7.1 mm).
Aside from a thinner body, the iPad Air 2 retains the same general design elements of the original iPad Air, but it has gained some impressive under-the-hood improvements. For one, the tablet now comes with the Touch ID fingerprint sensor first introduced in the iPhone 5s, and it also includes an upgraded A8X processor that's even faster than the A8 in the iPhone 6 and 6 Plus, and 2GB of RAM. There's an M8 motion coprocessor as well, which pulls in data from the accelerometer, gyroscope, compass, and a new barometer.
Using a laminated gapless display let Apple shed bulk from the iPad Air 2, and it also let the company improve the display, offering enhanced contrast and more vibrant colors. Apple also added an anti-reflective screen coating that cuts down on up to 56 percent of glare.
The iPad Air 2 has an 8-megapixel rear camera that includes an Apple-designed image signal processor, an f/2.4 aperture, and support for 1080p HD video. For the first time, the iPad can capture large panoramas up to 43 megapixels, it can capture 720p 120FPS Slo-mo video, it has time-lapse video capabilities, and it can take burst mode photos.

There's also a front-facing FaceTime HD camera with an f/2.2 aperture designed to let in 81 percent more light. The camera supports single-shot HDR photos, HDR videos, and burst mode selfies.

With 802.11ac Wi-Fi, the iPad Air 2 offers speeds 2.8 times faster than the original iPad Air and like the iPhone 6 and 6 Plus, the iPad Air 2 supports LTE Advanced for faster LTE speeds. It also integrates more LTE bands than ever before, for improved connectivity around the world.
In More Detail
Display
While the iPad Air 2 has the same 2048 x 1536 9.7-inch Retina display found in the original iPad Air, it uses a new "gapless" production technique that combines three layers (cover glass, touch sensor, and LCD) into one. According to Apple, this fully laminated display results in both "more vivid colors and greater contrast" an improvement that was also cited in multiple iPad Air 2 reviews.

Apple also says that the laminated display of the iPad Air 2 brings the LCD layer closer to the user's eyes, so when the screen is touched, it feels as if content is being touched. The touch sensor also has improved sensitivity, tracking a finger on the screen more accurately.
The iPad Air 2 has an anti-reflective coating that Apple says is "custom-designed" to reduce glare by up to 56 percent making the display more readable outdoors. A test from DisplayMate's Ray Soneira found that the anti-reflective coating on the cover glass reduces ambient light reflections by about 3-to-1 over most other tablets and smartphones.
Aside from an anti-reflective coating and the gapless production technique, the iPad Air 2's display is largely the same as the display found in the iPad Air. In some respects, it ranks lower than the iPad Air display, offering 8 percent lower brightness and 16% lower display power efficiency, and as a result, the iPad Air 2 still ranks lower than competing tablets like the Galaxy Tab S in DisplayMate's tests.
A8X Processor
Apple introduced the 64-bit A8 processor included in the iPhone 6 and 6 Plus in September 2014, but just a month later debuted an A8X processor in the iPad Air 2 that's even faster. According to Apple, the A8X processor delivers 40 percent faster CPU performance than the A7 chip in the previous iPad Air and 2.5 times the graphics performance.
Benchmarks have suggested the A8X is a triple-core processor clocked at 1.5 GHz, which brings impressive speed improvements compared to the A8 processor found in the iPhone 6 and the A7 in the first iPad Air.
In a Geekbench 3 multi-core benchmark, the iPad Air 2 came in 55 percent faster than the iPhone 6 and 6 Plus, and 68 percent faster than the original iPad Air. While the iPad Air 2 has a 3-core processor, the two aforementioned devices have only dual-core processors.

The iPad Air 2 also performed better in single-core benchmarks, coming in at 13 percent faster than the iPhone 6's A8 thanks to 100 MHz speed improvement. It was also 23 percent faster than the original iPad Air.

Apple's A8X chip includes 8-core semi-custom Series 6XT graphics from Imagination Technologies, which pairs two quad-core packages on the chip. Apple's licensing agreements with Imagination Technologies allows it to freely modify the company's GPU designs, which it has apparently done in this case.
RAM
Apple does not reveal the RAM in its iOS devices, but part leaks ahead of the iPad Air 2's release suggested the tablet would be the first of Apple's mobile devices to offer 2GB of RAM.

Early reviews confirmed the inclusion of 2GB of RAM in the iPad Air 2, as did benchmarks. An iFixit teardown revealed that the iPad Air 2 has two separate 1GB Elpida RAM chips located on either side of the A8X processor.
With 2GB of RAM, the iPad Air 2 is faster at loading content like Safari web pages, according to reviews of the device.
Battery
Due to its thinner design, the iPad Air 2 includes a smaller battery than the battery that was found in the original iPad Air. At 27.62 Whr and 7,340 mAh, the tablet sacrifices a bit of power for a smaller form factor. The first-generation iPad Air had an 8,827 mAh/32.9 Whr battery life.
Despite the iPad Air 2's smaller battery, it continues to get the same 10 hours of battery life that have been advertised in the last several iPads. Apple says that the tablet is more power efficient than previous versions, allowing the smaller battery to provide just as much power. Reviews, however, suggest that the iPad Air 2's battery does not last quite as long as the iPad Air's battery when performing the same tasks.
NFC
The iPad Air 2 includes an NFC controller chip, according to early teardowns of the tablets. The device does not contain accompanying NFC antennas to allow it to make NFC-based payments within stores, but the included NFC controller chip is where Apple Pay's "Secure Element" is located. According to Apple, the Secure Element is a dedicated chip that stores encrypted Device Account Numbers, which replace credit card numbers for security reasons.
Though the iPad Air 2 is not able to make payments in retail stores, it can make Apple Pay payments within participating apps and thus utilize both the Secure Element and Device Account Numbers.
Touch ID
The iPad Air 2 comes equipped with a Touch ID fingerprint sensor, adding an additional layer of protection to the tablet and enabling it to make Apple Pay payments within apps.
Touch ID became far more useful as of iOS 8, as it can be used within third-party apps to replace previous passcode functionality. Reviews have indicated that the Touch ID sensor in the iPad Air 2 is as good as the sensor used in the iPhone 6 and 6 Plus.
Camera
The iPad Air 2 gained an 8-megapixel camera, which is similar to the 8-megapixel camera in the iPhone 6 and 6 Plus. It includes an advanced image signal processor that offers improved face detection, faster focusing, and better noise reduction.
With its 8-megapixel camera, the iPad Air 2 is capable of capturing 1080p HD videos, and it also supports both 120 FPS Slo-Mo videos, high-resolution panoramas, and Burst Mode photos.
A 1.2-megapixel FaceTime HD camera has also been included in the iPad Air 2, with an improved sensor and a larger f/2.2 aperture that lets in 81 percent more light. The camera can capture 720p HD video.
Other Improvements
Like the previous-generation iPad Air, the iPad Air 2 contains a motion coprocessor with a gyroscope, accelerometer, GPS, and compass functionality. This version also includes a barometer, to measure altitude based on air pressure.
The iPad Air 2 supports 802.11ac Wi-Fi with MIMO support, which is twice as fast as 802.11n. Apple advertises speeds of up to 866 Mbps with a Wi-Fi chip from Broadcom.
Cellular + Wi-Fi models support LTE Advanced, using carrier aggregation to offer LTE connection speeds of up to 150 Mbps. Like the iPhone 6 and 6 Plus, the iPad Air 2 also includes support for up to 20 LTE bands, allowing the iPad Air 2 to connect to high-speed LTE networks in more locations across the world.
Apple also introduced a new Apple SIM for Wi-Fi + Cellular models of the iPad Air 2, giving users the freedom to move between some carriers at will, taking advantage of a variety of short-term plans in the U.S. and other countries.
Apple SIM cellular data plans were initially only available in the United States and United Kingdom, but in June of 2015, data access became available in more than 90 countries through a partnership with GigSky.
In the fall of 2015, the iPad Air 2 received a quiet over-the-air update to its Bluetooth firmware, upgrading it to Bluetooth 4.2. It originally shipped with Bluetooth 4.0.
iPad Air vs. iPad Air 2
The iPad Air 2 marks a major improvement over the original iPad Air, gaining a thinner design, an A8X processor, an 8-megapixel camera, 2GB of RAM, a laminated display, an anti-reflective screen coating, and a Touch ID fingerprint sensor.
That said, the majority of iPad Air 2 reviews have indicated that there's no real compelling reason for most iPad Air owners to upgrade, as the improvements to the iPad Air 2 won't be noticeable for most tasks.
For example, simple web browsing and the majority of iPad games will see little improvement going from the A7 to the A8X despite its impressive speed gains. The performance improvements will be more noticeable with system-intensive tasks like console-quality games, video editing, photo editing, modeling, design, and more.

As Apple pundit John Gruber points out, the iPad Air 2 is the first mobile device that begins to compare with Apple's MacBooks. In fact, the tablet is faster than a MacBook Air produced in 2011, which is an impressive feat. The lines between MacBook and iPad are becoming blurred with the iPad Air 2, and the tablet may be a solid upgrade for users who are looking for a tablet powerful enough to replace a laptop.
Reviews suggest iPad Air 2 owners may not notice too much of an improvement in the iPad Air 2's weight and thickness, as it is only 18% thinner than the original iPad, but the difference in both size and performance will be very noticeable to those who own an original iPad, iPad 2, iPad 3, or iPad 4.
How to Buy
After becoming available for pre-order on October 17, Apple quietly released the iPad Air 2 in stores in the United States on October 22. The iPad Air 2 is available from Apple's online store, the company's retail stores, and many other online and brick-and-mortar retailers.
Available in silver, space gray, and for the first time, gold, the iPad Air 2 can be purchased in 16, 64, and 128GB configurations, with the Wi-Fi only models priced at $499, $599, and $699, respectively. Wi-Fi + Cellular models are priced at $629/$729/$829 for 16/64/128GB capacities.
Apple also offers refurbished versions of the iPad Air 2, available at a 15 to 17 percent discount. With the price cuts, the entry-level 16GB model can be purchased for as little as $419. Refurbished stock fluctuates heavily, so not all models may be in stock. Refurbished units come with a new battery, casing, and 1-year warranty.
What's Next
As was rumored, Apple did not update the iPad Air 2 at its September 2015 media event where the iPad Pro and the iPad mini 4 debuted. Instead, the company is said to be working on an iPad Air 3 that will launch in 2016, perhaps in the fall.