iPad Air
Updated iPad Air with Touch ID coming this fall.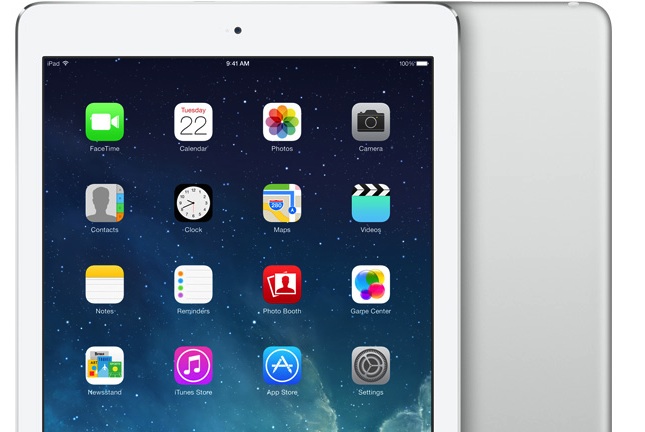 At A Glance
Apple is expected to launch an updated version of its ultra thin iPad Air this fall, with an updated processor and a Touch ID fingerprint sensor. A larger iPad Pro may also be in the works.
Current Specs
9.7-inch Retina display
A7 processor
iOS 8
Redesigned form factor
White/Silver and Black/Space Gray
16-128 GB capacities
Priced from $499
What We Expect
Apple is planning to introduce a second-generation iPad Air in 2014 and according to rumors, the updated tablet will include an improved A8 processor that offers better performance and it will also include the Touch ID fingerprint sensor first introduced with the iPhone 5s.
Hints of Touch ID support for the iPad have already been located within the code for iOS 7, further suggesting the next-generation iPad Air will include a Touch ID fingerprint sensor. Rumors have suggested TSMC began shipping Touch ID sensors to Apple suppliers in May, with the sensors said to be slated for use in the second-generation iPad Air, next-generation Retina iPad mini, and iPhone 6. The Touch ID sensors may be even more durable than those used in the iPhone 5s.
Code hidden within the iOS 8.1 beta confirms that Touch ID will most likely be introduced in the next-generation iPad Air and Retina iPad mini. "Pay with iPad using Touch ID," it reads.
In addition to Touch ID and an A8 processor, which would likely improve both performance and battery life, the iPad Air may gain an 8-megapixel camera, similar to the camera module used in the iPhone 5s. The second-generation iPad Air may also include a new anti-reflective coating, designed to make the screen easier to see in sunny conditions. This coating could lead to production issues, limiting available supply at launch.
With iOS 8, the existing iPad Air and future versions may gain support for split-screen multitasking, allowing the device to display two apps at once for the first time. A few somewhat questionable rumors have suggested the second-generation iPad Air may get 2 GB of RAM in order to support split-screen multitasking.
Current iPads are only available in silver and space gray, but according to KGI Securities analyst Ming-Chi Kuo, Apple may add a gold option with the second-generation iPad Air.
Apple's new iPad Air is said to be launching in the fall and production on components is said to be ramping up.
According to a recent report from Reuters, mass production on the tablet is already underway as well. While a rumor initially suggested the iPad Air 2 could launch on October 21, it was quickly shot down as incorrect. Though that specific date was inaccurate, a mid-October release remains likely.
Part Leaks and Mockups
An alleged next-generation iPad Air front panel surfaced in mid-April with an integrated display. Currently, the iPad Air uses a separate panel and display but a switch to an integrated front panel and display would reduce the device's overall thickness, allowing Apple to make the second iPad Air slimmer or include additional components like a larger battery.

While the front panel's veracity cannot be confirmed, iFixit co-founder Kyle Wiens believes the assembly may indeed be legitimate, using a manufacturing process similar to that of the Retina Macbook Pro.
Along with a purported front panel, images of a second-generation iPad Air dummy said to be a "perfect replica" of the device have surfaced. Originating from China, the iPad Air model in the images depicts a Touch ID home button, which is in line with rumors, along with two somewhat questionable design changes -- a new speaker grille with a single row of larger holes on each side of the Lightning port and a slightly recessed set of volume buttons.

Photos showing the alleged rear shell of the iPad Air 2 surfaced in August, depicting the same design seen in the iPad Air 2 dummy. The images show a rear housing in a gold color, with a speaker grille that features a single line of larger holes and a relocated rear microphone.

Photos depicting possible internal parts for the second-generation iPad Air were discovered in August, but little can be determined about the device based on the parts, which include the GPS antenna, microphone, and Wi-Fi module.

iPad Pro
Rumors have also suggested Apple is planning to add a larger iPad to its tablet lineup, which currently comprises the 9.7-inch iPad Air and the 7.9-inch iPad mini. The "iPad Pro" or "iPad Maxi" as it has been called is rumored to include a larger 12.9-inch display, which would be most similar in size to the current 13.3-inch MacBook Air. Based on display panels currently under development in the supply chain, research firm DisplaySearch believes that the larger iPad could ship with a display with a resolution of 2732 x 2048 and 265 pixels-per-inch (ppi).

The display reportedly offers higher pixel density nearing ultra high-definition quality and it will likely adopt many of the design elements offered in the current iPads, like an ultrathin chassis and narrow side bezels. Aside from a larger screen size, not much is known about Apple's larger iPad. According to a research report from Evercore analyst Patrick Wang, Apple's larger iPad may be aimed at the enterprise market.
According to rumors, the iPad Pro may ship with an A8X processor, a more powerful successor to the A8 processor that was recently introduced in the iPhone 6 and the iPhone 6 Plus.
An image said to depict an iPad Pro dummy used for creating cases and other accessories surfaced in May, and while the legitimacy of the model can't be confirmed, it does give a look at how a larger 12.9-inch tablet might look in-hand.<

Despite rumors suggesting Apple's iPad Pro plans were put on hold, Bloomberg reports that Apple plans to release its 12.9-inch iPad in early 2015.
Current Version
Apple's fifth-generation iPad Air can be summed up with three words that repeatedly appeared in each rumor leading up to its introduction: thinner, smaller, and lighter.
While the third and fourth generation iPads were thicker than Apple's iPad 2, the new fifth-generation iPad uses screen technology that was originally developed for the iPad mini, allowing Apple to shrink its size in all dimensions and give the device its new iPad Air name.
The iPad Air actually takes several design cues from the iPad mini, featuring the same thin size and narrow bezels found in the mini while retaining its 9.7-inch Retina screen. The iPad Air measures in at just 7.5 mm thick and weighs just one pound, marking a significant reduction by all measures.
As with all of Apple's iterative updates, the iPad Air includes improved internals as well. The iPad Air comes with the same A7 chip and M7 motion coprocessor introduced in the iPhone 5s. Connectivity is also improved with faster MIMO Wi-Fi and support for more LTE bands on cellular models.
The iPad Air launched in over 40 countries on November 1. Capacities range from 16 GB to 128 GB, with all models available in both Wi-Fi and Wi-Fi + Cellular versions and in silver/white and space gray/black color options. Pricing remains the same as the previous generation, starting at $499 for the 16 GB Wi-Fi model and adding $100 for each capacity increment and $130 for cellular connectivity.
Reviews
Following Apple's October 22 announcements, press attending the event were given an iPad Air review unit to test. Reviews of the iPad Air have been highly positive, praising the tablet's light weight, solid feel, and fast speed.
Many of the reviews focused on the light weight of the iPad Air, which is nearly half a pound lighter than the fourth-generation iPad. While the Air still has quite a bit more heft than the iPad mini, Engadget declared it to be "the most comfortable 10-inch tablet we've ever used," and Jim Dalrymple of The Loop noted that it was possible to type with two thumbs on the iPad in portrait mode, something that he couldn't do with the previous generation iPad.
Video Review by T3
Walt Mossberg of AllThingsD highlighted the iPad Air's impressive battery life, which exceeded 10 hours in his tests, and Edward Baig of USA Today called the iPad Air Apple's "most tempting iPad yet," noting that it opened apps and booted up more quickly than the fourth-generation iPad.
AnandTech wrote an in-depth analysis of the iPad Air that includes CPU and GPU benchmarks, ultimately declaring the iPad Air to be "the most significant upgrade to the 9.7-inch iPad in its history."
Benchmarks
In Primate Labs' Geekbench 3 benchmarks, the iPad Air's 64-bit A7 chip was revealed to be running at 1.4Ghz, 100Mhz faster than the iPhone 5s at 1.3Ghz. The iPad Air earned a score of 1465 on the single-core benchmark and 2643 on the multi-core benchmark, offering nearly double the performance of the fourth-generation iPad.

Graphics benchmarks revealed similarly impressive gains, with the iPad Air performing 40 to 70 percent better than the fourth-generation iPad.

IGZO Display
Apple's iPad Air has improved performance along with 25 percent reduced volume and weight, which has been made possible through indium gallium zinc oxide (IGZO) display technology.
IGZO offers higher electron mobility than previous a-Si technology, allowing for lower power requirements. According to DisplayMate's Ray Soniera, the iPad Air is 57 percent more power efficient than the previous generation iPad thanks to the use of IGZO.
Soniera's testing also suggested the iPad Air had 23 percent less Reflectance, a 7 percent improvement to Peak Brightness, and a 32 percent better Contrast Rating for High Ambient Light.
How to Buy
Apple launched the iPad Air in a total of 40 countries on November 1. In the U.S., the entry-level Wi-Fi only 16 GB iPad Air costs $499, with a $100 increase for each leap in storage capacity up to 128 GB and an extra $130 for Wi-Fi + Cellular models. Pricing for other individual countries is available on Apple's online store.
On May 28, Apple introduced educational pricing for the iPad Air, dropping the entry level price to $469 in its education store
.