iPad Air 2
iPad Air 2 with Touch ID and A8X processor available for pre-order on October 17.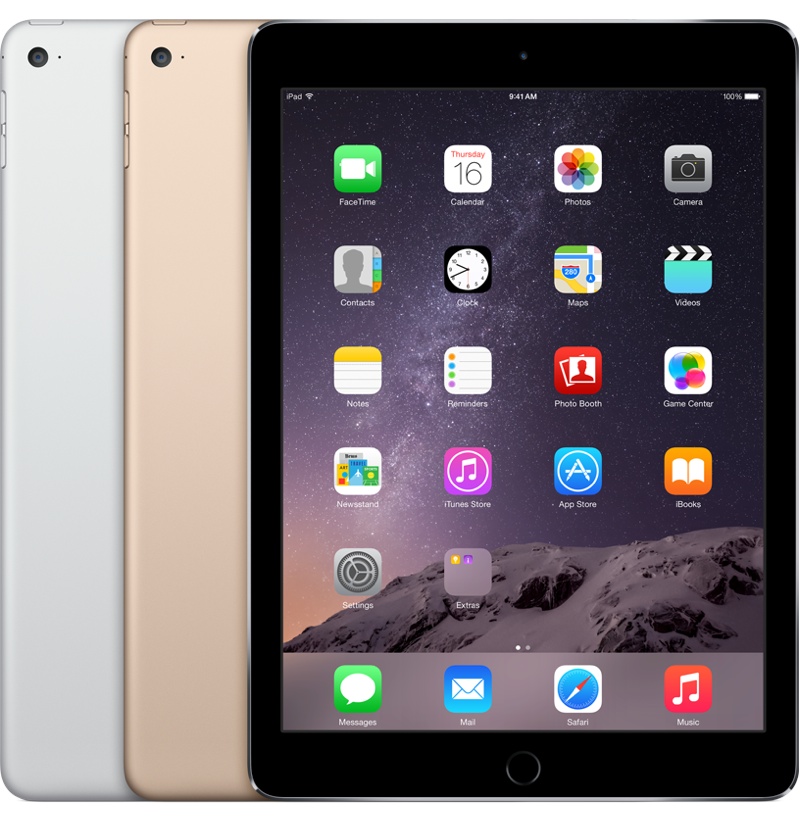 At A Glance
Apple introduced its second-generation iPad Air on October 16, with pre-orders beginning on October 17. The tablet, which comes with Touch ID, an A8X processor, and an improved camera, will begin shipping to customers next week.
Features
9.7-inch Retina display
A8X processor
iOS 8
Touch ID
White/Silver, White/Gold, Black/Space Gray
16, 64, 128 GB capacities
This page is current as of 10 hours ago
What's New
Apple's original iPad Air was impressively thin, measuring just 7.5 mm thick, similar to the pencil that it was compared to in an array of advertisements. On October 16, Apple introduced the iPad Air 2, which is significantly thinner, at just 6.1 mm thick. According to Apple execs, it's the thinnest tablet in the world, and it's even thinner than both the iPhone 6 (6.9 mm) and the iPhone 6 Plus (7.1 mm).
Aside from a thinner body, the iPad Air 2 retains the same general design elements of the original iPad Air, but it has gained some impressive under-the-hood improvements. For one, the tablet now comes with the Touch ID fingerprint sensor first introduced in the iPhone 5s, and it also includes an upgraded A8X processor that's even faster than the A8 in the iPhone 6 and 6 Plus. There's an M8 motion coprocessor as well, which pulls in data from the accelerometer, gyroscope, compass, and a new barometer.
Using a laminated gapless display let Apple shed unnecessary bulk from the iPad Air 2, and it also let the company improve the display, offering enhanced contrast and more vibrant colors. Apple also added an anti-reflective screen coating that cuts down on up to 56 percent of glare.

The iPad Air 2 has gained an 8-megapixel rear camera that includes an Apple-designed image signal processor, an f/2.4 aperture, and support for 1080p HD video. For the first time, the iPad can capture large panoramas up to 43 megapixels, it can capture 720p 120FPS Slo-mo video, it has time-lapse video capabilities, and it can take burst mode photos.
There's also a new front-facing FaceTime HD camera with an f/2.2 aperture designed to let in 81 percent more light. The camera supports single-shot HDR photos, HDR videos, and burst mode selfies.

With 801.11ac Wi-Fi, the iPad Air 2 offers speeds 2.8 times faster than the original iPad Air and like the iPhone 6 and 6 Plus, the iPad Air supports LTE Advanced for faster LTE speeds. It also integrates more LTE bands than ever before, for improved connectivity around the world.
How to Buy
The iPad Air 2 is available for pre-order from the online Apple Store as of October 17. Apple has not yet announced when the new tablet will be available for purchase in store.
Available in silver, space gray, and for the first time, gold, the iPad Air 2 is available in 16, 64, and 128GB configurations, with the Wi-Fi only models priced at $499, $599, and $699, respectively. Wi-Fi + Cellular models are priced at $629/$729/$829 for 16/64/128GB capacities.
What's Next
iPad Pro
Rumors have also suggested Apple is planning to add a larger iPad to its tablet lineup, which currently comprises the 9.7-inch iPad Air and the 7.9-inch iPad mini. The "iPad Pro" or "iPad Maxi" as it has been called is rumored to include a larger 12.9-inch display, which would be most similar in size to the current 13.3-inch MacBook Air. Based on display panels currently under development in the supply chain, research firm DisplaySearch believes that the larger iPad could ship with a display with a resolution of 2732 x 2048 and 265 pixels-per-inch (ppi).

The display reportedly offers higher pixel density nearing ultra high-definition quality and it will likely adopt many of the design elements offered in the current iPads, like an ultrathin chassis and narrow side bezels. Aside from a larger screen size, not much is known about Apple's larger iPad. According to a research report from Evercore analyst Patrick Wang, Apple's larger iPad may be aimed at the enterprise market.
According to rumors, the iPad Pro may ship with an A8X processor, a more powerful successor to the A8 processor that was recently introduced in the iPhone 6 and the iPhone 6 Plus.
An image said to depict an iPad Pro dummy used for creating cases and other accessories surfaced in May, and while the legitimacy of the model can't be confirmed, it does give a look at how a larger 12.9-inch tablet might look in-hand.<

A questionable rumor has suggested the iPad Pro could offer an iOS/OS X hybrid operating system, but this is unlikely as Apple executives have said time and time again that there are no plans to integrate iOS and OS X.
An August report from Bloomberg suggested Apple has plans to release its 12.9-inch iPad in early 2015, but an October report from The Wall Street Journal indicated that Apple has delayed its planned December mass production of the larger tablet in order to focus its attention on producing more iPhone 6 Plus units to meet demand.