Apple Rumored to Announce New iPads This Week, But Gurman Says Release 'Won't Happen This Month'
Apple is making progress on new iPad and MacBook models, but Bloomberg's Mark Gurman believes that the release of these devices "won't happen this month."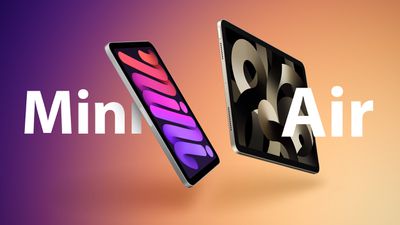 "More often than not, the company debuts new laptops and iPads in October — about a month after the latest iPhone and watch get out the door," said Gurman, in his Power On newsletter today. "And while I reported in July that Apple was planning such a release this year, the latest indications are that it won't happen this month."
Gurman went on to say that new iPad Air, iPad mini, and entry-level iPad models are all in development with faster chips, but he does not believe that "updates of any significance are imminent." This wording is more vague compared to his above claim that iPad releases "won't happen this month" whatsoever.
Last month, Apple supply chain analyst Ming-Chi Kuo said "new iPad models are unlikely before the year's end." If this claim is accurate, 2023 would be the first calendar year with no new iPads announced in the device's 13-year history.
As for MacBooks, Gurman expects the next 14-inch MacBook Pro, 16-inch MacBook Pro, 13-inch MacBook Air, and 15-inch MacBook Air models to launch in the first half of 2024. He did not comment on the iMac or other Macs.

New iPads This Week?
Supercharged and 9to5Mac this weekend both independently reported that Apple plans to announce updated iPad Air, iPad mini, and entry-level iPad models this week, citing sources. Both publications said the iPad Air will be updated with the M2 chip, and said the iPad mini will be updated with the A16 Bionic chip.
It should be a fascinating week ahead for the rumor mill. Who will be right? We will soon find out.