Apple Announces Updated iPad 10 With eSIM Support in China
Apple today announced an updated version of the cellular 10th-generation iPad with eSIM support in mainland China. Apple says the device will be available to pre-order in mainland China starting October 19 and released on October 25.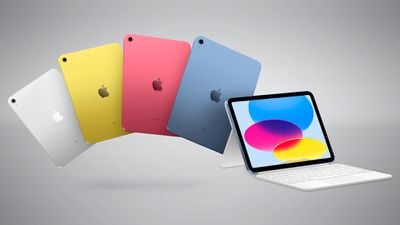 China Unicom is currently the only supported eSIM carrier for the iPad in mainland China, according to a new Apple support document. eSIM support in mainland China requires a 10th-generation iPad (Wi-Fi + Cellular) with model number A3162. All other iPad and iPhone models do not have eSIM support in mainland China.
Apple's support document offers more details on how to set up an eSIM on the updated 10th-generation iPad in mainland China, and how to activate eSIM cellular data plans on the device from carriers in other countries while traveling.
An eSIM is a digital SIM that allows users to activate a cellular plan without having to use a physical nano-SIM card.
(Thanks, Apollo!)