Although HomePod is available in Apple's Home app, the company's smart home speaker as of yet can't be integrated into HomeKit scenes and automations. With such a feature, users would be able to activate their favorite ‌HomeKit‌ scenes, alongside a specific Apple Music playlist, album, or song from their ‌HomePod‌.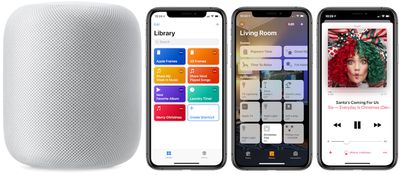 Reddit user Running_In_Space on r/HomeKit explained recently that this is actually possible today, thanks to a helpful (and super simple to create) Siri Shortcut. With the Shortcut, you can tie any Home scene together with any ‌Apple Music‌ playlist. While the Shortcut is limited to playlists, you can choose from your own playlists or those created by ‌Apple Music‌.
In the example below, we created a holiday themed ‌Siri‌ Shortcut that turns on Christmas tree lights (connected to an iDevices Switch) and shuffles a holiday playlist any time we say, "Hey ‌Siri‌, Merry Christmas." Also remember that you'll need an ‌Apple Music‌ subscription, HomeKit-enabled lights or other devices of some kind, and the updated ‌Siri‌ Shortcuts iOS app.

How to Create the Siri Shortcut
Open the iOS "Shortcuts" app
Tap "Create Shortcut"

In the search bar, type "Get Playlist" and add it into your Shortcut
Next to Playlist, tap "Choose" and pick your desired playlist
Search for "Play Music" and add it (here you can also edit settings for shuffling and/or repeating the playlist)
Search for "Run Home Scene" and add it
Next to Home, tap "Choose" and select your home
Next to Scene, tap "Choose" and select your desired scene

Before you tap "Done," select the toggle icon under the Done button at the top right corner of the screen

Name the Shortcut, and tap "Add to ‌Siri‌" to record your preferred trigger phrase
Tap "Done" until you're back on the Library screen of the app
Now you will be able to say, "Hey ‌Siri‌, [Trigger Phrase]" to your ‌HomePod‌ and have the selected Home scene activate along with the chosen ‌Apple Music‌ playlist, connected via AirPlay on your iPhone. ‌Siri‌ typically responds with, "Okay, running your shortcut," and it can take a bit longer than a normal scene activation in ‌HomeKit‌ due to the multiple actions.
There are numerous versions of this ‌Siri‌ Shortcut that could be created, like having a nighttime scene in ‌HomeKit‌ tied to a mellow ‌Apple Music‌ playlist that's triggered when you say, "Hey ‌Siri‌, goodnight." We tried testing out Home scenes that are activated via geofences, but in the few times we tried we could not get ‌HomePod‌ to turn on and play the specified ‌Apple Music‌ playlist when the arriving home scene in ‌HomeKit‌ was activated.
It's also worth noting that the desired ‌Apple Music‌ playlist will play on whatever device you are talking to ‌Siri‌ with, so in our example if we said, "Hey ‌Siri‌, Merry Christmas" and ‌HomePod‌ picked it up, then the holiday playlist played on ‌HomePod‌. If we said the same phrase to our ‌iPhone‌, the playlist would play there instead. In both scenarios, the Christmas tree lights were still activated regardless of the Apple device used.
Apple introduced ‌Siri‌ Shortcuts as an update to its Workflow iOS app back in September, and although creating Shortcuts can be an arduous task in some cases, there are a few super useful actions that have been shared over the past few months. Do you use ‌Siri‌ Shortcuts and have a favorite one to share? Give us the details in the comments below or Tweet us @MacRumors to let us know your most-used Shortcuts.