Apple Fitness+ vs. Peloton Buyer's Guide
Apple's fitness streaming service, Apple Fitness+, is positioned to rival Peloton, which has come to dominate the digital fitness space. Apple Fitness+ and Peloton offer polished workout routines delivered by enthusiastic instructors and accompanied by motivating music playlists.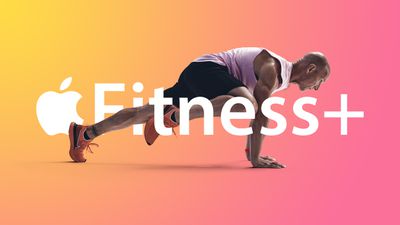 As the two subscription services share a number of workouts and require little to no equipment, it may not be immediately obvious which is better for you. Our guide answers the question of how to decide which of these two fitness subscription services is best for you.
Peloton Digital
Apple Fitness+ is sometimes compared to Peloton since they both provide bike and treadmill classes with a comparable digital experience. However, Peloton sells a number of hardware products that integrate with its digital classes for connection with the machine's resistance, cadence, and speed. This means that workouts on a Peloton bike or treadmill will offer a much more integrated experience than Apple Fitness+ is able to deliver. However, Peloton equipment can cost up to $4,295, and a subscription will need to be paid for monthly on top of that initial cost. Apple Fitness+, which has no integrated equipment or initial cost, cannot be fairly compared to this version of Peloton for this reason.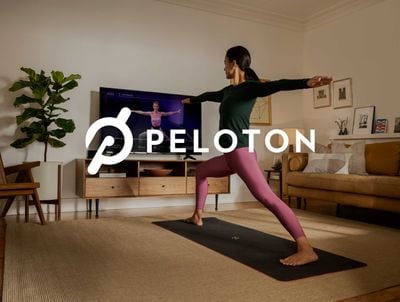 Instead, Apple Fitness+ is a direct competitor to Peloton Digital. Peloton Digital is the fitness subscription service provided by Peloton, via an app, without the need for its bikes or treadmills. With no initial cost for its integrated hardware, Peloton Digital is much more clearly positioned as a rival to Apple Fitness+.
Comparing Apple Fitness+ and Peloton Digital
Apple Fitness+ and Peloton Digital do share a number of attributes, such as four types of workout and an equipment-lite emphasis:
Similarities
Strength, cycling, treadmill, yoga, and meditation workouts
Highly-trained, charismatic instructors
Curated music during workouts
Equipment-lite workouts, with most requiring no equipment, or just a mat and dumbbells
The differences between Apple Fitness+ and Peloton Digital are more pronounced when it comes to additional workouts not offered by the rival service and pricing.
Differences
| Apple Fitness+ | Peloton |
| --- | --- |
| Additional HIIT, core, rowing, dance, pilates and mindful cooldown workouts | Additional cardio, outdoor running, and stretching workouts |
| Full integration with Apple Watch and Activity Rings | Apple Watch app available |
| Pre-recorded workouts | ‌Pre-recorded and interactive live workouts |
| Apple Music integration | - |
| Internet connection required | Workouts can be downloaded for offline use |
| Apple devices only | Also available on Android, Fire TV, Roku, and Web |
| $9.99 per month or $79.99 per year | Digital Membership: $12.99 per month |
| Included in Apple One Premier Tier subscription for $29.95 per month, family access available | Family Digital Membership (All-Access): $39 per month |
Read on for a closer look at each of these aspects, and see what exactly both fitness subscription services have to offer.
Workout Types
Both services espouse a selection of workouts to appeal to a broad audience, but there are slight differences in what each offers. Apple Fitness+ features 11 workouts:
High-Intensity Interval Training (HIIT)
Strength
Yoga
Meditation
Pilates
Dance
Core
Cycling
Treadmill (for running and walking)
Rowing
Mindful Cooldown
Peloton Digital similarly features 11 workouts:
Strength
Yoga
Cardio
Meditation
Running (treadmill)
Outdoor running
Cycling (indoor)
Stretching
Tread Bootcamp
Bike Bootcamp
Walking
Both Apple Fitness+ and Peloton share workouts for strength, cycling, treadmill, yoga, and meditation. However, Peloton Digital has workouts for cardio, outdoor running, and stretching, all of which Apple Fitness+ lacks. On the flip side, Apple Fitness+ has workouts for high-intensity interval training (HIIT), core, rowing, dance, pilates, and mindful cooldown.

Peloton's stretching workouts broadly map to Apple Fitness+'s "mindful cooldown," but outdoor running and mixed cardio are more unique. However, Peloton's categorization of workouts seems to be less clear than that of Apple Fitness+. It is not immediately obvious, for example, what workouts "cardio" entails. Likewise, treadmill running, tread bootcamp, outdoor running, and walking are all separated despite essentially containing the same activity.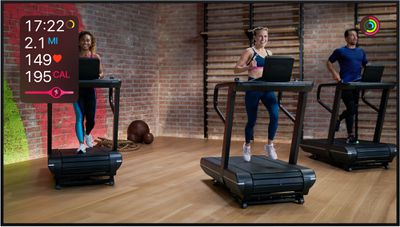 Apple Fitness+'s selection of workouts is more clear, with specific workouts for core, rowing, and HIIT, for example. There is only one kind of treadmill workout, and each workout tells the user more clearly what the activity will entail. Likewise, the additional rowing, dance, and HIIT workouts, none of which Peloton has, are notable due to their increasing popularity.
Ultimately, which set of workouts you personally prefer will be up to you. More advanced fitness buffs may prefer Peloton's selection of workouts, particularly when it comes to a specific kind of running, but for beginners, families, and casual users, Apple Fitness+ has a varied selection of popular workouts with clearer categorization.
Workout Videos
Peloton live-streams some of its classes. This allows instructors to generate more enthusiasm during workouts and users are aware that they are working alongside others in real-time, pushing them to work harder. Live-streaming enables Peloton to leverage interactive and social features in real-time, such as a feature to give other users who are working out alongside you a high-five for encouragement.
All Apple Fitness+ workouts are pre-recorded and available on-demand, meaning that there are no added interactive features, but it does allow users to download workouts for offline use. Peloton allows users to preload content for more stable playback, but workouts still require an internet connection to play.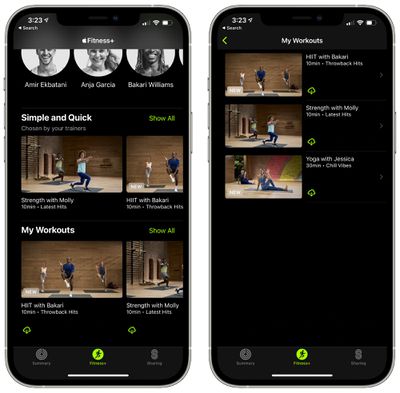 If you have an unreliable internet connection or travel frequently, Apple Fitness+ will provide a better experience since you can download your workouts ahead of time. On the other hand, if you like the idea of working alongside other users in real-time, Peloton is the only option that can offer this experience.
Access
Both services are available on ‌Apple TV‌, ‌iPad‌, and ‌iPhone‌, but the Peloton Digital app is also available on Android, Fire TV, Roku, and in web browsers.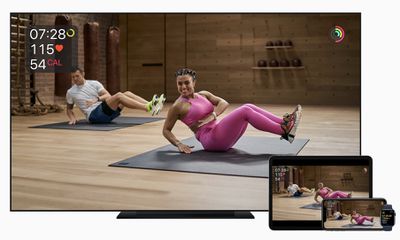 Android users are limited to Peloton Digital since Apple's offering does not work on other devices. Depending on how heavily invested you are in Apple's ecosystem and what devices you have around the home, you may prefer Peloton as it supports more platforms.
Integrations
Apple Fitness+ heavily integrates with Apple devices such as the Apple Watch. When a user initiates a Fitness+ workout on their ‌iPhone‌, ‌iPad‌, or ‌Apple TV‌, their Apple Watch will automatically sync and track that type of workout. Users can also easily pause workouts from their Apple Watch or simply by taking out an AirPod.


One of the biggest highlights of Apple Fitness+ is the ability to see your Apple Watch metrics on-screen in real-time. Users can see their Activity Rings in the top right corner of the screen, while the opposite corner has the elapsed time of the workout, heart rate, and calories burned. Some workouts also feature the "Burn Bar," which is an indicator of how much effort you are putting in compared to other users. Instructors will often highlight and enlarge different metrics as you complete your workout.


Fitness+ is also integrated with ‌Apple Music‌, but a subscription is not required to use the service. If you do have an ‌Apple Music‌ subscription, you will be able to easily save tracks you enjoy from workouts.
Peloton lags behind Apple when it comes to tracking metrics because it is unable to leverage the Apple Watch in the same way. If you are not using a Peloton treadmill or bike, Peloton simply does not have the ability to track a large amount of workout data. The Peloton bike allows you to track heart rate and calories, for example, but the app does not afford that option to anyone not using the company's costly flagship hardware.
The Peloton Digital app does allow users to monitor some of their metrics via the Apple Watch, but it is not mandatory to have one. Peloton will likely struggle to attract existing Apple Watch users to its service when it cannot integrate with the Apple Watch's popular Activity Rings.
On the other hand, to get the most out of Apple Fitness+, users will need an Apple Watch. If already have one, Fitness+ is far more capable of tracking the specifics of your workout and integrating with other activity data from throughout the day than anything Peloton is able to offer.
Family Use
Peloton Digital is rated "12+" on the App Store for "Infrequent/Mild Mature/Suggestive Themes" and "Infrequent/Mild Profanity or Crude Humor." This is because there are occasional Peloton classes where an instructor will use profanity or play explicit music, although they are clearly labeled in the Peloton Digital app.
Apple Fitness+ is family-friendly with music and instructors that avoid profanity. If you plan on sharing your fitness subscription service with younger members of the family, you will almost certainly prefer Apple's more family-friendly approach.
New Content
Apple updates Fitness+ with new workouts every week. Both Apple Fitness+ and Peloton Digital allow subscribers to access a significant catalog of instructor-led workout classes.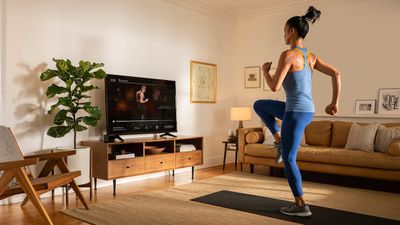 Since Apple Fitness+ is a newer service and Peloton has been around for some time, Peloton has a far larger content library of existing workouts. In all likelihood, by the time one would have exhausted the current Fitness+ library, there should be many more workouts available.
Pricing
Peloton is markedly more expensive than Apple Fitness+. When paid monthly, Apple Fitness+ costs $9.99. Peloton is $3 more expensive at $12.99 per month.
Annually, Apple Fitness+ costs $79.99. This works out to $39.89 cheaper every year than when paid monthly. Peloton does not offer an annual subscription, but over the course of a year its $12.99 subscription works out to $155.88. This means that annually Peloton costs $75.89 more than Apple Fitness+.
For family use, Apple Fitness+ can be used by up to six people for no added cost. Peloton Digital only works for one person, and families will need to upgrade to the Peloton All-Access Subscription to create separate profiles, which is $39 per month. This is $29.01 more expensive than Apple Fitness+ monthly, and $388.01 more than Fitness+ when paid annually.
Apple Fitness+ is also available as part of the ‌Apple One‌ Premier bundle for $29.95 per month. If you already use a number of Apple subscription services, such as ‌Apple Music‌, Apple Arcade, Apple News+, and Apple TV+, Apple Fitness+ may actually work out to be completely free under the ‌Apple One‌ Premier bundle.
If you either pay annually or bundle with ‌Apple One‌, Apple Fitness+ becomes even less expensive, and Peloton is the more costly service in every situation.
Free Trials
Apple gives a free three-month trial of Fitness+ with the purchase of a new Apple Watch Series 3 or later, including those who have purchased one since September 15, 2020. Without a new Apple Watch, Fitness+ offers a month-long free trial. Peloton similarly offers a 30-day free trial.

Final Thoughts
If you are still undecided about which service you prefer, you may wish to take advantage of the free trials and try both services for a month to decide which you like best.
Apple Fitness+ is considerably cheaper than Peloton Digital, in whatever way you pay for it, so users on a budget will definitely want to choose Fitness+. Yet it is worth bearing in mind that, while it is possible to work out with Apple Fitness+ without an Apple Watch, to truly feel the benefit of the service you will need to have one. Peloton Digital has no such requirement.
Peloton is geared more towards regular gym-goers and athletes, offering a more professional workout experience. It may also be more likely to help users in need of extra motivation with its live workouts and interactive social features. If this profile suits you, and are willing to pay the added cost, Peloton will likely be the best service for you.
For the majority of users, particularly including beginners and those with a more casual approach to working out, Apple Fitness+'s comparatively low cost and clearer, simpler approach to workouts will be more appropriate. Moreover, Apple Watch owners and users committed to closing their Activity Rings will find the integrated experience of Apple Fitness+ unmatched by Peloton.