New Apple TV Rumored to Launch Next Year With These Changes
A new Apple TV is expected to be released in the first half of 2024. Below, we recap rumored features and changes for the streaming box.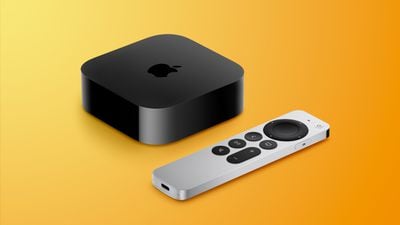 The current Apple TV was released in November 2022, with key features including the A15 Bionic chip, a larger 128GB storage option, a slightly thinner and lighter design, HDR10+ support, a USB-C port on the Siri Remote, lower pricing, and more.
A fourth-generation Apple TV 4K is expected to launch next year with the following changes.

Rumored Changes
Faster Chip
The next Apple TV will be equipped with a faster processor compared to the current model, according to Bloomberg's Mark Gurman. It's unclear which chip will power the device, but possibilities include the A16 Bionic chip that debuted in the iPhone 14 Pro models or the A17 Pro chip that debuted in the iPhone 15 Pro models.

Lower Price
Apple analyst Ming-Chi Kuo expects the next Apple TV to be "more affordable" than the current model. He said a "sub-$100 price" would be the "sweet spot" for the Apple TV, but exact pricing for the next model remains to be seen.
Both the second-generation (2010) and third-generation (2012) versions of the Apple TV were priced at $99 in the U.S. at launch, and Apple eventually lowered the price of the third-generation model to $69, so there is precedent for a sub-$100 Apple TV that would better compete with low-priced streaming devices sold by Google, Amazon, and Roku.
In the U.S., the current Apple TV starts at $129 with 64GB of storage, and a 128GB model is available for $149.

Other Details
Similar Design
No major external design changes are expected for the next Apple TV.
Apple said the A15 Bionic chip's increased power efficiency allowed for the fan to be removed in the current Apple TV, resulting in the device having a more compact design that is around 12% thinner and around 50% lighter than the previous model.

Release Date
Apple plans to release the next Apple TV in the first half of 2024, according to Gurman, so it should launch by the end of June at the latest if that timeframe is met. Previous models of the Apple TV 4K launched in November 2022, May 2021, and September 2017, so there is no set pattern for when new models are released.