Apple Planning to Launch Low-Cost Apple TV This Year
Apple could be planning to launch a new, lower-cost Apple TV later this year, according to a recent rumor.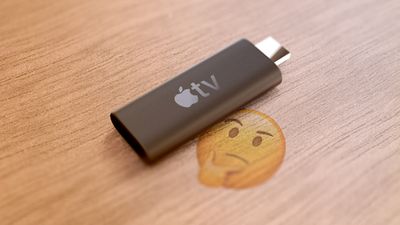 Reputable analyst Ming-Chi Kuo recently said that Apple is planning to launch a new version of the ‌Apple TV‌ as soon as the second half of 2022. The new ‌Apple TV‌ will reportedly have an improved cost structure, suggesting that the device could have a lower price to be more competitive with other streaming media players like Google's Chromecast, Amazon's Fire TV, and Roku devices.
The Information first said in 2018 that Apple was working on a low-cost TV dongle device as a more inexpensive alternative to the ‌Apple TV‌, which starts at $149. The project was driven by Tim Twerdahl, an Apple video and audio marketing executive, who argued that a low-cost TV device would make it more affordable for users to access Apple TV+ based on his experience overseeing similar projects at Netflix and Amazon.
A subsequent report from last year claimed that Greg Joswiak and Phil Schiller overruled Twerdahl, insisting that Apple should not begin making cheap, low-margin devices due to its potential to damage its reputation for premium products, meaning that Twerdahl's low-cost TV device project was allegedly abandoned. Apple apparently decided that an appropriate middle-ground solution would be to develop apps for ‌Apple TV+‌ on other platforms, such as devices from Samsung, Roku, Amazon, Sony, and Microsoft, which aligned with earlier concerns among executives, including Eddy Cue, that ‌Apple TV+‌ would need to be available on a wide range of devices, including non-Apple ones.
Kuo's rumor may suggest that the low-cost ‌Apple TV‌ project is not dead after all. Released in April 2021, the current ‌Apple TV‌ 4K model is priced at $179 with 32GB of storage and at $199 with 64GB of storage, while the previous-generation ‌Apple TV‌ HD remains available for $149 with 32GB of storage. By comparison, there are Chromecast and Roku streaming sticks available for under $50, and many other options under $100. ‌Apple TV+‌ is already available on platforms like Fire TV and Roku, but a more competitively priced ‌Apple TV‌ model could stimulate sales and help to draw more subscribers to the streaming service, which competes with the likes of Netflix and Disney+.
Both the second-generation (2010) and third-generation (2012) models of the ‌Apple TV‌ were priced at $99 at launch, and Apple eventually lowered the price of the third-generation model to $69, so there is precedence for a sub-$100 ‌Apple TV‌.
The second-generation ‌Apple TV‌ 4K was the first new ‌Apple TV‌ generation in over three and a half years when it was released last April, with key new features including a redesigned Siri Remote, a faster A12 Bionic chip, HDMI 2.1, and Wi-Fi 6. It is not yet clear what features a new model could offer, but in the long term Apple is believed to be rethinking its TV product line and working on a combined Apple TV and HomePod device.