Roku in Talks With Apple About AirPlay 2 Support
Roku is in talks with Apple about supporting AirPlay 2, with the two companies currently working out details surrounding the partnership, according to a source familiar with the matter. The plans are not finalized and are subject to change.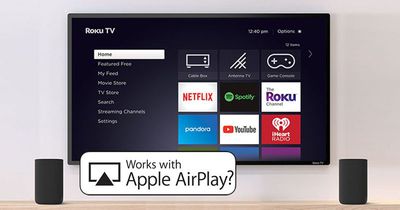 We're told that ‌AirPlay‌ 2 support is likely to arrive in the form of a Roku OS software update for Roku media players, which can be used with virtually any smart TV. The update would likely extend to smart TVs with Roku OS preinstalled, including select models from Sharp, TCL, Insignia, Hisense, Sanyo, and RCA.
It's unclear when the software update might be released or if it will be limited to select Roku players and TVs. We're told the partnership may extend to Apple Music, suggesting that Roku OS could gain an app to access the streaming music service alongside existing apps for Spotify, Amazon Music, and Pandora.
Last month, we asked Roku if it was willing to work with Apple on ‌AirPlay‌ 2 support and a spokesperson said "we don't have anything to share regarding this now." Roku did not immediately respond to our follow-up request for comment today, while Apple rarely comments on its plans in advance.
With ‌AirPlay‌ 2 support, Roku users would be able to stream video, audio, photos, and more directly from an iPhone, iPad, or Mac to their smart TVs. HomeKit is also coming to many smart TVs, enabling users to control volume, playback, and more using Siri or the Home app on an ‌iPhone‌, ‌iPad‌, or Mac.
Last month, Apple announced that select ‌AirPlay‌ 2-enabled smart TVs are coming from leading brands such as Samsung, LG, Vizio, and Sony. Samsung's latest smart TVs are also getting an exclusive iTunes app for movies and TV shows.