TCL on AirPlay-2 Enabled TVs: 'We Are Currently Committed to Roku'
Earlier this week, Apple announced that AirPlay 2-enabled smart TVs are coming from leading manufacturers, including Samsung, LG, Vizio, and Sony. Those four brands lead the TV market in the United States, but up-and-coming Chinese vendor TCL has made a name for itself stateside over the past few years.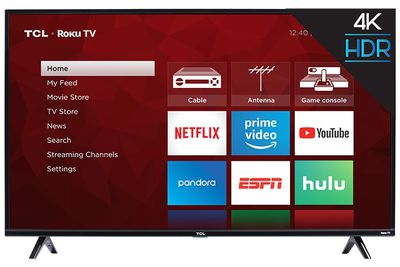 When asked if TCL would be willing to work with Apple on adding AirPlay 2 support to its smart TVs, a spokesperson for TCL told MacRumors the company is "currently committed to Roku," which has a software platform for smart TVs.
TCL's partnership with Roku doesn't necessarily preclude AirPlay 2 support, but neither company is willing to promise it right now. A spokesperson for Roku said "we don't have anything to share regarding this now." We also asked Apple if it would be willing to work with TCL, but did not receive a response.
TCL describes itself as "America's fastest-growing TV brand" and the "third largest TV manufacturer in the world." The company has been able to gain market share in the United States thanks to both Roku integration and its generally less expensive lineup of smart TVs compared to the likes of Samsung and LG.
Roku OS for TCL TVs is the same software used on its standalone media players, enabling users to stream content from a wide selection of services, including Netflix, Hulu, YouTube, Amazon Prime Video, HBO NOW, Pandora, and Spotify.
AirPlay 2 support would allow users to stream video, audio, photos, and more directly from an iPhone, iPad, or Mac to TCL smart TVs, with multi-room audio support. HomeKit is also coming to many smart TVs, enabling users to control volume, playback, and more using Siri or the Home app on an iPhone, iPad, or Mac.
At least for now, however, those who want those AirPlay 2 features on their TCL smart TV will have to consider options from its competitors instead.