iPhone 5c
Now available in-store and online.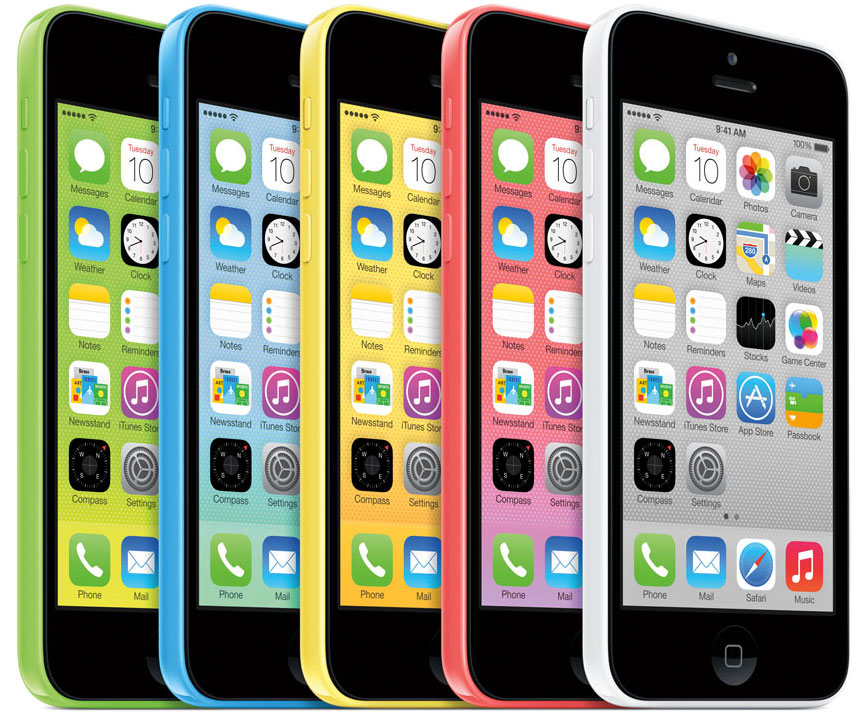 At a Glance
The iPhone 5C is essentially a repackaged iPhone 5 available in five colorful new plastic shells.
Specs
16GB $99 / 32GB $199
Plastic shell (5 colors)
4" Retina Display
A6 Processor
Siri
What's New
The iPhone 5c is essentially a repackaged iPhone 5 with a new plastic enclosure. The new device is available in five different colors -- green, yellow, blue, white, and pink.
The phone uses the same A6 processor and rear-facing camera as the iPhone 5, but does contain a few upgraded parts -- such as an improved front-facing FaceTime camera and support for more wireless LTE bands.
The new iPhone 5c starts at $99 (with 2 year contract) in the U.S. and is now available for order from Apple, AT&T, Verizon, Sprint and T-Mobile. Retail stores, such as Wal-Mart, Best Buy, Radio Shack and Target are also offering the iPhone 5c, and many have been discounting the price of the 16 GB model to $50 or less with a two-year contract.
On Friday, October 25, Apple launched the iPhone 5c in 35 additional countries, including Russia, Spain, and Mexico, and a third wave launch took place on November 1. The iPhone 5c is now available in more than 60 countries, online, via Apple resellers, or through brick and mortar Apple Stores.

How to Buy
Apple launched the iPhone 5c in the US, Australia, Canada, China, France, Germany, Hong Kong, Japan, Puerto Rico, Singapore and the UK on September 20, 2013.
In the U.S., the iPhone 5c costs $99 for the 16 GB model and $199 for the 32 GB model with a 2-year contract, although some retailers have been offering discounted pricing. Non-contract, unlocked devices are available for $549/$649. Pricing for other individual countries should be on Apple's online store.
In-store sales kicked off on Friday, September 20, with early pre-orders also arriving on that day. Availability has remained solid since launch, with all models available for shipment from Apple's U.S. online store within 24 hours and the company's retail stores having solid stock of the various models. Customers may also select in-store pickup when placing an online order, with Apple's site listing model availability for each of its retail stores. Apple has been reported to be scaling back production of the iPhone 5c as stocks have remained high since the phone launched.
During Apple's fourth quarter earnings call, Apple CEO Tim Cook indicated stock of the iPhone 5c had been plentiful because Apple underestimated customer demand in the United States and had expected the lower-cost iPhone to draw more customers than it did. Instead, customers seemed to have a preference for the iPhone 5s, which Cook attributed largely to Touch ID.
On Monday, September 23 2013, Apple announced record-breaking launch weekend sales of nine million units combined for the iPhone 5s and iPhone 5c. The company expanded iPhone 5c availability on October 25, bringing the phone to 35 additional countries. A third launch took place on November 1, bringing the iPhone to an additional 16 countries.
In March of 2014, Apple introduced the 8 GB iPhone 5c as a lower-cost iPhone option in mid-tier markets where LTE is growing rapidly. The 8 GB iPhone 5c was initially available in the UK, France, Germany, Australia, and China, but Apple released it in 16 additional European countries in April.
Upgrade Eligibility
Individual carriers have different rules on upgrade eligibility. In the U.S., customers typically sign 2 year contracts to get the best "subsidized" price. Apple offers an online tool to determine if you are indeed eligible to upgrade your iPhone with your carrier.

Line at 5th Avenue Apple Store
Reviews
Review units of the iPhone 5c were sent to specific media outlets for review prior to the launch on Friday.
Engadget was impressed by the new design in their review of the iPhone 5c: "We're not going to lie. The iPhone 5c is gorgeous -- we'd even argue that it's the most beautiful iPhone since the 4 and 4s. It instantly makes the iPhone 5 and 5s look staid in comparison. Sure, we prefer materials like aluminum and glass over plastic, and we appreciate the intricate craftsmanship that goes into building the iPhone 5 and 5s, but still, we can't help it -- the 5c just triggers some reptilian part of our brains that screams, "OMG, color!" It brings a breath of fresh air to the iPhone lineup and will appeal to consumers at an emotional level. As such, we predict the 5c is going to be wildly popular this holiday season."
The sentiment amongst the other reviews have been the same. Despite being made of plastic, the iPhone 5c feels incredibly sturdy and retains a high quality feel. Otherwise, performance and battery life of the iPhone 5c is comparable to the iPhone 5.
More Reviews
- The New York Times
- The Loop
- TechCrunch
- AllThingsD
- Engadget
- AnandTech
- USA Today
- Pocket-Lint
- T3
- CNET

iPhone 5c vs iPhone 5s (or 4S)
With the introduction of the iPhone 5c and iPhone 5s, Apple has discontinued the iPhone 5, and kept the iPhone 4S as the entry level model -- free with contract -- iPhone. Apple maintains a comparison chart showing the differences between the models.

In making a decision, much of it depends on how price sensitive a consumer you are, and how important your iPhone is to you in your day to day tasks. At this stage, it is hard for us to recommend the iPhone 4S to anyone more than a very casual and very price-sensitive customer. The 4S has the smaller 3.5" screen, and a slower processor -- it's already 2 year old technology, and will be 4 year old technology when your contract runs out.
The iPhone 5c is based on last year's technology, but with this new refresh, that technology remains far more current. The iPhone 5c also incorporates the same 4" screen as the iPhone 5s and should support all software for the foreseeable future. The $99 starting point makes it a reasonable choice if the iPhone 5s features don't call out to you.
The standout features of the iPhone 5s are the fingerprint scanner, faster speed and camera improvements. For serious smartphone users, these can be compelling features -- but for a $100 premium over the corresponding iPhone 5c model.