Apple Launches 8 GB iPhone 5c, Relaunches 16 GB iPad 4
As indicated by multiple reports yesterday, Apple has officially launched an 8 GB version of the iPhone 5c and relaunched a 16 GB version of the previously-discontinued fourth-generation iPad. The 8 GB iPhone 5c is currently being sold in Apple's European Online Stores for £429 unlocked in all of the existing color options, where it is £40 cheaper than the 16 GB model and is expected to become available in the U.S. later today. The 16 GB iPad 4 is available worldwide and retails in Apple's U.S. Online Store for $399, while customers may also purchase a cellular version for $130 more at $529.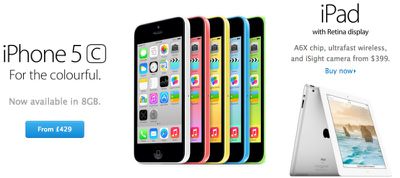 The relaunch of the 16 GB iPad 4 has resulted in Apple discontinuing the three-year-old iPad 2, although the company's European stores still currently show the iPhone 4S being sold alongside the new 8 GB iPhone 5c.
Apple's iPhone 5c has seen lower-than-expected sales since its debut last September due to high demand for the flagship iPhone 5s. The move also comes amid a renewed push by Apple to promote the iPhone 5c, as the company has debuted a new set of playful dot-centric for the phone on popular blogging platform Tumblr as well as the front page of Yahoo.com and in recent issues of The New York Times.
Meanwhile, the iPad 4 has been brought back into Apple's lineup after being removed in favor of the iPad Air last October. However, KGI Securities analyst Ming-Chi Kuo predicted in February that the company would shift from the iPad 2 to the iPad 4, as the latter sports Apple's A6X chip and 1GB memory compared to the former's A5 processor and 512 MB of memory.
Both devices are available to order from Apple's Online Store or through the company's retail locations.