Apple Retail Stores Launch In-Store Pickup Option for iPhone 5s and 5c with Availability Listings
Apple retail stores have now begun offering a Personal Pickup option for the iPhone 5s through its online purchase page, allowing customers to see store availability for each model and place orders for in-store pickup.
The move comes after Apple quickly sold out of its initial iPhone 5s online order stock following its launch on Friday, with shipping estimates in the United States falling to October.
In-store pickup is also available for the iPhone 5c, although that device has seen much better availability than the iPhone 5s.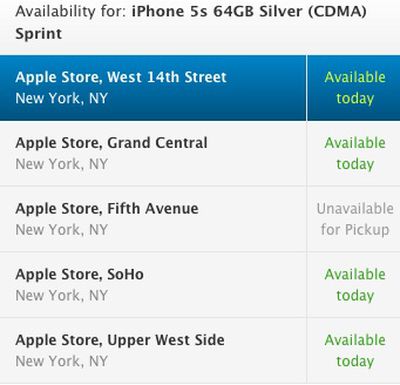 Apple cited "incredible" demand for the new iPhones in the hours after the launch, acknowledging shortages of iPhone 5s models. Gold models in particular have been more popular than Apple predicted, with the company reportedly boosting production of those models by one-third.
The iPhone 5s was announced alongside the lower-cost iPhone 5c at a media event last month, and includes features such as the new "Touch ID" fingerprint sensor, a 64-bit A7 chip, and a new iSight camera with a dual-LED "True Tone" flash.
Update: As noted by 9to5Mac, the ability to place orders for in-store pickup and check store availability is also available in the Apple Store iOS app.