iOS 7 Beta 4 Tidbits: Lockscreen Redesign, Notification Center Improvements and New Search Options
Apple today released the fourth beta of iOS 7, which begins a number of improvements, changes, and bug fixes to the operating system, including a designed lockscreen, Notification Center improvements, an updated look for Safari's bookmark menu, and more.
iOS 7 beta 4 also brings a slew of minor interface tweaks and improvements that make the fourth version of the beta feel both faster and more polished. Our forum members have noted multiple enhancements that have been bundled into the release:
Lockscreen - Slide to Unlock has been updated with a shifting highlight color and an arrow that draw attention to the area on the lockscreen. The arrow that denoted the Notification Center is now a line shape.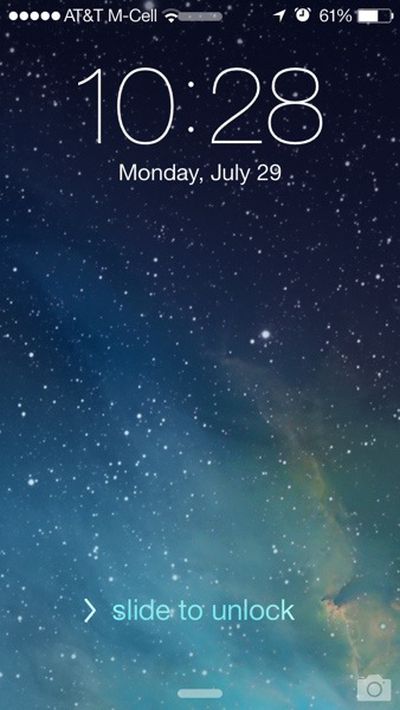 Mail - Swiping to delete inbox messages from the Mail app is quicker thanks to a smoother delete animation that eliminates slight lag.
Notification Center - The different sections of the Notification Center can now be switched between by swiping left and right. There is also a new notification for completed uploads.
AirPlay - There are new AirPlay icons.
Siri - Siri's help menu now includes suggestions for question and answer queries.


Apps - The camera includes a relocated HDR button and the Reminders app now offers Search functionality.
Icons - Safari and Mail appear to have slightly tweaked gradient designs.


Folders - The fade animation for folders located in the dock has been updated to function properly.
Phone - The Call button has been slightly altered to take up less of the phone's screen and the Answer/Decline buttons have also been updated.


Messages - Messages app now uses the first name and last initial of a contact in a chat conversation rather than the full name.
Search - The iPhone's search functionality (initiated with a downward swipe on the screen) now includes a "Cancel" option.


Safari - Buttons for Bookmarks, Shared Links, and Reading List have been redesigned with icons rather than labels.
Screenshot API - As noted by 9to5Mac, iOS 7 Beta 4 includes a new screenshot detection API that solves an issue preventing Snapchat from detecting screenshots.


Apple TV - iOS 7 includes a feature that allows an Apple TV to be automatically set up using an iPhone or iPad via Bluetooth. (Thanks, Ethan!)


Additional features in iOS 7 beta 4 will be added here as they are discovered. Apple is likely to continue pushing regular updates for iOS 7, bringing minor performance boosts and changes ahead of the operating system's public release, which is expected to come in the fall.