Apple Announces 'CarPlay' iOS Vehicle Integration Feature
As indicated last week, Apple today announced its CarPlay iOS vehicle integration feature at the Geneva International Motor Show, which allows an iPhone to take over the in-dash display of a car, providing Siri voice controlled access to aspects such as navigation, phone functions, messages, and music.
Once a Lightning-enabled iPhone is connected, the feature can be summoned and controlled on compatible cars through Siri voice control, a touchscreen, and on-board buttons. From there, users are able to access various iOS apps such as Maps, Phone, Messages, Podcasts, and Music. Third party apps such as Beats Radio, iHeartRadio, Spotify, and Stitcher are also supported, with Apple promising compatibility with more apps soon.
CarPlay will be accessible this week with vehicles from manufacturers such as Ferrari, Mercedes-Benz and Volvo, while other manufacturers such as BMW, Ford, GM, Honda, Hyundai, Jaguar Land Rover, Kia, Mitsubishi, Nissan, PSA Peugeot Citroën, Subaru, Suzuki and Toyota will receive the update later.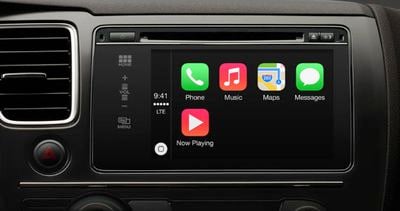 "CarPlay has been designed from the ground up to provide drivers with an incredible experience using their iPhone in the car," said Greg Joswiak, Apple's vice president of iPhone and iOS Product Marketing. "iPhone users always want their content at their fingertips and CarPlay lets drivers use their iPhone in the car with minimized distraction. We have an amazing lineup of auto partners rolling out CarPlay, and we're thrilled it will make its debut this week in Geneva."
The feature was originally named iOS in the Car and was revealed last year at Apple's Worldwide Developers Conference (WWDC). While Apple executives went on record to say that the functionality was "very important to the company" and is an essential "part of the ecosystem," reports earlier this year stated that CarPlay was plagued by development issues. However, a video of the feature surfaced last month, and showed support for multiple resolutions of external displays, touch input and hardware controls, and voice input.
CarPlay will be available as an update to iOS 7 and works with Lighting-enabled iPhones including the iPhone 5s, iPhone 5c, and iPhone 5.