Apple Releases iOS 7.0.2 with Fix for Lock Screen Passcode Bypass
Apple has just released iOS 7.0.2, a minor new update delivering several changes including a fix for a lock screen passcode vulnerability. The new version arrives as Build 11A501 for all devices.
- Fixes bugs that could allow someone to bypass the Lock screen passcode
- Reintroduces a Greek keyboard option for passcode entry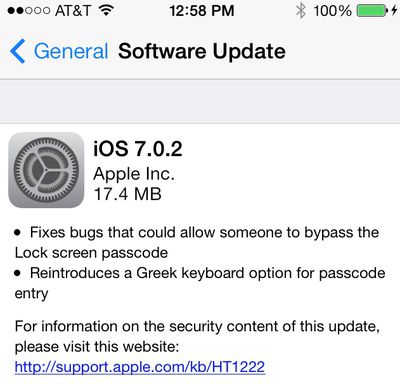 Apple has detailed the two passcode issues fixed in this update in a new support document.
The iOS 7.0.2 release follows the launch of iOS 7 on Wednesday, September 18. That day also saw a special release of iOS 7.0.1 specifically for the iPhone 5s and iPhone 5c, which launched on Friday, September 20.