Apple Announces Management Changes: Scott Forstall and John Browett Out, Ive and Others Add Responsibilities
Apple today published a press release announcing a major management restructuring for its executive team. Among the biggest changes are the immediate departure of retail chief John Browett and a 2013 exit for iOS chief Scott Forstall.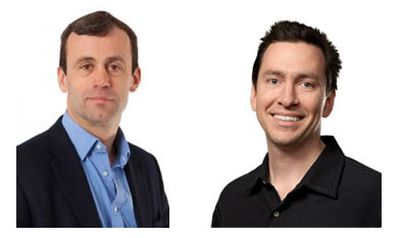 John Browett (left) and Scott Forstall (right) are leaving Apple.
As part of the restructuring, Jony Ive, Bob Mansfield, Eddy Cue, and Craig Federighi are all taking on increased responsibilities.
- Jony Ive will take over leadership of Human Interface teams in addition to his role as head on Industrial Design.
- Eddy Cue will take over responsibility for Siri and Maps, consolidating online services under one unit. Cue was promoted just over a year ago to Senior Vice President for Internet Software and Services. He played a prominent role in the educational announcement earlier this year, and now has control of two of Apple's most prominent new iOS features.
- Craig Federighi will lead both the iOS and OS X teams. Earlier this year, he was promoted to Senior Vice President of Mac Software Engineering. Now, he gains the iOS team that was formerly under Scott Forstall.
- Bob Mansfield will lead a new "Technologies" group focused on innovation in wireless technology and semiconductors. Earlier this year, Apple announced that Mansfield would be retiring, but several months later announced he would instead be staying at the company. Later, it leaked that Tim Cook had faced an "insurrection" after Mansfield announced his retirement, and Cook gave him an extremely generous benefits package to stay at the company. It seems that Mansfield will be staying at the company for the foreseeable future.
Scott Forstall, the current SVP of iOS Software, is leaving the company next year. In the meantime, he will serve as an advisor to Tim Cook. Forstall was once considered a possible candidate to replace Steve Jobs as CEO, but more recently has come under fire for missteps regarding Apple's new mapping software and the continued impression that Siri is not ready for prime time. Also, Forstall was considered responsible for the skeuomorphic direction that Apple's iOS software had been taking recently. With Jony Ive taking over Human Interface teams, there could be more consistency coming to Apple's user interfaces across the company.
On the retail side, Senior Vice President of Retail John Browett is stepping down effective immediately, with the retail team reporting directly to Tim Cook on an interim basis. A search for a successor is underway.
John Browett raised some eyebrows when he was hired earlier this year. It is assumed that Browett was behind some staff cutbacks at the retail level and an increased focus on profitability at the expense, some say, of Apple's excellent customer service.
Update: Apple has updated its Leadership webpage removing Browett and Forstall, while adding the additional responsibilities for Ive, Cue, Mansfield, and Federighi.