Today's iOS 7.1 beta 5 release has patched additional exploits (via @iH8sn0w) used for the evasi0n iOS 7 jailbreak after the primary kernel exploit was patched in iOS 7.1 beta 4.
Because the main exploits for the jailbreak have been patched, it will not be possible to jailbreak iOS 7.1 using the untethered evasi0n 7 jailbreak, according to iJailbreakEvasion. This means that users who have jailbroken their devices will not be able to upgrade to iOS 7.1 when it is released.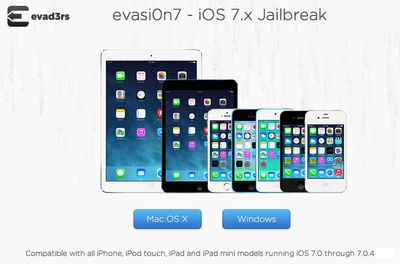 It's 100 percent official that the evasi0n7 UnTethered 7.0.4 jailbreak was partially patched by Apple in their previous beta release, which will effectively render the utility useless once Apple releases 7.1 to the masses.
The site recommends that users who wish to keep their devices jailbroken avoid the latest iOS 7.1 beta and the finalized version of the software "at all costs."
First released in December of last year, the evasi0n iOS 7 jailbreak continues to work with iOS devices that are running versions of iOS up to iOS 7.0.5.