iOS 7 Beta 5 Tidbits: Icon Settings Redesign, New Control Center Options
Apple today released the fifth beta of iOS 7, which brings a number of improvements, changes, and bug fixes to the operating system, including newly redesigned Settings icons and a Control Center option that allows the feature to be disabled within apps.
iOS 7 beta 5 also offers a slew of minor interface tweaks and improvements that continue to make iOS 7 feel both faster and more polished. Our forum members have noted multiple enhancements that have been bundled into the release:
Settings - The icons in the Settings menu have seen a complete design, going from standard blue icons to a variety of square icons in various colors.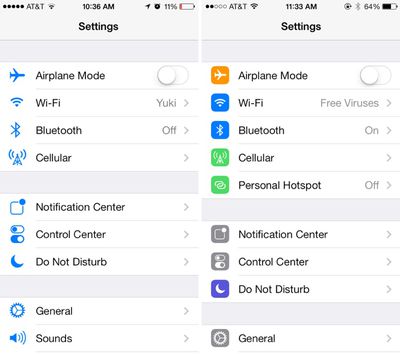 Control Center - Control Center's settings now allow the function to be turned off while in apps, preventing Control Center from being accessed from the bottom of the screen while playing games or otherwise using apps.


Power Off - The slider bar that displays when the iPhone is being powered off has been slightly altered.
Twitter - The Twitter icon has been redesigned. Rather than a white bird on a blue background, it now depicts a blue bird on a white background.


Notifications - Banner notifications can now be pulled down to access additional information.
Phone - The icons that are displayed while a user is in a call have been slightly altered with the addition of circles around the icons. They also appear to be larger.


Accessibility Options - There are now On/Off toggle options under the Accessibility menu.
Boot Screen - When installing iOS 7 beta 5, many iPhone 5 users noted that the color of the boot screen matched their devices, with a white screen used for white phones and a black screen used for black phones. This differentiation appears to be limited to the iPhone 5 at this point in time as iPad owners and older iPhone users have not noticed the change.
Messages - In iOS 7 beta 4, Apple changed Messages to default to displaying the first name and last initial of a contact in a conversation. With beta 5, only the first name is displayed by default, though other options can be selected in the Mail settings menu (which is linked to Messages). To access the feature, go to Settings / Mail Contacts and Calendars / Short Name (under Contacts).
Additional features in iOS 7 beta 5 will be added here as they are discovered. Apple is likely to continue pushing regular updates for iOS 7, bringing minor performance boosts and changes ahead of the operating system's public release, which is expected to come in the fall.