Alpine Planning to Release Aftermarket CarPlay Console This Fall
Car electronics manufacturer Alpine will begin selling a standalone aftermarket console that will support Apple's CarPlay vehicle integration feature, reports Japanese business newspaper Nikkei. Alpine's offering, which will likely be the first aftermarket device to support CarPlay, is said to hit the United States and Europe this year with a cost of around $500 to $700.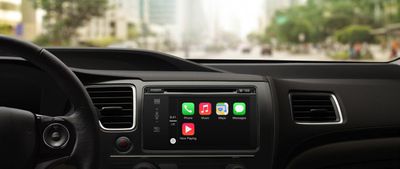 While CarPlay will be found in a number of announced and upcoming vehicles from manufacturers such as Mercedes-Benz, Volvo, BMW, Ford, GM, and Honda, the integration of the system into older vehicles has been a topic of much discussion in recent months. Pioneer Electronics expressed interest in implementing CarPlay compatibility with its existing and future products, only to back away from its comments soon after. Other companies, such as Kenwood, have indicated to MacRumors that CarPlay is only being looked at for integration and that adoption is not currently imminent.
Recently, automotive peripheral company Clarion also hinted at the possibility of bringing CarPlay its aftermarket in-dash systems. In an email to MacRumors, the firm noted that it has been working with Apple "from the start" and that it would be further developing its Smart Access in-car infotainment system and CarPlay for different purposes. Ultimately, the company stated that it will support CarPlay in both its aftermarket and OEM products at some point in the future.
Apple announced its CarPlay iOS vehicle integration feature last month at the Geneva International Motor Show. The feature allows an iPhone to take over the in-dash display of a car, providing Siri voice controlled access to aspects such as navigation, phone functions, messages, and music. The feature was included in Apple's iOS 7.1 update and works with Lighting-enabled iPhones including the iPhone 5s, iPhone 5c, and iPhone 5.