iOS 7.0.6 Usage Tops 25% Four Days After Emergency Fix for SSL Issue
Apple on Friday released iOS 7.0.6, fixing a then unknown SSL verification bug that turned out to be a glaring security issue that also affected OS X 10.9.
Following the extensive amount of media coverage on the SSL vulnerability that left users open to having sensitive information like login credentials and passwords stolen, iOS users exposed to the news rushed to upgrade their devices.
On Sunday, iOS 7.0.6 adoption was at 13.3 percent, according to analytics firm Chitika. Yesterday, four days after iOS 7.0.6's release and following a slew of stories that were released over the past few days, iOS 7.0.6 adoption rates have climbed to a total of 25.9 percent, based on ad impressions from tens of millions of iOS-based devices in the U.S. and Canada.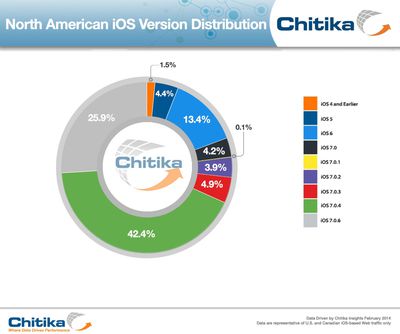 The security update for iOS 7.0.6 appears to be propagating to iOS 7 users much more quickly than a similar 2012 iOS 5.1.1 update that also included a notable security fix. iOS 5.1.1 was installed on just 12 percent of devices after the first week, indicating iOS 7.0.6 adoption is roughly twice as fast.
MacRumors readers have been particularly quick to upgrade to iOS 7.0.6 in order to patch the SSL vulnerability. According to our data, 61.1 percent of iOS visitors to the main site were running iOS 7.0.6 as of yesterday, while 43.6 percent of forum users had updated to iOS 7.0.6.
iOS 7 users who have not yet upgraded should do so immediately in order to keep their devices and data secure. Apple yesterday released a 10.9.2 update for OS X Mavericks that patches the vulnerability on desktops, which Mavericks users should also download as soon as possible.