Public Launch of iOS 7 Set for September 18
At today's iPhone media event, Apple executives announced that iOS 7 will be released to the public on Wednesday September 18, two days before the iPhone 5s and the iPhone 5c are released.
Apple SVP Craig Federighi once again highlighted iOS 7's major redesign and the numerous new features it includes. He touched on Control Center, a revamped Notification Center, AirDrop, iTunes Radio, and new multitasking capabilities.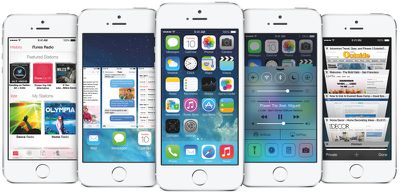 "iOS 7 is completely redesigned with an entirely new user interface and over 200 new features, so it's like getting a brand new device, but one that will still be instantly familiar to our users," said Craig Federighi, Apple's senior vice president of Software Engineering. "Next month we'll be shipping our 700 millionth iOS device, and we're excited about what our hundreds of thousands of iOS developers are doing to bring great new features to their apps."
Apple also announced that iOS 7 will support the new 64-bit technologies introduced with the iPhone 5s, with all built-in apps re-engineered for 64-bit and iOS 7 will support both 32-bit and 64-bit apps.
The OS has been built to complement both the iPhone 5c's colors and the new internal capabilities of the iPhone 5s, including its Touch ID fingerprint sensor and camera features like automatic image stabilization, Burst Mode, and Slo-Mo 120 fps video.
iOS 7 will be available on September 18 for the iPhone 4 and later, the iPad 2 and later, the iPad mini, and the fifth-generation iPod touch.