iOS 7.1.2 to Address Mail, Lock Screen, iBeacon Issues in Coming Weeks
Nearly a month ago, we noted that Apple was apparently working on iOS 7.1.2, as revealed in our web logs by the appearance of visits from devices running the operating system version on Apple's networks.
At the time, we had no information on what the update would include, but suggested it was likely to include fixes for an email attachment encryption issue and problems for users leaving iOS for a different platform trying to disassociate their phone numbers from iMessage. In both cases, Apple acknowledged that it was working on fixes for the issues that would be included in a future software update, and iOS 7.1.2 will be the first public update released since those statements.
MacRumors has now learned that Apple is indeed nearing a public release of iOS 7.1.2 and has begun seeding carrier partners with a version of it, termed build 11D257. Apple has apparently asked carriers to sign off on the update by Friday, June 27, indicating that a public release could occur the following week.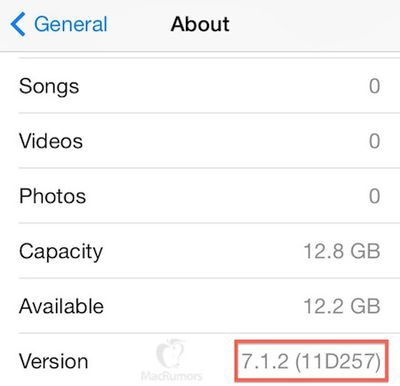 According to sources, the build of iOS 7.1.2 does indeed address the email attachment encryption issue, as well as a bug in downloading emails. Also included in the update is a fix for a lock screen vulnerability that could allow access to "limited apps". While we can't say for certain, Apple may be referring to the "missed call" lock screen bug publicized earlier this month.
Finally, iOS 7.1.2 is said to include both improvements to iBeacon connectivity and a bug fix related to data transfer with third-party accessories such as bar code scanners. There is no explicit mention of any fixes for iMessage, but they may still be quietly included in the release.

Visits to MacRumors.com from devices running iOS 7.1.2
Since the first appearance of iOS 7.1.2 in our web logs back in mid-May, traffic from devices running the upcoming operating system has increased fairly gradually with the exception of a spike on the day of Apple's Worldwide Developers Conference keynote.