Cellular carriers in the United States regularly provide discounts and offers on numerous models of Apple's iPhone. As of 2023, that means you can find solid bargains on the iPhone 14, iPhone 14 Pro, iPhone 13, iPhone 13 Pro, iPhone 12, iPhone SE, and many more at AT&T, T-Mobile, Verizon, and Sprint.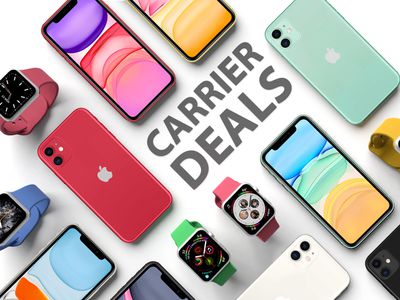 Note: MacRumors is an affiliate partner with these vendors. When you click a link and make a purchase, we may receive a small payment, which helps us keep the site running.
Apple unveiled the iPhone 14 in September 2022 and the new iPhone SE in March 2022, and we're tracking new offers on these smartphones below. All major carriers have various discounts, offers, and savings on the iPhone 14, iPhone 14 Plus, iPhone 14 Pro, and iPhone 14 Pro Max, so be sure to look for more details in each carrier's section.
Carrier deals do have some downsides, in regards to how many stipulations come with obtaining the discounts. But if you're looking to sign up for a new contract, switch carriers, or buy multiple iPhones at once, you can likely find a few solid bargains at these companies.
In this guide, we'll break down offers by carriers, and also include a few sales related to refurbished devices. In regards to these sales, the best refurbished discounts are typically related to older iPhone models, but you can still occasionally find refurbished sales on current generation models as well.
AT&T
At AT&T, new and existing customers can get up to $1,000 off the iPhone 14 family of devices with an eligible trade-in and when purchased on an installment plan. You'll also need an eligible AT&T unlimited plan to get this deal.
If you trade in a smartphone with a value of $130 or higher, you'll get up to $1,000 in bill credits. If you trade in a smartphone with a value of $35-$129, you'll get up to $350 in bill credits.
This is AT&T's typical annual iPhone offer, and it comes with the usual stipulations. In addition to purchasing a qualifying installment agreement, and paying taxes on the full retail price of the iPhone up front, you'll have to pay a $35 activation/upgrade fee.
This is compatible with the iPhone 14, iPhone 14 Plus, iPhone 14 Pro, and iPhone 14 Pro Max.

Verizon
Verizon has a unique option for its customers, offering a new "One Unlimited" plan for iPhone. This comes with unlimited 5G data, 25GB of high-speed mobile hotspot data, and Apple One, all for $90/month.
This is the only cellular carrier plan in the United States to come bundled with Apple One. When signing up for this option on one Verizon line, you'll get Apple One's individual tier (worth $14.95/month) with Apple Music, Apple Arcade, Apple TV+, and iCloud+ with 50GB of storage.
Verizon accounts with two lines will get an Apple One family tier subscription (worth $19.95/month). This one can be shared among six different family members.
Other than the One Unlimited plan, Verizon is offering up to $1,000 off iPhone 14 models, as well as a BOGO deal on Apple Watch. You can buy one Apple Watch Series 8, and get another one at no cost. There's also quite a few 20 percent off accessory deals going on during the iPhone launch on Verizon.

T-Mobile
T-Mobile customers can expect to get up to $1,000 off any iPhone 14 series smartphone when trading in an eligible device. This offer requires new or existing customers to be on the Magenta MAX, Business Unlimited Advanced, Ultimate, or Ultimate+ for iPhone plans.
There are a few other offers as well, including half off the iPhone 14 Pro (or up to $500 off any iPhone 14 device) when trading in an eligible device on most T-Mobile plans. This offer is for any customer not on the aforementioned four cellular plans.
If you need to buy two iPhone 14s, T-Mobile is also planning a BOGO deal where you can buy one iPhone 14 family device and get a second one for up to $700 off. This is also available on most T-Mobile plans and will require you to add a second line on an existing plan.
For Apple Watch users, if you buy an Apple Watch you'll get $200 off a second model when adding a new watch line on your plan.

Visible
The Verizon-owned Visible brand has a solid deal of its own, offering a virtual gift card worth up to $250 when you join Visible.
You'll need to sign up for Visible by bringing your current phone or purchasing a new one on Visible's website, transfer your number, set up your SIM card, and make service payments for three months.
Afterwards, Visible will e-mail you instructions for choosing a virtual gift card. Gift card options include Best Buy, Target, Mastercard, Lowe's, Uber Eats, and much more.
Visible offers monthly plans for as low as $25/month, and you can see more information about all of these deals on the company's website.

Deals Roundup
If you're on the hunt for more discounts, be sure to visit our Apple Deals roundup where we recap the best Apple-related bargains of the past week.