Cellular carriers in the United States regularly provide discounts and offers on numerous models of Apple's iPhone. As of early 2021, that means you can find solid bargains on the iPhone 12, iPhone 12 Pro, iPhone 11, iPhone SE, iPhone XR, and many more at AT&T, T-Mobile, Verizon, and Sprint.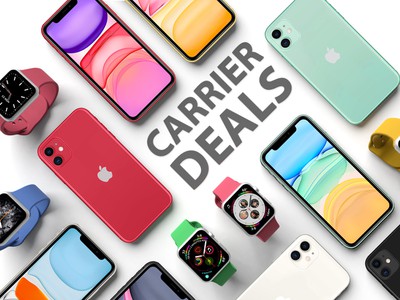 Note: MacRumors is an affiliate partner with these vendors. When you click a link and make a purchase, we may receive a small payment, which helps us keep the site running.
Carrier deals do have some downsides, in regards to how many stipulations come with obtaining the discounts. But if you're looking to sign up for a new contract, switch carriers, or buy multiple iPhones at once, you can likely find a few solid bargains at these companies.
In this guide, we'll break down offers by carriers, and also include a few sales related to refurbished devices. In regards to these sales, the best refurbished discounts are typically related to older iPhone models, but you can still occasionally find refurbished sales on current generation models as well.
AT&T
AT&T is offering a few discounts on the new iPhones, with up to $700 off the iPhone 12 Pro with trade-in and activation of an installment plan. The same offer is available for the iPhone 12.
Similar to the iPhone 12 deals, you can get the 256GB iPhone 11 Pro for half off. You can also still get the iPhone SE for $5/month when you switch to AT&T or add a line.

Verizon
Verizon has a few offers for the 2020 iPhones. First off, you can get up to $700 off the iPhone 12 Pro with a trade-in and addition of a new line. If you're upgrading, you can save up to $440 off with a trade-in. The same offers are available for the iPhone 12.
If you plan on purchasing two 2020 iPhones, you can take advantage of Verizon's new BOGO deal. With this offer, you can buy one iPhone and get another for up to $1,000 off. Only the iPhone 12, 12 mini, 12 Pro, and 12 Pro Max apply.
Verizon is offering the new iPhone SE for free when you get a new line on a Verizon Unlimited plan. This phone typically runs for $399.99 in the 64GB option, and you'll receive $399.99 in promo credit applied over 24 months with this offer.

T-Mobile
T-Mobile has up to $830 off the iPhone 12 Pro and iPhone 12 when trading in select smartphones.
You can also get up to 50 percent off the iPhone SE via 24 monthly bill credits. You'll have to add a line or trade in an eligible device to get this offer.
Lastly, if you join T-Mobile with two or more eligible lines and purchase a new iPhone 11 on a monthly payment plan plus one additional device, you can get 24 monthly bill credits for the lower priced device totaling up to $730.
The second device can be a new iPhone 11, iPhone 11 Pro, iPhone 11 Pro Max, iPhone XS, iPhone XS Max, or iPhone XR on a monthly payment plan.

Visible
Verizon-owned cellular brand Visible has a few offers for people interested in switching to the company. Visible's aim is to make cellular plans cheaper and easier to understand, offering a $40/month single-line unlimited plan with unlimited high-speed data.
You can keep your current phone if you switch, and for a limited time you can get your first month for just $25 when you sign up. You can also get a $200 Mastercard gift card when you join Visible and buy a phone at sign up.

Deals Roundup
If you're on the hunt for more discounts, be sure to visit our Apple Deals roundup where we recap the best Apple-related bargains of the past week.