(PRODUCT)RED
By MacRumors Staff
(PRODUCT)RED Articles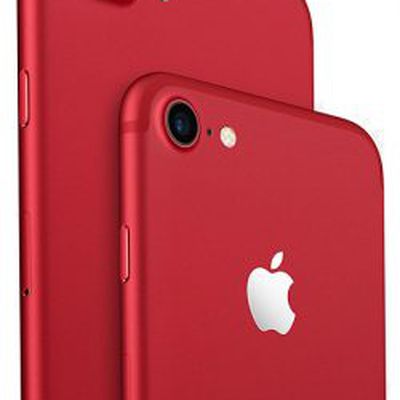 With the news earlier today that Apple has ditched the PRODUCT(RED) branding for the red iPhone 7 and 7 Plus in China, MacRumors reached out to CEO Tim Cook to find out if any of the proceeds on sales in the country would still be donated to charity in the fight against HIV/AIDS. MacRumors' question: We noticed the (PRODUCT)RED branding is missing from the new red iPhone 7 on the China Apple...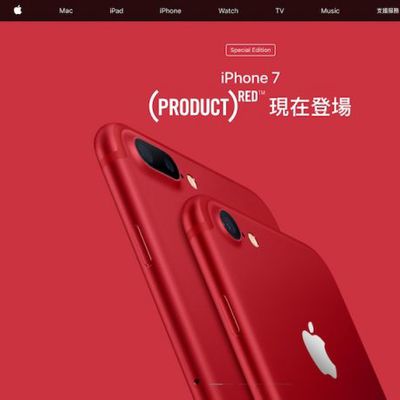 Yesterday, Apple announced a special edition (PRODUCT)RED iPhone 7 and iPhone 7 Plus, to go with its current (PRODUCT)RED line-up that Apple promotes as a way for customers to support HIV/AIDS charity (RED). The red handset, which launches on Friday, is the first time Apple has included its flagship phone in the promotional line-up, but the PRODUCT(RED) iPhone branding does not apply across...

Early this morning, Apple unveiled new Special Edition (PRODUCT)RED iPhone 7 and 7 Plus models, which feature a vibrant red aluminum finish paired with a silver Apple logo and white front bezels. While the new red iPhone models won't be available for purchase until Friday, March 24, tech YouTuber Marques Brownlee got his hands on one of the new devices early, and has shown it off in the first...

Apple today announced it is launching a special edition (PRODUCT)RED iPhone 7 and iPhone 7 Plus on Friday, March 24. PRODUCT(RED) models will be available in 128GB and 256GB storage capacities for the same $749/$849 and $869/$969 prices as the equivalent iPhone 7 and iPhone 7 Plus models in standard colors. The anodized aluminum's vibrant red finish is complemented by a white Apple logo and...

Over 400 Apple retail stores around the world have red logos today, in recognition of World AIDS Day. The logos, which Apple has put up at its stores for the last several years on December 1, are meant to raise awareness for the global fight against AIDS. Earlier this week, Apple announced plans to donate $1 to partner charity (RED) for every Apple Pay purchase made at an Apple Store, on...

Following the announcement of Apple's annual fundraising for World AIDS Day this morning, USA Today has now published a new interview with CEO Tim Cook, discussing the lengths Apple goes to in support of projects like PRODUCT(RED) and what it means to Cook personally. The fundraising will donate $1 to (RED)'s fight against AIDS for every purchase made with Apple Pay in an Apple Store, on...

Apple has announced it will once again honor World AIDS Day by donating $1 to (RED)'s fight against AIDS for every purchase made with Apple Pay at an Apple Store, on Apple.com, or through the Apple Store app, up to a total of $1 million, starting tomorrow through December 6."The gift of life is the most important gift that anyone can give," said Tim Cook. "Thanks to the vision and...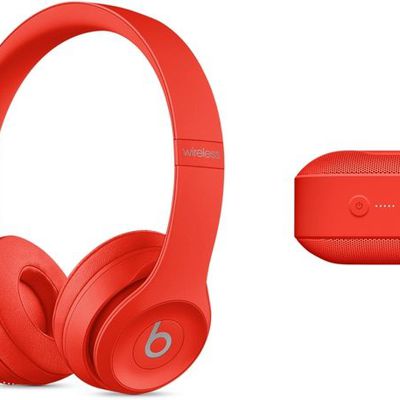 Apple today debuted new (PRODUCT)RED color options for two of its Beats products, including the Beats Pill+ and the Beats Solo3 Wireless Headphones. Both products will soon be available in a color called "Citrus Red," joining other standard color options. Apple's website lists both products as "coming soon" with price points that are the same as standard options. The Beats Solo3 Wireless...

An official (PRODUCT)RED version of Apple's leather case for the iPhone 6s and iPhone 6s Plus has been spotted in at least one Apple retail store today, as reported by French tech site iGeneration [Google Translate]. When the new line of iPhones debuted in September, only the silicone case was offered in a (PRODUCT)RED option. The (PRODUCT)RED leather case for the iPhone 6s hasn't appeared...
Apple will release a (PRODUCT)RED Sport Band for the Apple Watch, and likely other new Sport Band colors, according to a retail source. At least one Apple Store has received inventory of the new bright red band ahead of Apple's "Hey Siri" media event in San Francisco today. Apple donates a portion of the proceeds from (PRODUCT)RED-branded items to the Global Fund to help the fight against HIV and ...

British cyclist and former professional rugby player Will Carling has shared a pair of new photos on Twitter that appear to reveal two unreleased Apple products. The first photo shows a stainless steel Apple Watch with what looks like a custom red sport band, while the second photo provides a side-by-side look at an Apple charger with a unique folding plug design for use in the United Kingdom. ...