Apple Unveils Special Edition (PRODUCT)RED iPhone 7 and iPhone 7 Plus
Apple today announced it is launching a special edition (PRODUCT)RED iPhone 7 and iPhone 7 Plus on Friday, March 24.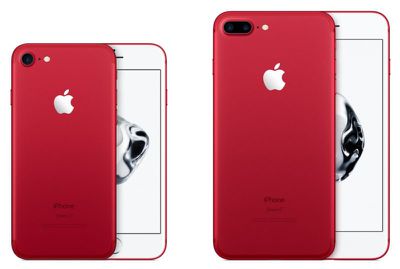 PRODUCT(RED) models will be available in 128GB and 256GB storage capacities for the same $749/$849 and $869/$969 prices as the equivalent iPhone 7 and iPhone 7 Plus models in standard colors. The anodized aluminum's vibrant red finish is complemented by a white Apple logo and white front bezels.
Apple says the model is in recognition of more than 10 years of partnership between Apple and (RED), which it says gives customers a way to contribute to the Global Fund and "bring the world a step closer to an AIDS-free generation."
"Since we began working with (RED) 10 years ago, our customers have made a significant impact in fighting the spread of AIDS through the purchase of our products, from the original iPod nano (PRODUCT)RED Special Edition all the way to today's lineup of Beats products and accessories for iPhone, iPad and Apple Watch," said Tim Cook, Apple's CEO. "The introduction of this special edition iPhone in a gorgeous red finish is our biggest (PRODUCT)RED offering to date in celebration of our partnership with (RED), and we can't wait to get it into customers' hands."
The special edition iPhone joins the current (PRODUCT)RED lineup, which is available to purchase year-round, including the full iPod line of products, Beats Solo3 Wireless On-Ear Headphones, Beats Pill+ Portable Speaker, the iPhone 7 Smart Battery Case, and a range of accessories for iPhone, iPad, and Apple Watch.
The new (PRODUCT)RED iPhone will be available to order on Apple's website, at Apple Stores, and at select authorized resellers and carriers. Apple says the new model will begin shipping to customers by the end of March in the United States and more than 40 countries and regions around the world.
The other countries will include Australia, Belgium, Canada, China, France, Germany, Hong Kong, Italy, Japan, Mexico, Netherlands, New Zealand, Russia, Singapore, South Korea, Spain, Sweden, Switzerland, Taiwan, Thailand, UAE, and the UK. Brazil, Chile, Colombia, India, Turkey and other countries will follow in April.