Following the announcement of Apple's annual fundraising for World AIDS Day this morning, USA Today has now published a new interview with CEO Tim Cook, discussing the lengths Apple goes to in support of projects like PRODUCT(RED) and what it means to Cook personally. The fundraising will donate $1 to (RED)'s fight against AIDS for every purchase made with Apple Pay in an Apple Store, on Apple.com, or through the Apple Store app from December 1-6.
Cook said that the company "wanted there to be something for everyone" in terms of donating, learning about the issue at hand, or simply being excited for a new Apple accessory launch. There are four new PRODUCT(RED) items, including an iPhone 7 Smart Battery Case, iPhone SE Case, Pill+ Portable Speaker, and Beats Solo3 Wireless On-Ear Headphones. (RED) CEO Deb Dugan said that the company, combined with Apple's spotlight on the issue, has positively impacted the lives of 70 million individuals suffering from HIV/AIDS.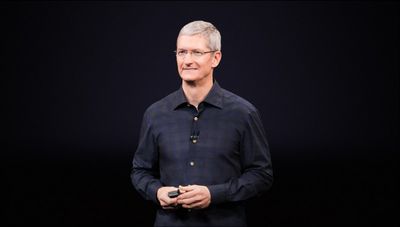 "We put our weight behind lots of things in the civil rights area," says Cook. "Similarly, I think it's key that people think about what they stand for and help their communities. We always say that we want to leave the world better than we found it. So, we try to thoughtfully decide how we can do that."
The topic of Donald Trump's upcoming presidency is briefly touched upon, centering around the possible negative ramifications for Apple and other more left-leaning tech companies. When asked if he's concerned whether Trump supporters would denounce Apple because of its anti-Trump viewpoints, Cook remained adamant that Apple -- and any company -- should retain a strong central value system, whether or not those values misalign with some of its customers.

"Of course corporations should have values, because people should have values," says the soft-spoken tech leader, who has been vocal on a range of civic issues, from gay rights to privacy rules. "And corporations are just a bunch of people."
Cook was also asked to address critics who claim that his stance domestically on certain issues, namely gay rights, is hypocritical given that homosexuality is a crime "in about a fifth of the 100-plus countries Apple does business in." Another point claims that the company's political leanings help generate more sales towards its younger millennial customer base.
Cook responded:
"We'll always help the most people through our products, because they empower people to do great things themselves," he says. "But this (RED) partnership allows us to touch a group of people we normally wouldn't. Sub-Saharan Africa is not a big marketplace for us. This is about trying to lift people up."

"We haven't shied away from being visible on a number of topics, and if it's something in our wheelhouse, we'll always be visible and stand up to protect as well as advance people's rights," he says.
Apple and Tim Cook have supported, and fought for, a number of movements and causes over the years, most recently holding a fundraiser for Hillary Clinton, fighting for user privacy and security against the FBI, and marching in annual support of LGBT rights during the Pride Festival in San Francisco.
Cook's final note on Apple's bold stances was that he and the company don't intend to stop moving forward in the fight for acceptance, inclusiveness, and support in all of these areas and more. "Every generation has a responsibility of expanding the definition of those rights, to move forward. So we'll very much continue to do that."
Check out the full USA Today interview with Tim Cook here.
Note: Due to the political nature of the discussion regarding this topic, the discussion thread is located in our Politics, Religion, Social Issues forum. All forum members and site visitors are welcome to read and follow the thread, but posting is limited to forum members with at least 100 posts.