Apple Store Down in Advance of (PRODUCT)RED iPhone 7 and New 9.7-inch iPad Launch at 8:01 a.m. Pacific Time
Apple took down its online store early this morning as the company prepares to launch its special edition (PRODUCT)RED iPhone 7 and iPhone 7 Plus in more than 40 countries and regions around the world.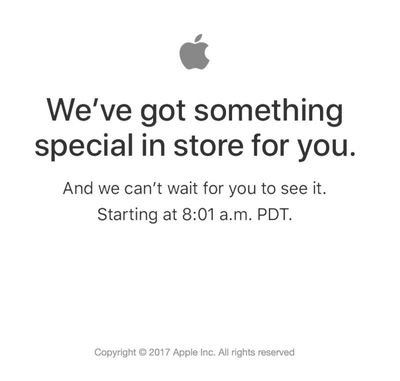 Internet users attempting to access the store section of the U.S. site are being met with the familiar "We've got something special in store for you" placeholder, accompanied by a relaunch time of 8:01 a.m. Pacific Time, which is when Apple previously said it would officially be launching the new red colorway iPhone.
Today Apple is also launching a new lower priced 9.7-inch iPad to replace the iPad Air 2, as well as new storage tier options for the iPhone SE and the iPad mini 4.
The PRODUCT(RED) iPhone 7 will be available in 128GB and 256GB storage capacities for the same $749/$849 and $869/$969 prices as the equivalent iPhone 7 and iPhone 7 Plus models in standard colors. The anodized aluminum's vibrant red finish has a white Apple logo and white front bezels.
Apple's new tablet, which it is simply calling "iPad", is Apple's new entry-level model at the 9.7-inch size, starting at $329 for 32GB and $429 for 128GB. The device will be available in more than 20 countries and regions.
The new 32GB and 128GB storage capacities for the iPhone SE will cost $399 and $499 respectively, replacing the original 16GB ($399) and 64GB ($449) storage capacities. All other specs for the smaller profile handset remain the same.
The new 128GB model iPad mini 4 with Wi-Fi will start at $399, which was previously the price for the 32GB model with Wi-Fi, which has been discontinued. A cellular model with 128GB of storage will also be available for $529.
During Tuesday's announcement of the new products, Apple also launched new Apple Watch bands and iPhone cases in new colors.
Despite the unusually early shuttering of the store, it's very unlikely that it relates to anything other than updates to the online ordering process to reflect the new products, but we'll keep readers updated as soon as we learn more.
(Thanks, Andrea!)