(PRODUCT)RED iPhone 8 and iPhone 8 Plus Now Available to Order
As promised, special (PRODUCT)RED editions of the iPhone 8 and iPhone 8 Plus unveiled yesterday are now available to order on Apple.com and through the Apple Store app on iPhone and iPad in the United States and several other countries.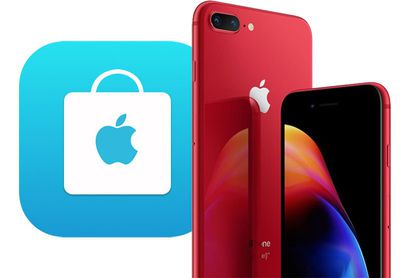 The new models are available with 64GB or 256GB storage for the same prices as the equivalent iPhone 8 and iPhone 8 Plus models in Apple's standard space gray, silver, and gold colorways, which remain available.
iPhone 8 / (RED) / 64GB: $699

iPhone 8 / (RED) / 256GB: $849

iPhone 8 Plus / (RED) / 64GB: $799

iPhone 8 Plus / (RED) / 256GB: $949
The first deliveries will arrive to customers Friday, April 13, and in-store availability at Apple Stores and select authorized resellers will begin on the same day in the United States, Australia, Canada, China, France, Germany, Hong Kong, Japan, New Zealand, Singapore, and the United Kingdom.
Availability in Brazil, Denmark, Ireland, Italy, Malaysia, Mexico, the Netherlands, Norway, Russia, Saudi Arabia, South Korea, Spain, Sweden, Switzerland, Taiwan, Thailand, the United Arab Emirates, and other regions will follow later in April, followed by Chile, Colombia, India, Israel, Turkey, and more regions in May.
While the (PRODUCT)RED edition iPhone 7 and iPhone 7 Plus had white front bezels, the iPhone 8 and iPhone 8 Plus versions have black front bezels. Otherwise, these iPhone 8 and iPhone 8 Plus models are identical to those unveiled last September, with the new color likely introduced to boost sales.
Apple's new (PRODUCT)RED edition iPhone X Leather Folio is also available to purchase for $99 starting today from Apple.com, Apple Stores, and the Apple Store app in dozens of countries around the world.


The products are part of Apple's 11-year partnership with (RED), founded in 2006 by U2 frontman Bono and activist Bobby Shriver. The brand and its licensed red-colored products helps to raise funds for The Global Fund, which helps people affected by HIV or AIDS, tuberculosis, and malaria in eight African countries.
For each (RED) product sold, Apple makes a contribution to The Global Fund, raising over $160 million to date.