Apple Debuts (PRODUCT)RED Solo3 Wireless Headphones and Beats Pill+ Speaker
Apple today debuted new (PRODUCT)RED color options for two of its Beats products, including the Beats Pill+ and the Beats Solo3 Wireless Headphones. Both products will soon be available in a color called "Citrus Red," joining other standard color options.
Apple's website lists both products as "coming soon" with price points that are the same as standard options. The Beats Solo3 Wireless Headphones in Citrus Red is priced at $299.95, while the Citrus Red Beats Pill+ is priced at $229.95.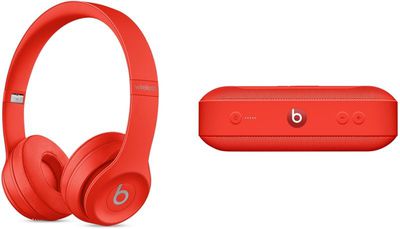 Apple has a longstanding partnership with the (PRODUCT)RED charity, and all proceeds from the sales of (PRODUCT)RED items go towards the global fight to prevent AIDS and HIV through research and education.
Apple often runs (PRODUCT)RED promotions around World Aids Day, coming up in December, in addition to continual (PRODUCT)RED accessory sales. Over the course of a multi-year relationship, Apple has donated upwards of $100 million through (PRODUCT)RED sales.


Along with new (PRODUCT)RED options for the Beats Pill+ and the Beats Solo3, Apple also recently debuted urBeats Earphones and Beats Solo 3 Wireless Headphones in an exclusive Ultra Violet color, which is a rich medium purple shade.