Virgin Mobile UK Says Apple Will Announce (PRODUCT)RED Edition iPhone 8 and iPhone 8 Plus on Monday
iPhone 8 and iPhone 8 Plus models in a limited edition (PRODUCT)RED color will be unveiled as early as tomorrow, according to an internal memo distributed to Virgin Mobile employees in the UK and obtained by MacRumors.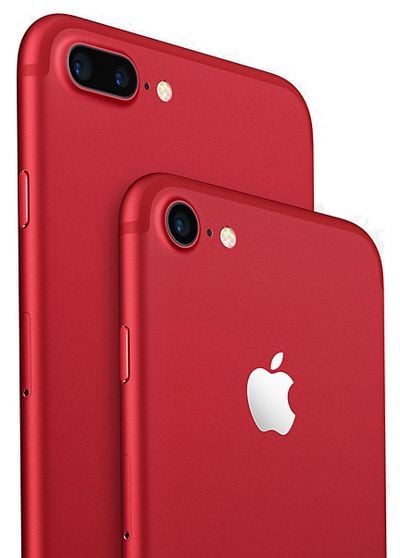 (PRODUCT)RED edition iPhone 7 and iPhone 7 Plus
Virgin Mobile UK states that it will add the new smartphone models to its inventory system on Monday, April 9, coinciding with a launch announcement from Apple, which would likely be in the form of a press release. The memo doesn't mention a (PRODUCT)RED edition iPhone X, so there might not be one.
The memo notes that there will be pre-orders, so it's unclear if the new color would be available immediately or begin shipping later in April, but it does appear that Apple will introduce the models this week.
The information lines up with rumors about new red-colored iPhones from both Rosenblatt Securities analyst Jun Zhang and Steve Hemmerstoffer, who leaks information about mobile devices through his Twitter account OnLeaks. Ben Geskin also said the new color might be (PRODUCT)RED, after initially saying Blush Gold.
Mark Gurman, a very reliable Apple reporter at Bloomberg News, has also corroborated this story in a follow-up tweet.
Apple unveiled a
(PRODUCT)RED edition of the iPhone 7 and iPhone 7 Plus
in March 2017, but it may have decided to wait until April this year so that sales of the red iPhone 8 and iPhone 8 Plus models are fully reflected in its earnings results for the third quarter, generally a slower period of its fiscal year.
A recent report said Apple will also unveil a gold iPhone X, which the Virgin Mobile UK memo does not mention. It's certainly possible Apple could have a wave of press releases tomorrow detailing availability of the (PRODUCT)RED edition iPhone 8 and iPhone 8 Plus, gold iPhone X, and its AirPower charging mat.
Update: This story has been updated to reflect that the memo originated from Virgin Mobile in the United Kingdom.