(PRODUCT)RED iPhone 8 Plus Gets First Unboxing and Hands-on Video
Yesterday, Apple began taking pre-orders for new (PRODUCT)RED versions of the iPhone 8 and iPhone 8 Plus ahead of the smartphones' official launch this Friday.
Like it did with last year's (RED) iPhone 7, Apple has given YouTube tech reviewer Marques Brownlee (MKBHD) exclusive access to one of the phones ahead of launch to bring viewers the first obligatory unboxing and hands-on video of a 256GB iPhone 8 Plus.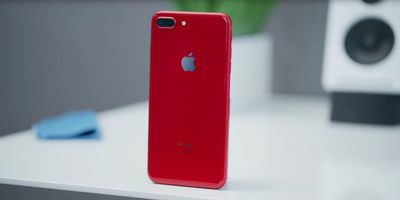 As expected, the handset comes in a familiar box containing Lightning cable, wired headphones, and standard wall plug, with the only addition being a small card detailing the (RED) brand's aim of raising funds for HIV/AIDS programs – for each (RED) product sold, Apple makes a contribution to The Global Fund, raising over $160 million to date.
As for the handset itself, it has an anodized red aluminum band similar to last year's (RED) iPhone 7, but the glossy glass back to support wireless charging gives the iPhone 8 a deeper "Ferrari-like" candy red finish, as opposed to the matte look of the iPhone 7's brushed aluminum.
The other big change is the fact that Apple has gone with smart-looking black bezels on the front of the device. That should please users who skipped the (RED) iPhone 7 because they disliked the white bezels that gave the handset a candy cane-style color combination.
According to Brownlee, Apple wouldn't let on when asked whether it had a (PRODUCT)RED iPhone X planned. iMore's Rene Ritchie has suggested the current lack of one could be down to the manufacturing complexities involved in accurately coloring the iPhone X's stainless steel band via a vapor deposition process.
At the same time, the continued absence of a (RED) iPhone X going into the summer months could hint at the company's plans for its smartphone lineup. Apple is expected to discontinue the first-generation iPhone X when the second-generation model launches this year, which could mean a red iPhone X variant might not arrive until spring 2019 at the earliest.
(PRODUCT)RED editions of iPhone 8 are available with 64GB or 256GB storage for the same $699-$849 and $799-$949 prices as the equivalent iPhone 8 and iPhone 8 Plus models in space gray, silver, and gold.