WWDC 2023 Apple Event Live Keynote Coverage: Headset, iOS 17, New Macs, and More
Apple's Worldwide Developers Conference (WWDC) starts today with the traditional keynote kicking things off at 10:00 a.m. Pacific Time. MacRumors is on hand for the event and we'll be sharing details and our thoughts throughout the day.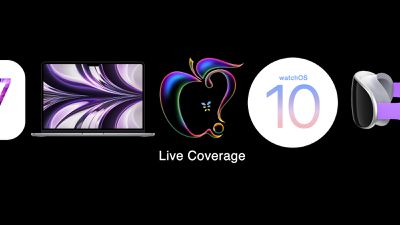 We're expecting to see a number of announcements, including Apple's long-rumored AR/VR headset with its "xrOS" operating system, some new Macs, and the usual batch of operating system updates including iOS 17, macOS 14, watchOS 10, and tvOS 17.
Apple is providing a live video stream on its website, on YouTube, and in the company's TV and Developer apps across its platforms. We will also be updating this article with live blog coverage and issuing Twitter updates through our @MacRumorsLive account as the keynote unfolds. Highlights from the event and separate news stories regarding today's announcements will go out through our @MacRumors account.
Sign up for our newsletter to keep up with Apple news and rumors.

Live blog transcript ahead...
8:02 am:
WWDC is always one of my favorite moments of the year — and this one is going to be our best ever! Tune in for our special event at 10 a.m. PT pic.twitter.com/SmkLT3VXld

— Tim Cook (@tim_cook) June 5, 2023
8:19 am: We're on site and getting checked in!
8:20 am:

8:20 am:

8:47 am:

8:48 am: View of the main seating area with the new shade structure for this year.
9:39 am: Apple's live stream is up in the TV app on various platforms, but not yet up and running on apple.com or YouTube. Currently just ambient music and gently flowing streams of color.
9:48 am: And the stream is now up on apple.com!
9:51 am:

9:51 am: We're in position!
9:57 am: The store is down. The stream is up. Craig is here. Tim's on stage. Here we go.
9:59 am:

10:01 am: The stream is beginning with a video of someone writing code, and an idea bubble forming above their head before floating out the window. He's chasing it across town.
10:01 am:

10:02 am: Idea bubbles are floating everywhere as developers run through fountains and along city streets and parkour around to get them back. The video feels rather Ted Lasso-y.
10:02 am: Tim Cook is standing in front of an enormous rainbow in the pre-recorded video, welcoming developers to WWDC, noting that this year is the 15th anniversary of the App Store.
10:03 am:

10:03 am: "Our teams are continuing to innovate, creating breakthrough experiences for our customers. Driven by a deep integration of hardware, software and services, these experiences continue to deliver the magic that comes from using our products."
10:03 am: These will be some of Apple's biggest announcements ever.
10:04 am: We're starting with the Mac, as Apple's stock price hits all-time highs today.
10:04 am:

10:04 am: We're touting Apple Silicon, noting how it's made power-efficient performance possible.
10:05 am: "We have amazing news to share on another product made possible by ‌Apple Silicon‌."
10:05 am:

10:05 am: It's the 15-inch MacBook Air.
10:05 am: "Dream Big"
10:05 am:

10:05 am: "It's the world's best 15-inch laptop."
10:06 am:

10:06 am: 11.5mm thin, 3.3 pounds. Thinnest 15" laptop. Magsafe charging, two Thunderbolt ports, and a headphone jack. Four finishes including midnight and starlight.
10:06 am: 15.3-inch display with 5mm borders, 500 nits of brightness.
10:07 am: Three-mic array, and six speakers including force canceling woofers, and spatial audio.
10:07 am:

10:07 am: It's 12x faster than the fastest Intel-based ‌MacBook Air‌, with 18 hours of battery life.
10:07 am: 18. Hours.
10:08 am: Performance, display resolution, battery life, and design. ‌MacBook Air‌ is 2x as fast, 2x the resolution, and 25% brighter, plus 50% more battery life than the most popular PC 15-inch laptop. Thinner and lighter, plus a fanless design.
10:08 am:

10:08 am: It's the only 15-inch laptop that has it all. If it's your first Mac, you'll discover how easy it is to set up and use.
10:08 am:

10:08 am:

10:09 am: "We're super excited about the all-new 15-inch ‌MacBook Air‌." Starts at $1299, or $1199 for education. Order today, available next week.
10:09 am:

10:09 am: 13-inch ‌MacBook Air‌ starts at $1099, down $100. 13-inch Air with M1 remains, starting at $999.
10:09 am: Now, on to pro products. Came out with M2 Pro and ‌M2‌ Max earlier this year.
10:09 am: Update to Mac Studio.
10:10 am:

10:10 am: The ‌Mac Studio‌ gets its first big update.
10:10 am: ‌Mac Studio‌ is getting the ‌M2‌ Max.
10:10 am: Up to 25% faster performance than M1 Max.
10:11 am: Up to 50% faster render in After Effects, and 4x faster than the most powerful Intel-based iMac.
10:11 am: Now adding ‌M2‌ Ultra, connecting two ‌M2‌ Max chips.
10:11 am: 24-core CPU, 20% faster performance than M1 Ultra, 64-core GPU for 30% faster GPU performance. 32-core neural engine is 40% faster. Can support 192 GB of unified memory. 50% more than ‌M1 Ultra‌.
10:12 am:

10:12 am:

10:12 am: It can train ML workloads like large transformer models that the best GPU can't process because they run out of memory.
10:12 am: It's the most powerful chip ever created for a personal computer.
10:13 am: 22 streams of 8K ProRes video can play simultaneously. That's a lot.
10:13 am: ‌M2‌ Ultra is 6x faster than the fastest Intel-based ‌iMac‌.
10:13 am:

10:13 am: Higher-bandwidth HDMI, and can support 6 ProDisplay XDR.
10:13 am:

10:14 am: There are some pro users who want ultimate performance, but depend on internal PCI expansion.
10:14 am: ‌Apple Silicon‌ is coming to one more pro product. Mac Pro with Apple SIlicon!
10:14 am: Most powerful chip with PCI expansion.
10:14 am:

10:14 am: Every ‌Mac Pro‌ comes with ‌M2‌ Ultra.
10:14 am: Up to 3x faster than fastest Intel ‌Mac Pro‌.
10:15 am:

10:15 am: 8 built-in Thunderbolt ports.
10:16 am:

10:16 am: PCI expansion with 6 open expansion slots supporting Gen 4.
10:16 am:

10:16 am: It's available in tower and rack-mount enclosures.
10:16 am:

10:17 am: ‌Mac Studio‌ starts at $1999. ‌Mac Pro‌ starts at $6999. Order today, available next week.
10:17 am:

10:17 am: This completes the transition to ‌Apple Silicon‌.
10:17 am: Every Mac is now a gigantic upgrade.
10:17 am: Tim's back: It's remarkable how far we've taken the Mac in such a short amount of time.
10:17 am: I couldn't be more excited about its future.
10:18 am: Now moving to software. Craig "Hair Force One" Federighi is here to talk about iOS.
10:18 am:

10:18 am: iOS is getting "delightful new features" in ‌iOS 17‌. More expressive communication. Simplified sharing. More intelligent input, and all new experiences.
10:18 am: Updates to phone, FaceTime and Messages.
10:19 am:

10:19 am: New contact posters with photos and memoji, plus "eye-catching typography" that appear during calls and in the updated address book. It works like personalizing your lock screen.
10:20 am:

10:20 am: New Live Voicemail feature with live-transcription in real-time as they speak, allowing old-school call screening. Pick up the phone mid-voicemail.
10:21 am:

10:21 am: Live voicemail transcription is handled on-device.
10:21 am: ‌FaceTime‌ can leave video messages if calls aren't picked up.
10:21 am: Messages has been updated, with search filters.
10:22 am: There's a catch up arrow to jump to the first unread message in a conversation.
10:22 am: Replying inline is faster, with swipe to reply.
10:22 am: Audio messages are transcribed.
10:22 am:

10:22 am: Inline location sharing.
10:22 am:

10:23 am:

10:23 am: Check In, where you can give updates on your location to let family or friends know when you get home safely. If you're delayed, it can recognize that and check in with you. If you don't respond, it can share an alert with friends, sharing location, battery, and cell service status.
10:23 am:

10:23 am: There's a new design for iMessage apps, hiding apps and the camera behind a plus button in iMessage.
10:23 am: There's a new Stickers experience too.
10:24 am:

10:24 am: Subjects from photos can be created as stickers.
10:25 am:

10:25 am: You can make "Live Stickers" from live photos.
10:25 am: You can add stickers to any bubble from the tapback menu.
10:25 am: Stickers work in third-party apps now, too.
10:25 am:

10:26 am: Craig promises "exciting updates" to AirDrop.
10:26 am:

10:26 am: Use AirDrop to swap your number with someone new. "NameDrop", if you bring phones close together, you share your contact poster and you can chose what number and email addresses you share.
10:27 am: You can AirDrop content by bringing phones close together too.
10:27 am:

10:27 am: If you're moving big files, you can use AirDrop and then move away, and sharing will continue over the internet. SharePlay works now too, allowing users to sync up livestreams or music.
10:27 am: Updates to Keyboard and dictation.
10:28 am: Autocorrect updates.
10:28 am: It uses a new "transformer" language model, making autocorrect more accurate than ever. iPhone can run this model every time you tap a key.
10:28 am: Refreshed design to better support you as you type, including sentence level correction.
10:29 am: If you want to "just type a ducking word" keyboard will learn that too.
10:29 am: That's ducking awesome.
10:29 am: Dictation gets a transformer-based speech model, using on-device neural engine.
10:29 am: Now we're going to some new experiences in ‌iOS 17‌.
10:30 am:

10:30 am:

10:30 am: New memories including people, places, activity and music, in addition to photos. A new app called Journal, coming to ‌iPhone‌ later this year. "Journaling is a great way to practice gratitude."
10:31 am: Using on-device ML, your ‌iPhone‌ can create new suggests, intelligently curated from information on your ‌iPhone‌. You control what to include when you enable suggestions, including Podcasts and Workouts. New Suggestions API for developers.
10:31 am:

10:32 am: There's a new writing prompt if you save moments to Journal, letting you mark journals. Can schedule notifications for the start or end of your day. Your suggestions and entries are locked and kept private with on-device processing, end-to-end encryption, and locking the journal. No one can access it, not even Apple.
10:32 am:

10:33 am: Another new experience coming to ‌iOS 17‌. StandBy, a horizontal full-screen view when the phone is sideways, designed for a MagSafe stand.
10:33 am:

10:33 am: Swipe to choose from a range of clock styles. StandBy shuffles through photos, or shows widgets, like weather, calendar, or clock.
10:33 am:

10:33 am: Smart Stacks like on the home screen, plus support for Live Activities.
10:34 am: At night, when charging, StandBy adapts to low light, with a red tone to help you sleep. StandBy will remember preferred views at each place you charge.
10:34 am:

10:34 am: New update to Hey Siri... just say "‌Siri‌" and you can issue back to back commands without saying ‌Siri‌ again.
10:34 am: Offline map support.
10:35 am:

10:35 am: Improved People detector in Photos, plus support for pets.
10:35 am: Now moving to iPadOS updates.
10:35 am:

10:36 am:

10:36 am: Updates to widgets and the Lock Screen.
10:36 am:

10:37 am: Interactivity to widgets. Make changes directly. "We think these interactions with widgets will make the home screen so much more powerful."
10:37 am: Customized Lock Screens are coming to iPad.
10:37 am:

10:38 am: Craig enjoys his photos on the ‌iPad‌ lock screen. "It's just delightful."
10:38 am: Gorgeous slow motion effects, and optimized wallpapers like Astronomy.
10:38 am: "Earth just looks stunning at this scale."
10:38 am:

10:39 am: Widgets and quick action support too. "It's really cool." Adding Live Activities, too.
10:39 am:

10:39 am: "You can even keep track of multiple timers. We truly live in an age of wonders." - Craig
10:39 am: Health app coming to iPadOS.
10:39 am:

10:40 am: Interactive charts let you dive deeply into the details. HealthKit comes to ‌iPad‌ too, of course.
10:40 am: Updates to PDF handling.
10:41 am: "‌iPad‌ is the best device for PDFs."
10:41 am:

10:41 am: Use AutoFill on PDFs.
10:41 am: Including on documents scanned with the camera, add signatures.
10:42 am:

10:42 am: PDF support in Notes, allowing annotation with Apple Pencil.
10:42 am: Can live collaborate with other users, including stickers and images.
10:42 am: Notetaking and markup will be a breeze.
10:43 am: Improvements to Stage Manager for position and size of windows. Take advantage of built-in camera on external displays. Updates to Freeform with new drawing tools, and a follow along mode for collaboration.
10:43 am:

10:44 am: Now, macOS Sonoma.
10:44 am: "We've focused on helping you get even more done."
10:45 am:

10:45 am: Many features from iOS and iPadOS coming to the Mac.
10:45 am: Starting with... stunning new screensavers... they look like Apple TV screensavers.
10:45 am:

10:45 am: The floating screensavers then settle on your desktop too.
10:46 am: New widget support. They were in Notification Center, but now they can sit on the Desktop too.
10:46 am:

10:46 am: You can put these widgets anywhere. ‌Widgets‌ will fade into the background when an app is opened.
10:46 am:

10:47 am: There's an amazing widget gallery.
10:47 am: ‌iPhone‌ widgets can be accessed on the Mac, too.
10:47 am: ‌iPhone‌ just needs to be nearby or on the same Wi-Fi network. ‌Widgets‌ on the Mac are interactive now, too. Use your car widget from your ‌iPhone‌ to start cooling off your car.
10:48 am: Now talking about Gaming. Hmmm.
10:48 am: Macs can run games "with an unprecedented opportunity for developers to bring their games to more people than ever before."
10:49 am:

10:49 am: New "Game mode", prioritizes CPU and GPU for the game.
10:49 am: Doubled sampling rate for Xbox and Playstation controllers.
10:49 am: New Game Porting Toolkit for developers to make it easier for developers to port their games from other platforms.
10:50 am: Quicker evaluation, simpler conversion process, and shorter development time.
10:50 am: And another big game coming to Mac this year...
10:50 am:

10:51 am:

10:51 am: Hideo Kojima brings Death Stranding Director's Cut to the Mac.
10:52 am: He's talking about how great Metal and the other Mac APIs are. "We are actively working to bring our future titles to Apple platforms." The game will be available for pre-order on the Mac App Store soon.
10:52 am: Updates to Mac video conferencing.
10:52 am:

10:52 am: New ways to present remotely. Video effect called Presenter Overlay, putting you on top of the content you're sharing. Put your bubble over your presentation. Or have your shared screen behind you.
10:53 am:

10:53 am: Lets you add reactions to your video as well, with depth and focus. Can recognize hand gestures too, and they work in any app, including Zoom, Teams, WebEx, and more.
10:54 am: Updates to Safari. It's the world's fastest browser.
10:54 am: More features coming to WebKit, including advancements to typography.
10:54 am:

10:54 am: Safari was the first browser to include Private Browsing. It now locks browser windows, blocks trackers from loading, and removes URL trackers entirely.
10:55 am: Can securely share passwords and passkeys. New Family Passwords feature.
10:55 am: Safari Profiles, allowing users to have work and personal profiles with separate cookies, extensions, tab groups, and favorites.
10:55 am:

10:55 am: Web apps for Mac.
10:56 am: Can add a website to the Dock, like Fluid.app does.
10:56 am: Create a web app for any website.
10:56 am:

10:56 am: Get notifications from Web Apps, as well.
10:57 am:

10:57 am: Craig seems really excited about the new Safari in ‌macOS Sonoma‌.
10:57 am:

10:57 am: New updates to Audio & Home experiences. Craig has a triple-headed guitar. Wow.
10:57 am: What's new for AirPods...
10:58 am: AirPods are the most popular headphones in the world.
10:58 am: Adaptive Audio, combines transparency and noise cancelling dynamically to match conditions.
10:59 am: You can stay present with your environment while distracting noises are automatically reduced.
10:59 am:

10:59 am: Conversation awareness will lower your music and focus on voices, reducing background noise.
11:00 am: Adaptive audio helps when on a call, too, by proactively reducing noise around you.
11:00 am: Can press to mute or unmute yourself on calls, too. Improving automatic switching experience across the Apple ecosystem. Faster to transition from conference call on Mac to playlist on ‌iPhone‌. New AirPlay updates, too.
11:00 am:

11:01 am: On-device intelligence to learn your ‌AirPlay‌ preferences.
11:01 am: Ask ‌Siri‌ on your HomePod to start an ‌AirPlay‌ session.
11:01 am: ‌AirPlay‌ in hotels!
11:01 am:

11:02 am: Scan a QR code on a TV and tap a confirmation. Will be automatically connected to TVs in a hotel. "Will be available in select hotels before the end of the year."
11:02 am: Updates coming to Apple Music and CarPlay.
11:02 am:

11:02 am: New in-car SharePlay, with passengers able to control the audio that's playing.
11:03 am:

11:03 am: TVOS updates, including updated Control Center, plus you can use your ‌iPhone‌ to locate your ‌Siri‌ Remote.
11:03 am: ‌FaceTime‌ is coming to ‌Apple TV‌.
11:04 am: Uses Continuity Camera, using ‌iPhone‌ or ‌iPad‌ camera to join a call.
11:04 am:

11:04 am: Uses Center Stage and you can use gestures (like the new macOS conferencing feature) to use special effects.
11:04 am: ‌FaceTime‌ with SharePlay, too.
11:05 am: Continuity Camera API is coming to developers on ‌Apple TV‌, too, including Zoom and Webex support.
11:05 am:

11:05 am: Next up is watchOS updates.
11:06 am:

11:06 am: ‌watchOS 10‌! A new way to view information quickly from any watch face, plus comprehensive app redesigns across watchOS.
11:06 am:

11:07 am: There's a new Snoopy watch face.
11:07 am: Use any watch face, then turn the digital crown to show widgets in a smart stack.
11:08 am: Updates to world clock, with dynamic background colors that reflect the time of day.
11:09 am:

11:09 am: New Activity redesign with corner icons, and a more impressive trophy case.
11:09 am:

11:09 am:

11:10 am: There's a new Palette watch face. It uses colors to display what time it is.
11:10 am:

11:10 am: Snoopy and Woodstock are here, too. It'll even rain on poor Snoopy if it's raining where you are.
11:10 am:

11:10 am: New Cycling support for Workout.
11:11 am: Apple Watch can connect to Bluetooth-enabled bike sensors.
11:12 am:

11:12 am:

11:12 am: Cycling lets you view Live Activity on ‌iPhone‌, too, so you can mount your phone and use it as a display.
11:13 am: Updates to Workouts for Hiking.
11:13 am: New cellular connection waypoints tell you where the last location was that you had cellular connectivity, and where on your route you can make an emergency call with any carrier.
11:13 am:

11:13 am: A new elevation view, with a 3-dimensional view of your saved waypoints.
11:14 am: New topographical map with contour lines and hill shading and elevation details, plus points of interest and trailheads. Use search to discover new trails and trailheads. View trail names, difficulty levels, elevation gain and more.
11:14 am: Workout API for developers too.
11:14 am: Can help measure motion data during golf swings or tennis serves.
11:14 am:

11:15 am: Devs can create workout programs that you can access from the Workout app.
11:15 am: Updates to help you stay healthy, too.
11:15 am: Two new areas, grounded in science with privacy at the core. Mental Health.
11:16 am: We want to shine a light on mental health.
11:16 am:

11:16 am: You'll be able to log momentary emotion and daily mood from the mindfulness app. Use digital crown to scroll through and choose how you feel. Help identify how you feel and why.
11:16 am:

11:17 am: See insights and how your lifestyle might be playing a role, including exercise and sleep integration.
11:17 am: Now be able to take standardized assessments used in clinics to answer questions on how you're feeling, and see risks for depression and anxiety.
11:17 am: Share results with a care provider or access resources.
11:18 am: The other area of focus is vision health, myopia or nearsightedness in particular.
11:18 am:

11:18 am: Can measure how long children spend in daylight with the ambient light sensor, as this is a critical component to avoiding myopia.
11:19 am: Uses screen distance to measure if a child or adult is holding their device too close for an extended period of time.
11:19 am: All health data is encrypted on device and kept private.
11:19 am:

11:20 am: Craig is back, summarizing all the software updates coming across Apple's platforms.
11:20 am: "This is a big year for developers, with new APIs across all platforms that will enable you to build even more innovations into your apps."
11:21 am:

11:21 am: Developer betas coming today, with public beta coming in July. Final release this fall.
11:21 am: Back to Tim.
11:21 am: He's wrapping up the event... or is he?
11:21 am: ONE MORE THING
11:21 am:

11:21 am: "This is a day that's been years in the making."
11:22 am: "Augmented reality is a profound technology."
11:22 am: An entirely new AR platform with a revolutionary new product.
11:22 am:

11:22 am: It's a headset. With cameras and more cameras and a digital crown and a headband and speakers.
11:23 am:

11:23 am:

11:23 am:

11:23 am: You look through, but not at.
11:23 am: Digital content floating over the world. Control vision pro.
11:23 am: Use eyes, hands and voice to control.
11:23 am:

11:24 am: Digital content blended into the space around you.
11:24 am: Mac introduced us to personal computing. ‌iPhone‌ introduced us to mobile computing. Apple Vision Pro introduces us to spatial computing.
11:24 am:

11:25 am: We've designed a fully three-dimensional interface.
11:25 am: Home view floats in the world in front of you. It feels "truly present" in your room.
11:25 am:

11:26 am: Experiences in Vision Pro aren't constrained to the boundaries of a display. Can make apps any scale. Place apps wherever you want them.
11:26 am: It looks a lot like the current VR headsets but Apple-ified.
11:26 am:

11:27 am: Apps can grow beyond the dimensions of your physical room. Environments extend beyond your physical space, and control how immersed you are by turning the digital crown.
11:27 am: Every major Apple Platform was driven by an innovative new input model. Mac with the mouse. iPod with the click wheel. ‌iPhone‌ with multitouch. Vision Pro uses eyes, hands and voice.
11:28 am: It uses eye tracking, and finger tapping and flicking to scroll or select. "It truly feels like magic, as if your mind is guiding the experience."
11:28 am:

11:29 am: Vision Pro lets you never be separated from people around you. Vision pro displays your eyes when people are around. New "EyeSight" feature with an external display.
11:29 am:

11:29 am: Sends a signal to people around you whether they can see you or not. ‌Apple Vision Pro‌ can detect when someone is nearby and show them to you, while showing your eyes to them.
11:30 am: Demos of ‌Apple Vision Pro‌ being used for work.
11:31 am:

11:32 am: They're showing how apps can be used, multitasked, with windows floating in space.
11:32 am: It can use Magic Trackpad and Magic Keyboard as control inputs, and even bring your Mac screen into Vision Pro.
11:33 am:

11:33 am: Can dial in different environments to hide the world for easier focusing. "It can be perfect for the office or when you're working remote."
11:34 am: You can share apps and use them with others via SharePlay, with floating heads in ‌FaceTime‌.
11:34 am:

11:34 am: Computers and apps can be blended, with other devices like ‌iPhone‌, ‌iPad‌ and Mac connecting to the system.
11:35 am:

11:36 am: The demos have to be seen to be understood. But imagine your apps floating in midair in front of you.
11:36 am: See 3D Live Photos floating on the screen.
11:36 am:

11:38 am: Watch TV and movies, with the surroundings dimmed. Sit in an environment and watch a video with a 100-inch wide virtual "screen"
11:38 am: You can watch it on an airplane. 3D movies have depth and motion.
11:39 am: "There is no other device in the world that can deliver this quality of 3D movie experience."
11:39 am: Play Apple Arcade games.
11:39 am:

11:39 am: This is just the start of how gaming will evolve on Vision Pro.
11:40 am: Back to Tim. "‌Apple Vision Pro‌ will change the way we collaborate, work, and enjoy entertainment."
11:40 am: Bob Iger, CEO of Disney, coming on now.
11:40 am:

11:40 am: Disney celebrating 100th anniversary this year.
11:41 am: "It will help us create deeply personal experiences that will help us bring fans closer to the characters they love. This platform will let us bring Disney to our fans in ways that were previously impossible."
11:41 am: "What if all the things that we thought were impossible... were suddenly possible?"
11:42 am:

11:42 am:

11:42 am: Experience your favorite stories in unexpected ways. Showing multi-screen sports with virtual replays, scores, 3D renderings.
11:43 am: Showing the Disney castle appearing on a kitchen countertop, or Mickey jumping out of a painting.
11:43 am: Showing virtual items appearing on your "wrists" as you navigate the Disney world.
11:44 am: Disney+ will be available on day one with ‌Apple Vision Pro‌.
11:44 am: "We're looking forward to sharing more in the coming months."
11:44 am: These groundbreaking innovations required remarkable breakthroughs in design and technology.
11:44 am:

11:44 am:

11:45 am: ‌Apple Vision Pro‌ is the result of decades of our experiences developing Mac, ‌iPhone‌, and Apple Watch. This is the most ambitious product we've ever created.
11:45 am: Most advanced, lightest weight materials possible. The front is a singular piece of polished glass.
11:45 am: There's a button to take pictures, and a digital crown. Custom aluminum alloy that curves to wrap around your face.
11:45 am:

11:46 am: Thermal design that quietly draws air through the system. Rich combination of soft, textile parts that provide comfort and wearability.
11:46 am: Studied thousands of heads.
11:47 am: Modular system allows you to tailor the product to fit perfectly. Light shield flexes to fit your face, plus flexible straps that conform to the head, with audio pods sitting close to the ears. Spatial audio while letting you stay connected to your surroundings.
11:47 am: Band attaches with simple and secure mechanism, reminiscent of the Apple Watch band.
11:47 am:

11:47 am: Custom optical inserts from Zeiss connect magnetically to the displays without compromising performance.
11:47 am:

11:48 am: Separate wired battery with two-hours of life. All-day comfort.
11:48 am:

11:49 am:

11:49 am: There's a new display system with a huge number of pixels and a small form factor. Micro-OLED ‌Apple Silicon‌ backplane, 64 pixels in the space of a single ‌iPhone‌ pixel. 7.5 microns wide. 23 million pixels across two panels, each the size of a postage stamp. More pixels than a 4K TV for each eye.
11:49 am: Custom 3-element lens with incredible sharpness and clarity.
11:49 am: Video rendered in 4K resolution with wide color and HDR.
11:50 am:

11:50 am: Text is crisp. Pixels are invisible.
11:50 am:

11:50 am: Audio uses a new spatial audio system, with dual driver audio pods, with ambient spatial audio. Brain is convinced that sound is coming from the environment around you.
11:50 am: Vision Pro matches the sound to your room, analyzing materials in your space with audio Ray Tracing.
11:51 am:

11:51 am: Forward, side, and downward facing cameras, front lidar, plus IR cameras and LED illuminators in the eye.
11:51 am:

11:51 am: Massive computational power, while remaining cool and quiet.
11:52 am: Uses Apple ‌M2‌ chip, staying comfortable but running silent. New R1 chip.
11:52 am:

11:52 am: R1 processes input from cameras, sensors and microphones.
11:52 am: R1 virtually eliminates lag, streaming new images to the display within 12ms, 8x faster than the blink of an eye.
11:52 am: R1 ensures that you feel like experiences are taking place in front of your eyes.
11:53 am: The front, curved EyeSight OLED lenticular panel projects the correct perspective of your eyes to each person looking at you.
11:53 am: Creates an authentic representation of you for ‌FaceTime‌. There's no camera looking at you, but even if there were, you're wearing something over your eyes. But a novel solution.
11:53 am:

11:53 am: Scans your face and creates a digital persona, giving a natural representation matching your face and hand movements.
11:54 am:

11:55 am: visionOS, designed from the ground up for spatial computing.
11:55 am:

11:55 am: Now talking developer APIs.
11:56 am:

11:56 am: Showing some demo apps, including one giving a 3D beating heart, another showing a fully 3D F1 car, or a virtual production line.
11:56 am:

11:57 am: Microsoft apps like Excel, Word, and Teams support Vision Pro. Popular video conferencing apps like Zoom, Teams, Webex can support the virtual rendering.
11:57 am: Hundreds of thousands of ‌iPhone‌ and ‌iPad‌ apps will be available at launch.
11:57 am:

11:58 am: Unity games and apps can get access to VisionOS API and gestures, sitting side by side with other apps. New ‌visionOS‌ app store.
11:58 am:

11:59 am: We can't wait to see what developers do with this groundbreaking platform.
11:59 am: We've been building towards this moment for years.
11:59 am: Focus on privacy and security.
11:59 am: Optic ID security feature, to let you unlock Vision Pro.
11:59 am:

12:00 pm: Where you look is personal, and where you look stays private. Eye input is isolated so apps and websites can't see where you're looking. Only when you tap your fingers do results get communicated. Camera data is processed at the system level, so individual apps don't see your surroundings.
12:01 pm: "The most advanced personal electronics device ever."
12:01 pm: More than 5,000 patents filed during development.
12:02 pm: Replace a desk full of monitors with infinite screen real estate. Stunning entertainment. Powerful new ways to stay connected. Simply in a class of its own.
12:02 pm: ‌Apple Vision Pro‌ starts at $3499.
12:02 pm:

12:02 pm: Available early next year at Apple.com and Apple Retail Stores.
12:02 pm: "We can't wait for you to experience ‌Apple Vision Pro‌"
12:03 pm: Tim is going over the announcements today.
12:03 pm:

12:04 pm: We believe ‌Apple Vision Pro‌ is a revolutionary product, with the performance, immersion, and capability that only Apple can deliver. It's an entirely new spatial computing platform, one that creates possibilities for our users and exciting opportunities for our developers.
12:04 pm: Running an ad.
12:06 pm: "I hope you're as excited about ‌Apple Vision Pro‌ as we are. You'll be hearing much more about it, ‌visionOS‌ and our other platforms throughout the conference."
12:06 pm: And, after two hours and 6 minutes, we are wrapped. Thanks for joining us!