German Report Says 'Apple Car' Could Arrive in Form of Electric Van
The so-called "Apple Car" may not be a car after all, but rather an electric van, according to German site Manager Magazin.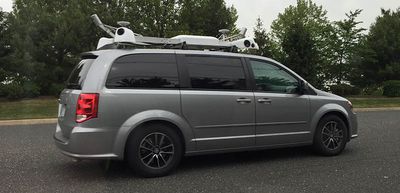 The report, loosely translated below, claims Apple's industrial design group has designed prototypes of the van with black and silver finishes:
After that, the Apple Car could come in the form of an electric van. Apple's engineers have designed specimens with black and silver paint, designed in the typical industrial design of the iPhone group. Apple also researches on its own batteries, electric motors, special seats and interior components.
Last year, The New York Times reported that Apple had signed a deal to use Volkswagen vans as self-driving shuttles to transport employees around its various campuses and office buildings in the San Francisco Bay Area. It's possible the vans could be designed by Apple and manufactured by Volkswagen.
The context of this report really depends on how ambitious Apple's plans are. Early reports suggested that Apple was developing an electric vehicle under the codename Project Titan, but later reports have suggested that Apple may be focused on the underlying electric and self-driving technologies only.
Apple recently hired former Tesla lead engineer Doug Field to lead the project alongside longtime Apple executive Bob Mansfield. Last month, Apple reportedly removed more than 200 employees from the team, but Apple said "we continue to believe there is a huge opportunity with autonomous systems."
In any case, analyst Ming-Chi Kuo believes Apple is unlikely to release a vehicle until 2023 to 2025.
Apple already uses a fleet of LiDAR-equipped vans to collect mapping data, as part of its efforts to improve Apple Maps. Each van is equipped with an iPad and a Mac Pro to assist the drivers with surveying streets and neighborhoods.
Via: Reuters