Apple Maps Vehicles to Begin Surveying Final U.S. States
As part of its efforts to rebuild Apple Maps, Apple has been collecting street-level data with LiDAR-equipped vehicles for over three years, with at least 45 states across the U.S. partially surveyed to date.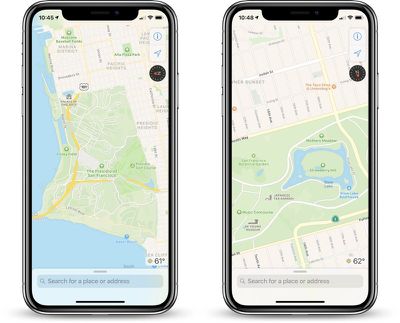 That total is set to rise in the coming months, as Apple has confirmed it will begin surveying Alaska, South Carolina, and Tennessee between March and July, according to an update to its recently revamped Apple Maps image collection website. Data collection is also set to continue in seven other states over that time.
Apple is conducting ground surveys around the world to collect data which will be used to improve Apple Maps. Some of this data will be published in future Apple Maps updates. We will also periodically revisit some locations to gather new data in an effort to maintain a high-quality, up-to-date map. We are committed to protecting your privacy while conducting these surveys. For example, we will blur faces and license plates on collected images prior to publication.
To our best knowledge, the only states that Apple has yet to confirm surveying are Arkansas and Oklahoma, although Twitter users have spotted the vehicles in both states since last year and perhaps earlier. It's possible the vehicles were only passing through those states without collecting mapping data.
Whether the total is 48 or 50 states, Apple's surveying efforts have reached nearly every corner of the United States. Apple plans to roll out its improved Maps app across the country section by section over the next year.
The improvements first rolled out in Northern California in iOS 12 and have extended to Hawaii and Southern California over the past few months. The overall look and feel of Apple Maps is mostly the same, but zooming and panning reveals more details like grass, trees, sports fields, and parking lots.
‌Apple Maps‌ vehicles have also surveyed parts of Croatia, France, Ireland, Italy, Japan, Portugal, Slovenia, Spain, Sweden, and the United Kingdom, and they are headed to Andorra in April, according to Apple's website. It's unclear when the ‌Apple Maps‌ improvements will be available internationally.