iPhone 7 Again Said to Ship With Lightning-to-3.5mm Headphone Dongle
With just over six weeks remaining until Apple is expected to unveil the iPhone 7 and iPhone 7 Plus, leaked photos and rumors surrounding the smartphones are starting to become clear and consistent.
Deutsche Bank is the latest group to add its expectations to the mix, issuing a research note obtained by Business Insider that corroborates several previously rumored features coming in this year's refresh.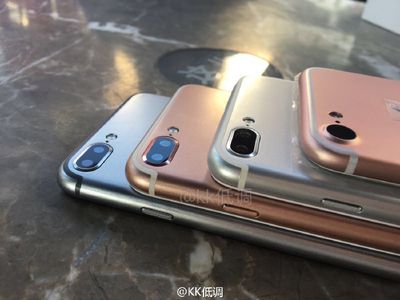 New photo of iPhone 7 and 7 Plus rear shell molds (Image: KK低调 on Weibo)
The bank, which allegedly made supply chain checks, believes the 4.7-inch model will have an improved camera and optical image stabilization, while the larger 5.5-inch model is set to gain a
dual-lens camera and 3GB of RAM
.
Both models are also expected to have no headphone jack, a touch-sensitive home button with haptic feedback, a new darker color, "professional class" waterproofing, and improved sound, possibly by way of stereo speakers.
Perhaps the most interesting bit is Deutsche Bank's belief that the iPhone 7 will ship with a Lightning-to-3.5mm headphone jack dongle in the box, rather than Lightning-based EarPods as previously speculated.
Many aftermarket Lightning-to-3.5mm adapters are bulky and clunky looking due to the need for a digital-to-analog converter, however, so it remains to be seen if Apple could create a dongle that meets its high standards of design.
Every single one of Deutsche Bank's predictions have surfaced previously:
- No 3.5mm headphone jack: WSJ, Fast Company, Mac Otakara, and many others
- Dual-lens camera for iPhone 7 Plus: Ming-Chi Kuo, Mac Otakara, and many others
- 3GB of RAM for iPhone 7 Plus: Ming-Chi Kuo
- Touch-sensitive home button: DigiTimes, Cowen and Company
- Improved waterproofing: WSJ, Fast Company, DigiTimes, Commercial Times, Weibo
- Stereo speakers: DigiTimes, Mac Otakara
- A new darker color: Mac Otakara and leaked photo
- Lightning-to-3.5mm adapter: Mac Otakara
Apple is widely expected to announce the iPhone 7 and iPhone 7 Plus in September. Other rumored features include a faster TSMC-made Apple A10 processor, repositioned antenna bands, faster LTE and Wi-Fi, a slightly larger battery, and a minimum 32GB of base storage. A larger 256GB model may also be available.