Video Depicts iPhone 7 Mockups in Gold, Rose Gold, and 'Space Black'
Another video has emerged online showing probable mockups of iPhone 7 units, but this time viewers are given a better idea of what the new handset might look like in three colors that Apple may offer this September.
The video was posted to YouTube channel ConceptsiPhone yesterday and shows the iPhone 7 in Rose Gold, Gold, and what the titling calls "Space Black".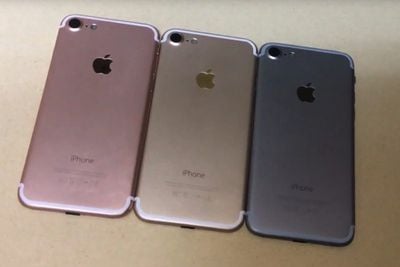 The mockups depict the now familiar design expectations such as protruding camera, repositioned antenna bands, and no headphone jack, but it's the "Space Black" reference that stands out as a curiosity this time around.
Rumors in June pointed to the possibility that Apple was readying a darker variant of its traditional Space Grey color, described by one source as "close to black, though not quite black". This so-called "new, darker shade" was thought to more closely resemble the look of the "space black" stainless steel Apple Watch, which is darker than the "space gray" aluminum Apple Watch Sport.
However, earlier this month, alleged photographs of Apple's proposed iPhone 7 colorways stuck to showing the company's typical four variants of Rose Gold, Space Gray, Gold, and Silver, similar to the iPhone 6s and 6s Plus.
The "Space Black" variant depicted in the latest video does look darker than a typical iPhone 6s Space Grey unit, but the poor lighting makes identification a guessing game, and it could be just as likely that the unusual naming convention is simply a botched amalgam of previous rumors.
On the other hand, Apple has used different shades of "space gray" and "black and slate" across its device lineups over the years. The iPhone 6s and iPad Pro, for example, each have a lighter shade of "space gray" compared to the iPhone 5s and original iPad Air respectively.
The iPhone 7 and iPhone 7 Plus are expected to be officially unveiled by Apple in the fall. In addition to the aforementioned features, the smartphones are expected to have faster Apple A10 processors, 32GB of base storage, improved waterproofing, and faster LTE and Wi-Fi.