iPhone 7 May Feature Flush Camera, Stereo Speakers and Thinner Lightning Port
Over the past six months there have been reports indicating that the iPhone 7 would include several new features, like a flush rear camera and stereo speakers. Tonight, Mac Otakara has issued a new report corroborating several of those rumors, including that the iPhone 7 could include a thinner Lightning port, no 3.5mm headphone jack and more.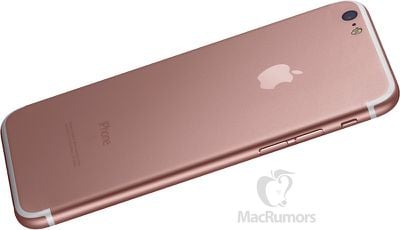 The site reports that the new phone will not have antenna bands across the rear and will have a flush rear camera, corroborating a MacRumors report in early February. The site notes that it's likely the iPhone 7 will also come with stereo speakers, which was first predicted by Barclays analyst earlier this month.
Last September, KGI Securities analyst Ming-Chi Kuo issued a report that the iPhone 7 would approach a thinness similar to that of the 6.1mm iPod touch. Mac Otakara's report roughly agrees with that, noting that the iPhone 7 could be 1mm thinner than the 7.1mm iPhone 6s.
Mac Otakara also reiterated its earlier reports that the iPhone 7 would not include a headphone jack, instead using an all-in-one Lightning port. The site claims that the Lightning port enclosure may be thinner than it currently is, but that it will still be fully compatible with current Lightning cables.
A source on Chinese social media site Weibo claimed that the iPhone 7 would be waterproofed and use new composite materials for its shell last September. However, Mac Otakara says the iPhone 7 will include neither, instead using the same aluminum material and will be as water resistant as the iPhone 6s.
Thus far, reports have indicated that a rumored new dual-lens camera system would be included on the iPhone 7 Plus to differentiate it from the regular iPhone 7. Mac Otakara corroborates that the iPhone 7 will not have a dual-lens camera system, but notes that it doesn't know if the feature will be included in the 7 Plus. Earlier today it was reported that Apple is considering introducing a new high-end iPhone 7 Plus with a dual-lens camera system called the iPhone Pro to better differentiate it from the iPhone 7 and 7 Plus.
Apple is expected to announce both the iPhone 7 and 7 Plus at an event in September. Unlike the iPhone 6s and 6s Plus, which sourced A9 chips from both Samsung and TSMC, Apple will turn to TSMC exclusively for the iPhone 7's A10 chip. Apple is also expected to announce the iPhone SE, a new 4-inch iPhone, this March alongside a new 9.7-inch iPad.