iPhone 7 Suppliers Prepare for Dual-Lens Camera, Possible Stereo Speakers
Apple's chip suppliers including Cirrus Logic and Analog Devices (ADI) have started to book production capacity for the rumored iPhone 7 at their foundry and backend partners, according to DigiTimes. iPhone 7 production is expected to ramp up in the second and third quarters, ahead of the smartphone's launch in September.
Cirrus Logic is notable given that Barclays analysts believe the iPhone 7 will have dual speakers supplied by the Austin-based company. In a research note to investors, Barclays said the second speaker will likely take over the space currently occupied by the 3.5mm headphone jack on current iPhones.
Multiple sources have reported that Apple will remove the 3.5mm headphone jack on the iPhone 7 in favor of an all-in-one Lightning connector for audio output, charging, and connecting peripherals. The device would also expectedly support Bluetooth headphones, and a digital-to-analog adapter could allow use of non-Lightning wired headphones.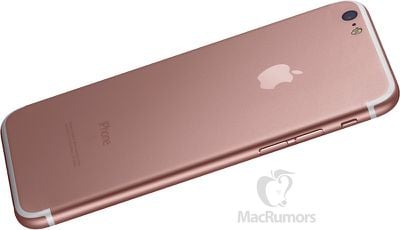 Meanwhile, at least one iPhone 7 or 7 Plus model is expected to have a
dual-lens camera system
, with driver components supplied by ADI, the report claims. The dual-lens hardware could be based on
LinX technology
, which could lead to brighter and clearer DSLR-quality photos and
several other major advantages
.
LinX's multi-aperture cameras pack impressive image quality in a smaller size than single-aperture cameras, meaning the iPhone 7 Plus could also lack a protruding camera lens. A flush camera would allow the iPhone 7 to lay flat on a table, like older-generation iPhones, and it would contribute to a slimmer iPhone design.
The report also corroborates rumors claiming Apple will move away from Samsung and source most or all of its A10 chips for the iPhone 7 from its longtime Taiwanese supplier TSMC. The foundry has reportedly been aggressively expanding its 16nm FinFET production capacity and expects to begin volume production of chips based on its integrated fan-out (InFO) technology in the second quarter.
In late September, hardware teardowns showed the iPhone 6s and iPhone 6s Plus use different-sized A9 chips from Samsung and TSMC. Samsung's 14-nanometer chip measures in at 96 square millimeters, while TSMC's 16-nanometer chip has a size of 104.5 square millimeters.
The difference between the chips is small in size, but early benchmarks found TSMC's A9 chip outperformed Samsung's in battery life by up to 22 percent. Apple later stated there is only 2-3 percent variance in "real world" battery life between the chips, which shortly after was proven by controlled battery life tests.
Other rumors claim the iPhone 7 could have a fully waterproof design, no rear antenna bands, and wireless charging if readied in time.