Apple to Use Intel Modems in AT&T iPhone 7, Qualcomm Modems for Verizon and China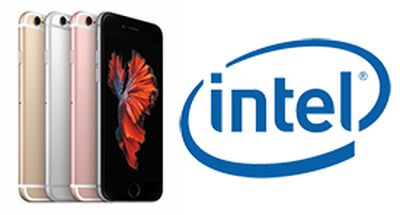 Multiple rumors have claimed that Intel will supply at least a portion of LTE and Wi-Fi modems for the iPhone 7 series, alongside existing supplier Qualcomm, and a new report offers a closer look at how the orders will be divided between the companies.
Bloomberg reports that Intel modems will be reserved for AT&T iPhone 7 models, and some other versions of the smartphone sold in other countries, while Qualcomm is said to remain a supplier of modems for Verizon and all Chinese models. The wording suggests that Qualcomm may retain orders in some other regions as well.
Choosing Intel's part for an important role in the product that generates about two-thirds of Apple's annual revenue may represent a calculated gamble by the company. Bringing in second-source suppliers is a long-established practice by device makers looking to make sure they're in a better position to negotiate on price. However, analysts such as Stacy Rasgon at Sanford C. Bernstein have said that Qualcomm's modems remain ahead of Intel's offerings in performance when measured by how much data they can get from the network into the phone.
Qualcomm CEO Steve Mollenkopf previously hinted that the chipmaker would be losing modem orders from one of its major customers to one of its leading competitors, although it is reportedly still "retaining a major chunk" of Apple's business rather than being dropped as a supplier entirely.
Taiwanese website DigiTimes recently reported that Intel would supply "up to 50 percent" of modems for the iPhone 7 series, while CLSA Securities analyst Srini Pajjuri told investors in March that Intel's share of orders would be a "significant portion," likely falling in range of 30 to 40 percent of production.
Apple is rumored to use Intel's XMM 7360 LTE modem [PDF] with faster theoretical download speeds up to 450 Mbps and upload speeds up to 100 Mbps. Meanwhile, Qualcomm's X12 modem is a likely candidate for the iPhone 7, with theoretical download speeds up to 600 Mbps and upload speeds up to 150 Mbps.
Both rumored Intel and Qualcomm modems would be capable of faster speeds than the MDM9635 chipset in the iPhone 6s and iPhone 6s Plus, which provides theoretical download speeds up to 300 Mbps and upload speeds up to 50 Mbps. However, real-world speeds are often slower due to network limitations.